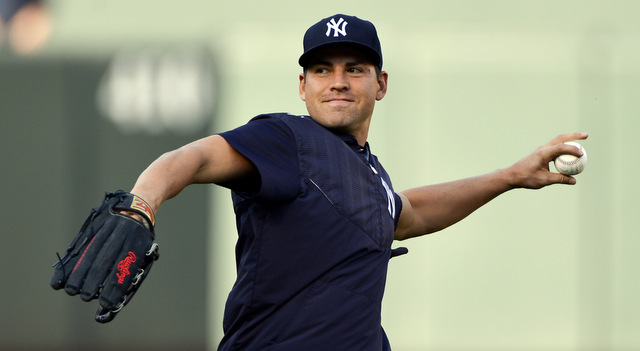 The Yankees begin their three-game series with the Angels later tonight (much later tonight), so, until then, here are some updates on a few injured Yankees via Meredith Marakovits, Marly Rivera, Joel Sherman, and the Yankees themselves.
Jacoby Ellsbury (knee) traveled to Tampa following yesterday's game and will begin playing in minor league rehab games at some point later this week. "I'm excited to get back. (I'll be) playing in games sometime this week and I can't wait to get back to big league club," he said.
UPDATE: Ellsbury will start a rehab assignment with High-A Tampa today, the team just announced. My guess is the Yankees hope to have him back in the lineup for the start of the homestand on Friday. Fingers crossed.
Andrew Miller (forearm) is scheduled to throw a bullpen session on Wednesday. He played catch the last few days and will do it again today. Miller will long-toss tomorrow before getting up on a mound Wednesday. Can't imagine he'll need much time to get ready after that as a short reliever.
Ian Clarkin (elbow) has not had Tommy John surgery. Not yet, anyway. Clarkin was shut down in Spring Training with elbow tendinitis and he reportedly pitched in an Extended Spring Training game in May, but we haven't heard anything since. This non-update is the latest.
Austin DeCarr (elbow) did have Tommy John surgery, however. Not sure when when he had it — last week? last month? March? makes a difference! — but he had it. DeCarr was the team's third round pick last year and I had him as their 16th best prospect coming in the season.
This isn't really an injury, but I'm not sure where else to put it: Eric Jagielo was diagnosed with diabetes late last year. It's manageable and hasn't impacted his career in any way to this point. But still, geez. This has been a bad year for minor league injuries and this adds the lolwtf factor.