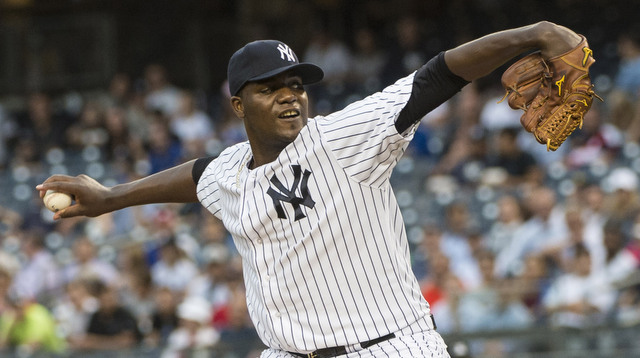 Last night, Michael Pineda turned in arguably his best start of the season, which is pretty impressive when you consider he struck out 16 batters in a game last month. Big Mike carved through the Marlins with his mid-90s electricutter and the best slider command he's had since the 16-strikeout game. It was Pineda at his best. Overwhelming dominance.
Five days ago Pineda suffered through arguably his worst start of the season by allowing six runs on nine hits in only 4.1 innings against the Orioles, the same Orioles he struck out 16 times a few weeks ago. His slider wasn't behaving and his location was terrible, hence all the damage. Perhaps not coincidentally, last night's start came on normal rest while the start in Baltimore came on eleven days rest.
"There's days he hasn't had his slider and he's been on regular rest. So there is no answer to this, as much as you guys want one. There is no exact science," said Joe Girardi to Ryan Hatch last night when asked about Pineda dominating on normal rest and struggling with extra rest."These guys are creatures of habit, but sometimes you have to make adjustments. You have off days that you have to adjust to."
The Yankees didn't skip Pineda's start two weeks ago for the heck of it. They did it because they're trying to keep him healthy, and because he threw 124.2 total innings from 2012-14 following major shoulder surgery. Pineda has already thrown more big league innings this season (81.1) than he did last season (76.1) and we're only halfway through June. Again: major shoulder surgery in the not too distant past!
Pineda is not the only pitcher who is having his workload monitored. Masahiro Tanaka's next start has been pushed back to give him an extra day of rest, something the team is trying to do as much as possible this year. They aren't so concerned about his exact innings total, they're just playing it safe with the partial ligament tear in his elbow. Adam Warren, a reliever turned starter who is two starts away from exceeding last year's innings total, has also had some starts pushed back in recent weeks.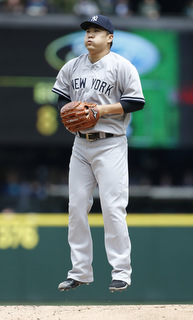 The Yankees are clearly looking at the big picture here and are willing to lose the battle (Pineda vs. the Orioles) to win the war (Pineda the rest of the season) with their rotation. Having Pineda, Tanaka, Warren, and whoever else around and not just healthy, but productive as well in the second half is far more important than one or two starts right now, before the halfway point of the season. Skipping that start seems to have resulted in a poor outing for Pineda against the O's. The hope is it will lead to an effective Pineda in September and October.
The workload manipulation is only going to continue these next few weeks, so it would be nice if Pineda figured out how to remain effective in starts with extra rest. That's an adjustment he has to make. The Yankees may use a six-man rotation when Ivan Nova returns and they figure to insert a spot sixth starter several times down the stretch — they were prepared to start Bryan Mitchell this Saturday until Nathan Eovaldi's short start on Tuesday, allowing him to come back on short rest. My guess is Mitchell will still end up taking a few rotation turns later this year.
There is definitely a time and a place for focusing on the here and now, especially with the AL East so tight. The Yankees aren't at that place right now. There is still 60% of the season to be played and they have to be cognizant of their starters' physical limitations and do their best to keep everyone healthy and sharp all season. If that means sacrificing some starts now a la Pineda against the Orioles, then so be it. The big picture is far too important right now.