Man why couldn't it just rain all night? Following an 81-minute rain delay, the lowly Phillies wrecked the Yankees for the second straight day, winning 11-6 on Tuesday night. The Yankees have now allowed 11+ runs in three straight games, all losses.They've dropped three straight and eight of their last 13.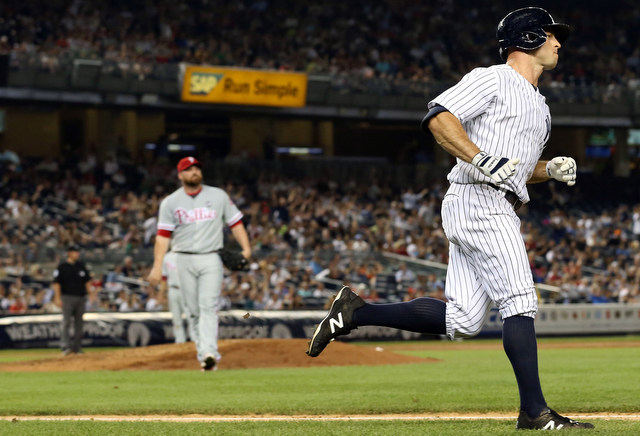 Six Runs Should Be Enough
The Yankees scored six runs in 4.1 innings against Sean O'Sullivan and four of them came on solo homers. Brett Gardner, Garrett Jones, Chase Headley, and Alex Rodriguez did the honors. Those were runs two through five. The Yankees scored their first run the ol' fashioned way — Gardner doubled, Headley moved him to third with a ground ball, and A-Rod sac flied him in. That all happened in the first inning.
The sixth run tied the game — more on how the Phillies scored six runs in a second! — and it was charged to O'Sullivan even though he was sitting in the dugout. Headley and A-Rod hit back-to-back homers in the fifth, then Carlos Beltran ripped an opposite field double to end O'Sullivan's day. Lefty reliever Elvis Araujo served up the game-tying double to Chris Young. Why they let the lefty pitch to Young with a base open and Didi Gregorius on deck with two outs in the inning, I'll never understand. But they did and the Yankees took advantage. Six runs! Woo!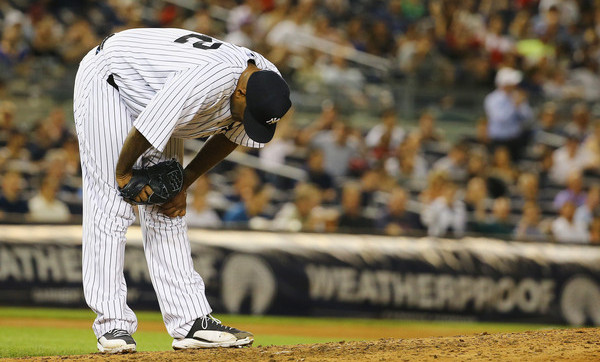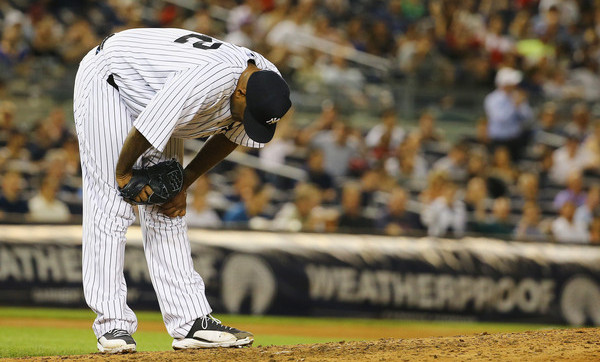 No Mas
CC Sabathia's can't stay in the rotation anymore. He just can't. Six runs in 4.2 innings against the worst offense in baseball on Tuesday night, giving him a 5.65 ERA on the season. That's after a 5.28 ERA last year and a 4.78 ERA the year before. This is year three of this. Ivan Nova returns tomorrow, and unless Nova completely implodes coming off elbow surgery, there is no doubt Sabathia is not one of the five best starters in the organization. None.
Just about all the damage on Tuesday came in the fourth inning, when the Phillies scored five runs thanks to a two-run Cameron Rupp homer and a three-run Maikel Franco homer. Right-handed batters were hitting .327/.367/.558 (.394 wOBA) against Sabathia coming into the game and Philadelphia's righties went 6-for-11 with two doubles, two homers, two walks, and one strikeout against him on Tuesday. He has nothing to put them away. Chuck and duck.
Barring a shoulder injury, there are two and a half years left on Sabathia's contract at huge dollars. That's not going away. The Yankees are stuck with it. Mike Mussina was sent to the bullpen with 5.53 ERA in 2007. A.J. Burnett was run out of town after a 5.20 ERA from 2010-11. Sabathia's only redeeming quality is his ability to get out lefties, so send him to the bullpen and make him earn his way back to the rotation. But, instead, the Yankees will continue to talk about CC reinventing himself and he'll be back out there in five days, actively hurting the team.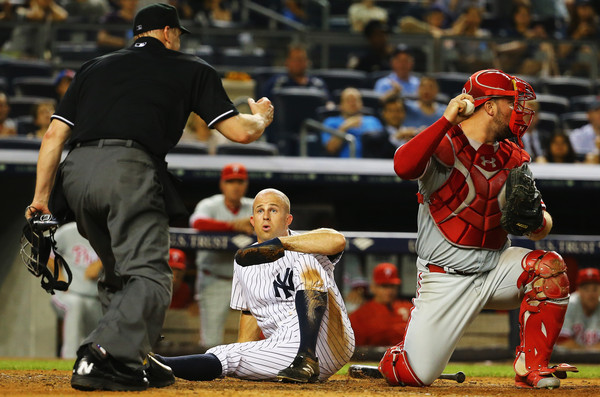 Blown Chances, Again And Again
The Yankees had more than a few opportunities to take the lead against the crummy part of Philadelphia's bullpen. They stranded a runner at third base in the fifth, had a runner thrown out at the plate on the contact play (and still stranded runners on the corners!) in the sixth, stranded runners on the corners again in the seventh, and left a man on first in the eighth. One hit in a dozen at-bats with runners in scoring position.
The Phillies were trying to give the game away in the middle innings, the Yankees didn't capitalize, and Philadelphia made them pay in the ninth. The no-doubles defense (a.k.a. the more singles defense) allowed a leadoff double to Ben Revere — it was a single to right, but Revere's speedy and Beltran is not, so it was a double — then Dellin Betances plunked Cesar Hernandez and gave up a rocket two-run double to Franco. That dude has destroyed the Yankees the last two games.
Betances hit another batter before giving way to Nick Rumbelow, who walked a batter to load the bases before allowing a three-run triple to to Andres Blanco in his MLB debut. For the second straight night, the worst offensive team in baseball hung eleven runs on the Yankees. The Phillies scored 22 runs in the first two games of this series after scoring 23 runs in their previous eight games. Gross. Really, really gross.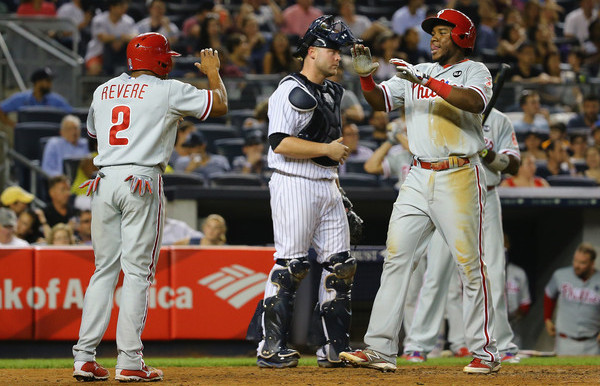 Leftovers
Betances was charged with four earned runs in the top of the ninth after allowing one earned run all season coming into this game, giving him a 1.25 ERA. He looked pretty rusty, which I guess isn't surprising considering he hadn't pitched in five days and says he likes regular work to keep his mechanics sharp. At least Chasen Shreve threw another perfect inning. He's pretty awesome.
The Yankees scored six runs on 13 hits. That's good! Gardner, Headley, A-Rod, Beltran, and Young each had two hits. (Headley's homer was the 100th of his career.) The only starter without a hit was Jose Pirela. I mean, six runs is good. The Yankees scored six runs in this game and eight runs in the first game of the series and lost both. Can't really blame the offense.
And finally, Yankees starters have now allowed at least six runs in three straight games for the first time since July 2008, according to James Smyth. The culprits: Sidney Ponson, Andy Pettitte, and Darrell Rasner.
Box Score, WPA Graph & Standings
Here are the box score and video highlights, as well as the updated standings. Also check out our Bullpen Workload and Announcer Standings pages, because they are things that exist. This is series No. 23 for the Yankees and booth combination No. 14 for YES. Here's the loss probability graph:

Source: FanGraphs
Up Next
The Yankees and Phillies will wrap-up this three-game series on Wednesday afternoon, when Ivan Nova makes his return to the rotation following Tommy John surgery. It'll be his first big league start since April 19th of last year. His opponent? Cole Hamels. Head over to RAB Tickets if you want to catch the final game of the homestand live and in person.