The Yankees and Tigers continue their series later today, after the 69th annual Old Timers' Day. All the fun starts at 4pm ET. Here are some stray links to keep you busy until then.
Miller Still Shut Down
Ten days ago the Yankees placed Andrew Miller on the 15-day DL with a forearm muscle strain, and, as of Thursday, the left-hander still has not resumed throwing according to Dan Martin. "I'm still resting," said Miller. The Yankees said Miller would be shut down 10-14 days after being placed on the DL and he's still within the window, obviously. Miller's not behind schedule or anything. He's right on schedule, I guess. Hopefully he can resume throwing sometime in the next few days and get back to the team before the All-Star break. The bullpen without Miller has a totally different dynamic.
Bailey returns to the mound
Remember Andrew Bailey? The magic of Spring Training had us all thinking Bailey could actually help the Yankees this season, but instead he suffered a setback a few weeks into the season as he worked his way back from shoulder capsule surgery. Bailey was shut down in April with a shoulder strain and was scheduled to start a throwing program in May, though I guess that was delayed.
Earlier this week, Brian Cashman told Brendan Kuty that Bailey has indeed returned to the mound, throwing an inning in an Extended Spring Training game on Wednesday. I'm not sure what the plan is now — ExST is over (or will be very soon) now that the short season leagues are starting — but it sounds like Bailey is on the mend. The Yankees are going to want to see him pitch in minor league games, including back-to-back days before bringing him up. If Bailey can help at some point, great, the Yankees can use another reliever, but obviously the odds are quite long right now.
A-Rod's bat going to the Hall of Fame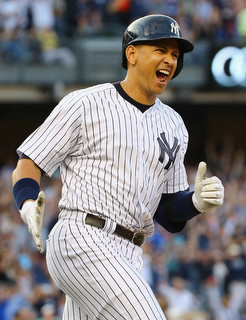 There's no word on what will happen with his 3,000th hit bat, but Alex Rodriguez has already donated his 2,000th RBI bat to the Hall of Fame, writes Ryan Hatch. "We extend our gratitude to Alex for donating the bat he used to record his 2,000th RBI to the Museum," said Hall of Fame president Jeff Idelson. The bat will be displayed as part of the "Today's Game" exhibit at the museum. A-Rod has some other stuff in the Hall of Fame, including the helmet from his 500th homer and his spikes from Game Six of the 2009 World Series.
Alex became the second player in history with 2,000 RBI officially, joining Hank Aaron (2,297). It's a weird situation though. RBI did not become an official stat until 1920, and MLB ignores everything that happened before then. Baseball Reference has retroactively calculated RBI totals and both Babe Ruth (2,214) and Cap Anson (2,075) have 2,000+ RBI, but MLB does not recognized their pre-1920 totals. It's like they don't exist. It's so silly. Either way, A-Rod is in the 2,000 RBI club. Whether he's the second member or the fourth member is immaterial. It's an extremely exclusive club.
Yankees beef up security after Astros hack
Earlier this week word got out the FBI and Justice Department are investigating the Cardinals for hacking into the Astros' proprietary database, which is a crime. Like an actual crime with legal implications. Last June some trade information was leaked from Houston's system, at which point the Yankees beefed up their security system. Here's what Brian Cashman told Christian De Nicola:
"We certainly added some more measures, spent more money to protect what's privileged," Cashman said. "It's more inconvenient now for us to access our stuff, but we did it — again — to look for where those vulnerabilities were and made some adjustments and spent some more money to upgrade the process."

…

"There were some extra steps. Were they necessary? We'll never know, but we're more secure by doing so. We felt secure before, but we made it more difficult now. It's a little more inconvenience when we're accessing our system ourselves, but we spent some more money to add some further measures, regardless. There were grumblings by employees at the front end of it, because to access our system it's more difficult now for all of us to do so, but we're better protected by the way we went about it."
Every team has their own internal information system these days and, of course, all their scouting reports and statistical data are different. They all use stats differently and they all have different scouting reports, so the need to protect that information is obvious. I'm guessing the Yankees were not the only team to improve their security after the Astros' leaks last year. Twenty-nine other clubs probably improved their security as well.