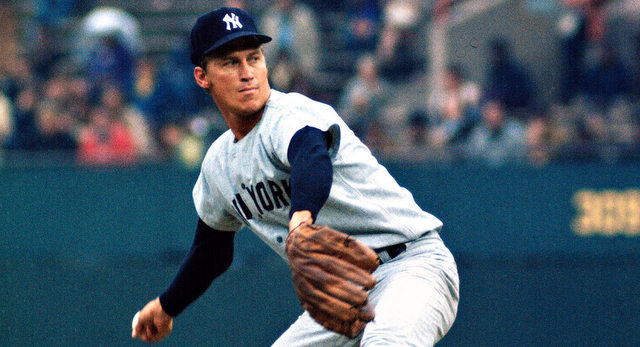 Once again, the Yankees are playing a Saturday night game this week, though at least this one is on the East Coast. Including tonight, their next three and four of their next five Saturday games are night games. Blah. Anyway, here are some links to hold you over until the Yankees and Angels resume their series later tonight.
Mel Stottlemyre Battling Cancer Again
Former Yankees pitcher and pitching coach Mel Stottlemyre is again battling cancer, reports John Harper. The 73-year-old Stottlemyre was diagnosed with multiple myeloma, an incurable blood cancer, while on Joe Torre's staff back in 2000, and he was told he only had 3-5 years to live. He's outshot that projection by a decade, but the cancer returned in late-2011 and he has been undergoing treatment since.
"It's been tough because so much of my life is controlled by doctors, by the cancer. And the side effects of the treatment have been nasty, there's no getting around it. But I'm determined that I can beat this thing. There are times when I have my doubts but it's not going to get me down," said Stottlemyre to Harper. Among the side effects from the medication are heart and thyroid conditions, and a form of diabetes. He also has an Achilles tendon issue, but can't undergo surgery due to chemotherapy.
Despite the cancer and the treatment, Stottlemyre said he is going to try to make it to Yankee Stadium for Old Timers' Day later this month. "I want to be there in the worst way," he said. His wife Jean said they are going to try to attend as well, though the travel from their home in Washington might be too much. Either way, let's hope for the best for Stottlemyre, a longtime cancer survivor who is trying to do it again.
Betances Gets Pointers From Rivera
Earlier this season, when Dellin Betances was really struggling with his command, the big right-hander got some pointers from Mariano Rivera, writes Kevin Kernan. "Towards the beginning of the season when I was struggling early on, Mo told me a couple of pointers that really helped," said Betances. "He told me he felt like my front shoulder was flying open and he offered some tips. I dropped the shoulder a little bit to stay within a straight line and have a good direction towards home, and I think that has helped me be more successful and more consistent.''
Betances said Rivera also reminded him to "stay locked in and have confidence," even while struggling. "Hearing that from him makes such a difference. I've been able to use that advice to my advantage," he added. Dellin's numbers since his early-April struggles are insane — he went into last night's game with five hits and six walks allowed in his last 24 innings, with 43 strikeouts. Bonkers. Somehow Betances has been even better than last year. If only Rivera's words had that much of an impact on everyone.
Gregorius Gets Pointers From A-Rod, Beltran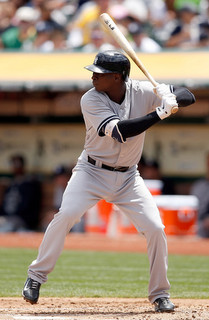 Meanwhile, the Yankees have turned to two current veteran players to help shortstop Didi Gregorius, who has improved at the plate lately but has struggled overall. In addition to hitting coach Jeff Pentland and assistant hitting coach Alan Cockrell, both Alex Rodriguez and Carlos Beltran have been helping Gregorius in recent weeks, reports George King. "Alex and Carlos had a big hand in talking to Didi,'' said Pentland.
"You have to have the same approach in the batting cage that you do in the game, and that was something that was missing to me. He is the guy who has to go out and do it. Hopefully he has found something to work with," said Beltran, who added he considers helping young players part of a veteran's job. Both Beltran and A-Rod encouraged Gregorius to be "more selective in the (strike) zone" as well. This is the second time Rodriguez has lent a hand coaching Didi — he worked with him at shortstop a few weeks go.
Yankees Invite Whitley For Private Workout
According to Dan Zielinksi, the Yankees had New York HS OF Garrett Whitley in for a private workout before Monday's draft. (Whitley said he worked out for the Braves and Brewers as well.) I'm not sure if the workout took place in Yankee Stadium or in Tampa, but that doesn't really matter. Here's my profile on Whitley, a projected first round pick and one of the highest upside players in the draft. Pre-draft workouts are not uncommon but teams don't invite just anyone either — they're usually reserved for players clubs have significant interest in, and, more than anything, the workout is so more members of the brain trust can see the player, including the higher ups. There's no word on who else the Yankees brought in for a pre-draft workout.
Baseball Prospectus' Mock Draft v2.0
Over at Baseball Prospectus (subs. req'd), Chris Crawford posted his second mock draft yesterday, and, like everyone else, he has the Diamondbacks taking Vanderbilt SS Dansby Swanson with the first overall pick. That's not set in stone just yet, but it sure looks like Arizona is leaning in that direction. Crawford has the Yankees selecting Whitley and California HS C Chris Betts with their top two picks, 16th and 30th overall, respectively. Here's my profile on Betts. (The Whitley profile is linked above.) The Yankees have been connected to both players for weeks now. There's a decent chance Whitley will be off the board by time that 16th pick comes around, but Betts should still be available.
MLB.com's Mock Draft v4.0
Meanwhile, Jim Callis posted his latest mock draft yesterday as well. He also has the D'Backs taking Swanson with the top pick. As for the Yankees, Callis has them picking UCLA RHP James Kaprielian and Betts with those 16th and 30th overall picks, respectively. Here's my profile on Kaprielian. (Again, the Betts profile is linked above.) Callis says the Yankees "want a college pitcher," but we've also heard they want a bat, so who really knows. This draft is very deep in right-handed pitchers, both high school and college, so the best available player for that 16th pick could easily be an arm.
Four Players To Attend 2015 Draft
According to MLB, four players will be at the MLB Network studios for the draft broadcast on Monday: Whitley, Florida HS SS Brendan Rodgers, Indiana HS RHP Ashe Russell, and Pennsylvania HS RH Mike Nikorak. Rodgers is a likely top five pick — he was a candidate to go first overall, but apparently the D'Backs want a quick moving college player — while the Yankees have been connected to the other three guys at various points these last few weeks. Here are my profiles for Russell and Nikorak. Look up a few paragraphs for the Whitley profile. It would be pretty neat if the Yankees drafted a kid who was actually in the studio, wouldn't it?
Ibanez Changes Agents
Free agent Cuban infielder Andy Ibanez recently changed agents, according to Ben Badler. Ibanez left Praver Shapiro Sports Management and is now represented by Relativity Sports. He has been eligible to sign since February, but Badler says Ibanez is likely to wait to sign until after July 2nd so his bonus (and penalties) get pushed to the 2015-16 signing period. The Yankees have shown some interest in Ibanez, a 22-year-old light hitting/good fielding second baseman, but if he waits until July 2nd, they'll have no shot to sign him. Part of the penalties for last year's international spending spree is a bonus cap of $300,000 during the 2015-16 and 2016-17 signing periods, and $300,000 won't be enough for Ibanez.