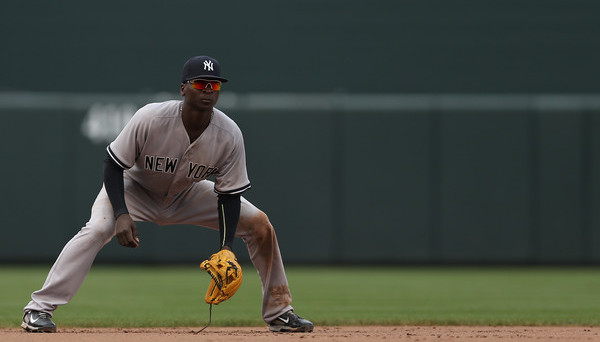 Let's start with the obvious: the first 70 games of the Didi Gregorius era have not been pretty. He's hitting a weak .231/.283/.325 (67 wRC+) overall and his defense, while occasionally spectacular, has been enigmatic at times. Decision-making has been an issue too. I think we all knew there would be some growing pains with Didi this season, but not this many.
Thankfully Gregorius has settled down in recent weeks and looks way more comfortable than he did in April, both at the plate and in the field. "I'm settling down a little bit more. Trying to get more comfortable more at-bats, better at-bats, so it's getting better," he said to Chad Jennings recently. The bad decisions don't really happen anymore and his offense is, very slowly and steadily, trending upward.
Gregorius started well — relatively well, anyway — during the last two seasons with the Diamondbacks before fading as the season progressed. This year he's done the opposite. Started terribly and now gradually heading in the right direction. That's … something. I mean, the guy still has a 67 wRC+, but at least there is some semblance of improvement: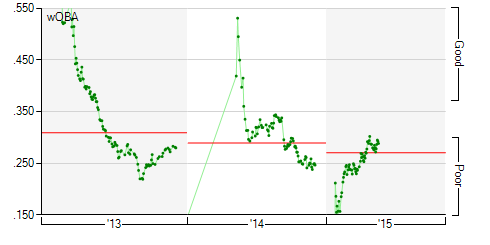 No one is claiming Gregorius has suddenly become an offensive dynamo. We're just looking for some silver linings here, and Didi has indeed gotten better at the plate as the season has progressed. Let's break his season up into three almost equal parts:
| | AVG/OBP/SLG | wRC+ | BB% | K% | Soft% | Hard% | O-Swing% | Z-Swing% |
| --- | --- | --- | --- | --- | --- | --- | --- | --- |
| Games 1-23 | .212/.274/.242 | 44 | 6.8% | 17.8% | 22.2% | 9.3% | 35.2% | 75.2% |
| Games 24-46 | .222/.290/.349 | 78 | 5.7% | 17.1% | 21.2% | 23.1% | 33.1% | 69.2% |
| Games 47-70 | .253/.284/.373 | 79 | 4.5% | 14.8% | 16.9% | 29.6% | 30.8% | 75.2% |
The slash line is what counts the most, at the end of the day we're all judged on results, but the most important numbers going forward here are the K%, Hard%, and O-Swing%. Gregorius has cut down on his strikeout rate while making more hard contact and swinging at fewer pitches out of the strike zone. His hard contact rate has improved considerably as the season marches on.
A few weeks ago the Yankees had both Carlos Beltran and Alex Rodriguez, two veterans who know a whole lot about what it takes to be a successful big league hitter, work with Gregorius in an effort to get him headed in the right direction at the plate. Beltran specifically said he worked with Didi to use the same approach in batting practice and in the cage as in games. "I am taking BP seriously, trying to get better,'' said Gregorius to George King.
The league average shortstop is hitting .248/.298/.358 (81 wRC+) this season, so while Didi is still short of even that low bar, he's getting closer. Gregorius doesn't figure to hit for much power outside of a few Yankee Stadium home runs now and then and he doesn't walk either, so his offensive potential is limited. It's basically batting average plus a little extra on top. That's okay though. Gregorius with average shortstop offens plus his defense makes him a slightly above-average player for the position in my opinion.
There are two questions going forward. One, will Gregorius ever actually become a league average hitting shortstop? He's trending the right way now but that's not guaranteed to continue. The increase in hard contact and decline in strikeouts are encouraging, sure, but that only goes so far. Two, should Gregorius one day become that league average hitting shortstop, is that good enough for the Yankees? The Yankees will always and forever be driven by star power, and a shortstop with an 81 wRC+ and good defense probably doesn't fit the bill.
I imagine the Yankees are hoping Gregorius develops the way Brandon Crawford has developed for the Giants. Crawford started out as a no-hit/all-glove shortstop earlier in his career but improved at the plate little by little each season as he entered his peak years. He's gone from a 81 wRC+ to a 92 wRC+ to a 102 wRC+ to a 132 wRC+ during his age 25-28 seasons. Obviously the Yankees would like more immediate impact from Gregorius, but, if he were to develop on a similar timetable as Crawford, I doubt they'd complain.
For now, Didi has been able to shake off his brutal April and show signs of improvement at the plate. Not just signs of improvement, I mean actual, tangible improvement. He's hitting better now than he did earlier this season. The numbers say so. His strikeout rate is down and his hard contract rate is up. Progress! It's progress, very slow and steady progress, but progress nonetheless. Hopefully it continues.