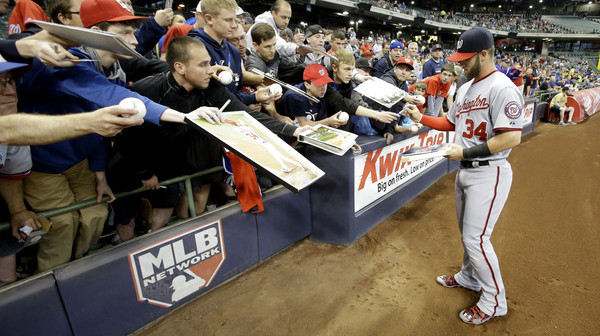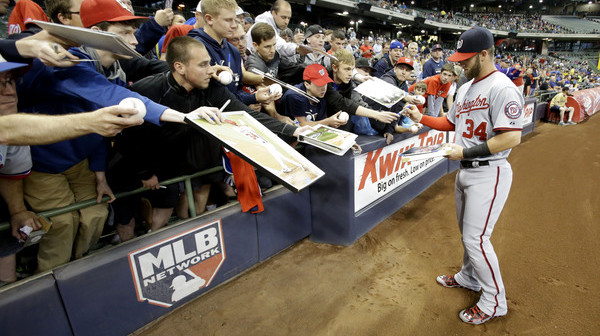 The Yankees and Orioles wrap up their three-game series later this afternoon. Until then, here are some miscellaneous links to help you pass the time.
Future Yankee Bryce Harper?
It was inevitable. When the Nationals visited the Bronx to play the Yankees last week, Bryce Harper was asked about his hardly imminent free agency and whether he would consider signing with the Yankees. Harper grew up a Yankees fan because of his father, a big Mickey Mantle fan, and famously said he wants to "play in the pinstripes" in his 2009 Sports Illustrated feature.
"I enjoy playing for the Nationals," said Harper to Dan Martin last week, astutely avoiding the question about the Yankees. "We try to win a World Series, just like every other team. If I could bring that back to DC, bring that back to the city, that's what I want to do. I've said it for a long, long time. That's something that I want to do … We have such a great team here. I look at every single day as a new day. I go in and have the same mentality. DC is a great place to play. It's a monumental town."
Harper won't be a free agent until after the 2018 season, when he will still be only 26 years old. He's already one of the best players in the game and figures to be in position to smash contract records when he hits the open market a la Alex Rodriguez in 2000. Sure, the Nationals have one of the wealthiest owners in sports and could sign Harper to an extension at some point, but Giancarlo Stanton set the bar at $325M, and I'm sure Scott Boras will look to top that with Harper. (Stanton signed his deal at roughly the same service time level Harper will be at after the season.)
It both is and is not too early to look ahead to Harper's free agency. It is early because geez, it's still three and a half years away, but it isn't because Harper is so talented and will be such a hot commodity. He's a can't your eyes off him superstar in every way. Buster Olney (subs. req'd) recently wrote it "would be shocking if Harper isn't wearing a Yankees uniform on Opening Day in 2019," in fact. Most of the team's huge contracts will be off the books by then and the Yankees will be in position to go huge for Harper, who might command 12 years and $400M+ come 2018.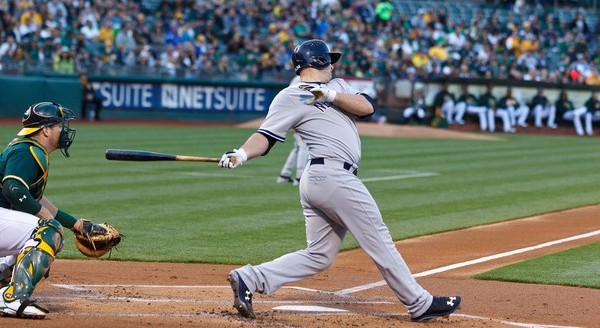 How McCann stopped popping up
During his first season with the Yankees, Brian McCann was a pop-up machine, hitting weak fly ball after weak fly ball, which resulted in a disappointing .232/.286/.406 (96 wRC+) line with a .231 BABIP. All those weak fly balls were easy outs, hence the low BABIP. McCann has been one of the team's best hitters this season though, coming into the weekend with a .264/.327/.447 (122 wRC+) line that is right in line with the 121 wRC+ he put up during his healthy seasons with the Braves from 2009-13.
How did McCann improve this year? He stopped popping up, as Eno Sarris explains. McCann credits former hitting coach Kevin Long for some mechanical adjustments late last season. "Last year, for whatever reason, my hands weren't taking a direct route to the ball," said McCann to Eno. McCann averaged about 4.0% infield pop-ups from 2006-03, but that jumped to 5.0% last year, and it doesn't take into account all the weak fly balls to the outfield. This year he's down to a 0.8% pop-up rate (!), one of the lowest in the game. Fewer pop-ups, more hard contact, better McCann.
Old Timers' Day attendees announced
Earlier this week the Yankees announced the list of former players, coaches, and personnel who will attend Old Timers' Day next Saturday. Here is the full list. No Derek Jeter, no Jorge Posada, no Andy Pettitte, and no Mariano Rivera. Also no Mike Mussina or Hideki Matsui either this year. Lame. Oh well, it'll still be fun. The Yankees will honor Willie Randolph with a plaque in Monument Park that night as well.
Several 2015 draft picks en route to Tampa
According to his Twitter feed, LHP Jeff Degano (2nd round) traveled to Florida earlier this week, which usually indicates he has a deal in place and will sign soon. Bryan Hoch and Jeff Hartsell say 3B Donny Sands (8th) and LHP James Reeves (10th) will turn pro as well. Also, RHP Kolton Montgomery (16th) and 1B Kale Sweeney (29th) told ABC 4 Sports and Norm Sanders, respectively, they are signing with the Yankees and will report to Tampa. The team's mini-camp for draftees actually started Thursday, so these guys are probably already in uniform working out.
And finally, scouting director Damon Oppenheimer confirmed to Chad Jennings the Yankees will sign RHP Alex Robinett (32nd). Robinett is a second lieutenant and a staff ace at West Point, and will have to finish his military commitment after playing this summer. "Hopefully we can keep him in some kind of baseball shape when he's able to finish that commitment and come back after serving his country," said Oppenheimer. Earlier this season Cardinals righty Mitch Harris became the first military academy graduate to play in MLB in nearly a century.
Law's team-by-team draft breakdowns
Keith Law posted his AL and NL draft reviews earlier this week (subs. req'd). He didn't hand out grades or anything like that, just said which picks he liked and didn't like. Law says the Yankees "wanted a bat with their first pick, but all the candidates went before them," which is what I wondered the other day. He also says Degano has "first-round stuff, but slipped because he hadn't pitched in more than two years due to Tommy John surgery and will turn 23 this fall," and that RHP Drew Finley (3rd) "was a steal." The Yankees reportedly had interest in Finley for their supplemental first round pick, the 30th selection, but they were able to get him with the 92th pick. Neat.
Also make sure you check out Draft to the Show's review of New York's draft class.