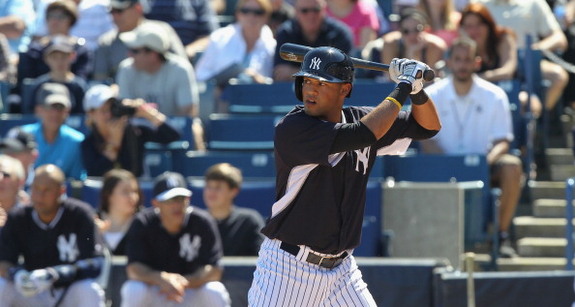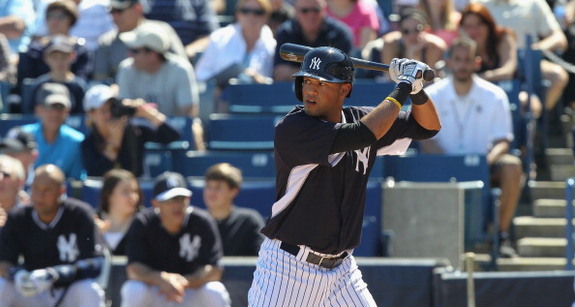 The Yankees have called up right-hander Chris Martin and outfielder Mason Williams from Triple-A Scranton, the team announced. They take the place of Andrew Miller and Jose Pirela on the 25-man roster. Miller was officially placed on the 15-day DL today and Pirela was optioned to Triple-A Scranton yesterday.
Martin, 29, had a 3.55 ERA (2.00 FIP) in 12.2 innings for the Yankees earlier this year before his elbow starting acting up. He landed on the DL then was optioned to Triple-A once healthy, where he made four appearances. The Yankees are looking for another righty reliever and Martin will get the first audition. Joe Girardi showed a lot of faith in him back in April and I suspect that will be case now, especially since the alternative is Esmil Rogers.
The real story here is Williams, who was a borderline non-prospect after last season because he wasn't hitting and had makeup and work ethic concerns. The 23-year-old hit a weak .236/.298/.319 (74 wRC+) from 2013-14 at mostly Double-A Trenton while getting benched for lack of hustle numerous times. He reportedly came to camp with a better attitude this year and has hit .318/.397/.398 (132 wRC+) with more walks (11.8%) than strikeouts (9.8%) between Double-A and Triple-A.
Williams has never lacked physical ability — he's got a Jacoby Ellsbury-esque profile as a left-handed hitter with contact and speed and great center field defense. Hopefully he plays regularly going forward, at least against righties. Brett Gardner figures to slide back over to left field because Williams is a better defender. He's probably the best center field defender in the organization.
This has been a remarkable year for formerly troubled Yankees prospects. First Slade Heathcott got the call after battling injuries all those years and now Williams is up with the team after two terribly disappointing seasons. Ramon Flores, who's been in the system for what feels like an eternity, also made his MLB debut in 2015. Heathcott and Flores had some success right away with the Yankees. Hopefully Williams does the same.