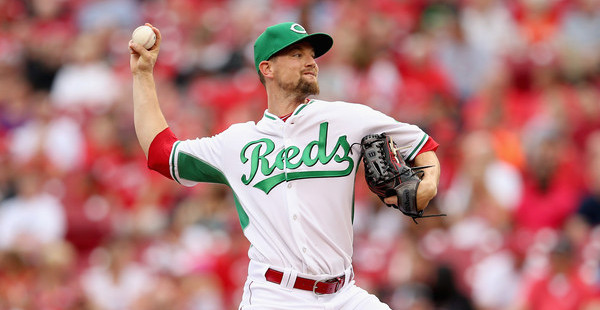 For at least the second straight start, the Yankees had a scout watching Reds right-hander Mike Leake over the weekend, according to George King. They sent a different set of eyes too — last time out Jeff Datz scouted Leake and this time it was Brandon Duckworth. Leake struck out seven and allowed two hits in seven shutout innings against the Marlins on Friday.
The Yankees have been scouting Leake as well as Reds ace Johnny Cueto in recent weeks, which makes perfect sense. The Reds are bad and both Leake and Cueto are impending free agents. They're very much on the trade block and, at the very least, the Yankees need to do their due diligence beforehand. Cueto's an ace and would help any rotation. I'm not sure how Leake helps New York right now. I looked at both in our recent Scouting The Market post.
Meanwhile, according to Jon Heyman, the Yankees have "sworn off" trading their top prospects for a rental player at the trade deadline. That is something every single team says every year at the trade deadline, without fail. There's little to gain by saying you're open to trading top prospects. Leake shouldn't require top prospects anyway, but Cueto would. Aces don't come cheap. Not even rental aces.
I do believe the Yankees are sincere with their unwillingness to trade top prospects for a rental, at least moreso than previous years. They've given a lot of young players a chance this season. Slade Heathcott, Mason Williams, Ramon Flores, a gaggle of relievers … we've seen the Yankees dip into their farm system for help quite often this year. In recent years they'd always jump out and pick up some scrap heap guy to plug a roster hole.
Basically everyone in the organization has said the Yankees intend to incorporate more young players going forward and their actions so far this season back that up. Does that mean top prospects should be off-limits in trade talks? Of course not. Sometimes a deal is too good to be true. But I think guys like Aaron Judge and Luis Severino are as close to untouchable as it gets for a Yankees prospect.