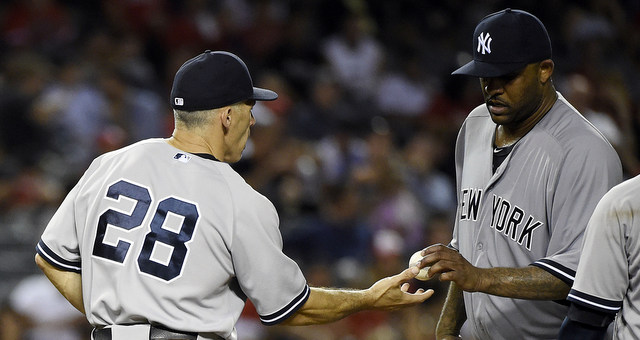 The Yankees lost to the Angels last night, mostly because the bats didn't show up, but also because CC Sabathia allowed four runs in 7.1 innings against one of the lowest scoring teams in baseball. And the worst part? When Sabathia walked off the mound after being pulled in the eighth, I found myself saying he wasn't all that bad. That's where things are right now with the team's former ace.
Last night's loss has Sabathia sitting on a 5.59 ERA (4.58 FIP) in 95 innings. The 5.59 ERA ranks 94th out of the 98 qualified starters in baseball this season. That's after Sabathia ranked 76th out of 81 qualified starters with a 4.78 ERA back in 2013, his last full healthy season. He now has a 5.06 ERA in his last 352 innings dating back to Opening Day 2013. No, ERA isn't the only or best way to evaluate a pitcher, but the goal is to keep runs off the board, and CC hasn't done it for three years now. We should all be able to agree on that.
The Yankees are 6-10 when Sabathia starts this season and 35-26 when anyone else starts. Sometimes that happens because a guy isn't getting any run support and is a tough luck loser a bunch of times, but that isn't the case here. Sabathia has pitched poorly and his starts are rarely winnable. He's the weak link in a six-man rotation that will soon be trimmed down to five. It couldn't be any more obvious.
There is no indication the Yankees are considering removing Sabathia from the rotation — late last night the team announced Nathan Eovaldi, not Adam Warren, will start Wednesday, indicating Warren's going to the bullpen — and that's a problem. His enormous contract is dictating his roster spot, not his performance, which to be fair is not unique to the Yankees and Sabathia. It's happening elsewhere around the league. Still, the AL East is incredibly tight …

… and it sure looks like it will remain that way all season. This is going to be a really fun race, and the Yankees are hurting themselves by keeping Sabathia in the rotation. It's going to hard enough to contend against the Orioles, Rays, and Blue Jays as it is. But doing it while running one of the worst starting pitchers in baseball out there every fifth day? When a better option — Warren has a 3.59 ERA (109 ERA+), lowest in the rotation! — is available? It's illogical.
Removing Sabathia from the rotation is a difficult move from a personal standpoint — he's done a lot of good for the Yankees over the years and, by all accounts, he's a leader in the clubhouse, and it's never easy to demote a player like that to a lesser role. It's embarrassing. It's also necessary sometimes. The Giants sent Tim Lincecum to the bullpen last summer and are likely to do it again in the coming days, for example. The Yankees are at that point with Sabathia.
Perhaps there's a compromise to be made here. Perhaps the best move in the short-term is a phantom DL trip to give Sabathia a little 15-day vacation. Who knows, maybe he'll welcome it and see it as an opportunity to work on some things. It's not just a physical break either, it's a mental break from what I'm sure has been a very tough season (tough few seasons, really). A two-week breather could do some good. Of course, unless the DL trip is a magic cure and helps Sabathia turn the clock back to 2012 or so, all it does it delay the inevitable. It's not a real solution.
Either way the Yankees are rapidly approaching a breaking point with Sabathia. Actually, I'd say they're already there and have been since Ivan Nova returned and legitimately gave the Yankees five starters better than Sabathia. This is an organizational failure. It's not on Joe Girardi. It's on Brian Cashman and perhaps those above him if Hal Steinbrenner & Co. want Sabathia in the rotation because of his contract. Girardi can't be expected to make the decision and carry out the plan on his own. Not with someone like Sabathia. The brain trust has to be involved.
For now, Sabathia is not helping the Yankees win games and they don't have the luxury of giving him time to straighten things out. They've already given him too much time. Sabathia is not much of an asset to the Yankees any more, he's a sunk cost, and if the team wants to put itself in the best position to return to the postseason, he shouldn't be in the rotation at all. The sooner they're willing to swallow that pill, the better off they'll be.