Just as we all expected, the Yankees lost games started by Kevin Correia and Sean O'Sullivan this series and won the game started by Cole Hamels. New York was able to avoid getting swept by the Phillies on Wednesday afternoon with a 10-2 blowout win. That's more like it. The Yankees went 5-3 and averaged 7.5 runs per game during the eight-game homestand.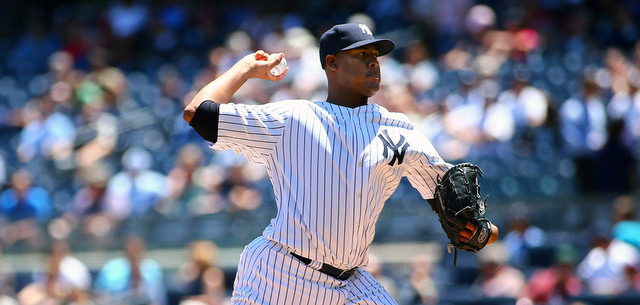 Return of SuperNova
After the first two games of this series, I would have been happy if Ivan Nova simply hadn't gotten clobbered in his return from Tommy John surgery on Wednesday afternoon. A winnable start was the goal and he sure gave the team that. Nova held the Phillies to three hits and two walks in 6.2 scoreless innings in his first start back from elbow reconstruction. He struck out just one and got way more outs in the air (14) than on the ground (five), which is atypical for him. But, first start back, and there was definitely some rust.
Early on in the first inning Nova did get away with some mistakes — he left some fastballs middle-middle — but the Phillies couldn't do anything with them. I guess that's the difference between throwing 93-95 mph like Nova and 88-90 like CC Sabathia on Tuesday. Nova got much better as the game progressed and he leaned on his sinker/curveball combination (not so much his changeup) just like he did in his pre-Tommy John surgery days. He was on a 95-100 pitch limit and threw 92 pitches (51 strikes), and it did seem like he started to run out of gas near the end there.
After all that, the Yankees have to be thrilled with Nova's return. Not just the results — they really needed a strong start after those last three games though — but how he looked. His sinker was moving and when he missed, he generally missed down below the zone after the first inning. He was able to throw his curveball for strikes and while his command was spotty — Nova didn't hit catcher John Ryan's Murphy glove a whole lot — his control was fine. He was around the zone. Really encouraging outing. Welcome back, Ivan.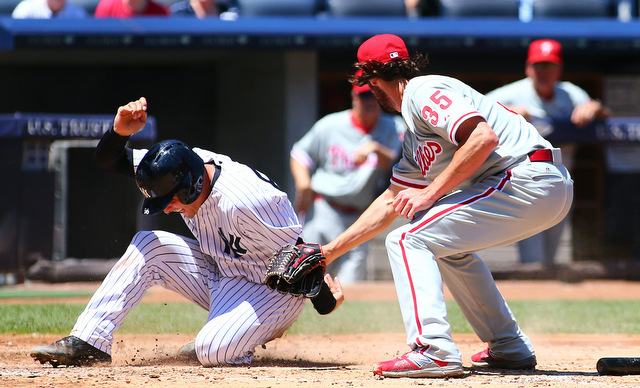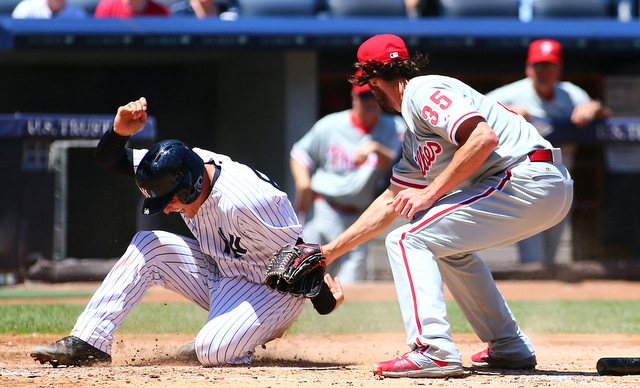 Return of the Phillies
For the first time in the series, the Phillies actually played like the worst team in baseball. The Yankees scored their first two runs in the second inning and both scored when third baseman Andres Blanco threw the ball away trying to get the force at the plate. Chris Young singled, John Ryan Murphy walked, Didi Gregorius beat out a sac bunt attempt to load the bases with no outs, and Jose Pirela's grounder led to the error. Blanco's throw scooted away from catcher Carlos Ruiz and two runners scored.
The next three runs came in the fourth inning, again because the Phillies played like the worst team in the game. Gregorius led the inning off with a sun-aided double — it was a routine infield pop-up infielders Cesar Hernandez and Freddy Galvis failed to catch — and Cole Hamels walked Pirela on four pitches. Unexpected! Brett Gardner slapped a single to center to score Gregorius, then Chase Headley hit a soft chopper over second base that Blanco muffed, allowing Pirela to score. It looked like Blanco was expecting the ball to hit the base, but it never did and it went for a double. Mark Teixeira followed with a legit single to right to score Headley.
The Yankees did a really nice job against Hamels, forcing him to throw 102 pitches in five innings. He allowed those five runs on eight hits, three walks, and a hit batsman while striking out only three. The third inning was his only 1-2-3 inning. Hamels had to throw 69 of those 102 pitches from the stretch. These Yankees have a knack for hitting aces — Hamels joins David Price, Jacob deGrom, Gio Gonzalez, Felix Hernandez, Jered Weaver, and Garrett Richards as pitchers who allowed five or more runs in six or fewer innings against New York this season, among others.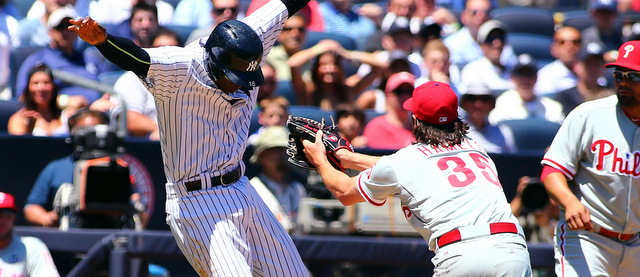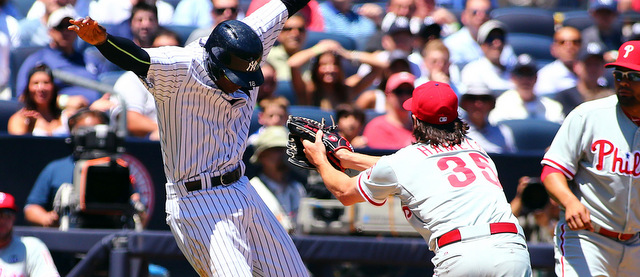 Leftovers
The Yankees kept piling on runs after Hamels was out of the game. One run in the sixth, another four in the seventh. Always appreciated. Bryan Mitchell retired all four men he faced and Diego Moreno allowed two runs in a messy ninth to blow the shutout. Nice of Nova and the offense to take the pressure off the bullpen.
Everyone in the starting lineup had a hit except Carlos Beltran, who went 0-for-5. Headley (single, double), Alex Rodriguez (two singles), Teixeira (three singles), Young (two singles), Gregorius (single, double), and Pirela (single, double) all had multiple hits. Murphy had a single and a walk. The Yankees had 14+ hits for the 12th time this year. They had 14+ hits nine times last year and eight times the year before.
The Yankees scored ten runs in this game despite not hitting a home run. They hadn't scored more than five runs in game without a homer this season. They went 7-for-21 (.333) with runners in scoring position. When was the last time a team had 21 at-bats with runners in scoring position in a nine-inning game? I have no idea how to look that up.
Joe Girardi was ejected in the third inning for barking about a bad call on a check swing. He came out of the dugout and got his money's worth after being tossed. Nova struck out Maikel Franco to end the inning on the next pitch. It was Girardi's second ejection of the season.
And finally, Hamels plunked A-Rod in the thigh with two outs in the first inning and home plate ump Brian O'Nora warned both benches immediately. That seemed silly, but I guess it went back to Franco being hit by a pitch Tuesday night. Either that or umpires were told to be quick to act whenever A-Rod gets hit this year.
Box Score, WPA Graph & Standings
Here are the links to the box score, video highlights, and updated standings. We also have Bullpen Workload and Announcer Standings pages. Now here's the win probability graph:

Source: FanGraphs
Up Next
The homestand is over and the Yankees are now heading to Houston for a four-game series with the first place Astros. Adam Warren and 'Stros ace Dallas Keuchel will be the pitching matchup in Thursday night's series opener.