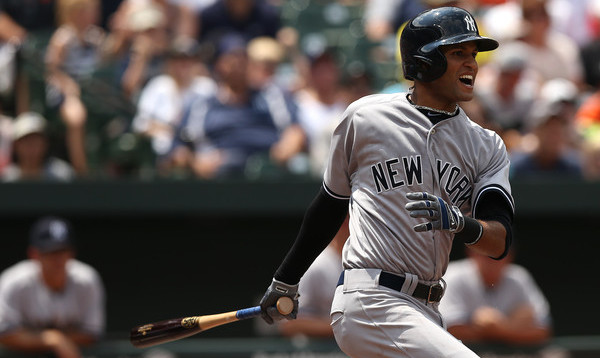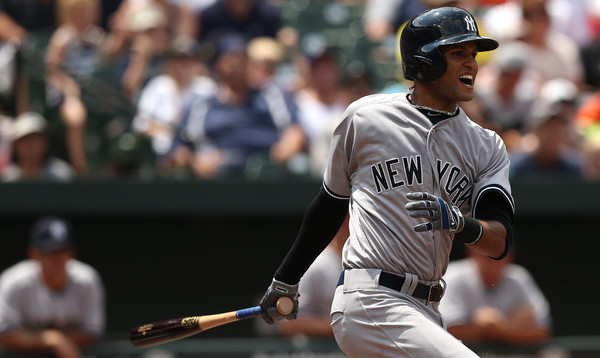 I'm not going to lie. If you had told me back before the start of Spring Training that both Slade Heathcott and Mason Williams would make their MLB debuts before the All-Star break this season, I would have assumed the starting outfield had been decimated by injuries. Not just the starters, but the backups too. Heathcott (injuries) and Williams (poor performance) were not on my big league radar at all coming into 2015.
Instead of fading into prospect obscurity this year, both Heathcott and Williams had strong showings in Spring Training that carried over into the regular season. Slade was simply fully healthy for the first time in basically his entire career. Williams had the proverbial light bulb turn on and finally got serious about his career. It took injuries for them to get to the show — Jacoby Ellsbury (knee) for Heathcott, then Heathcott (quad) for Williams — but both Heathcott and Williams put themselves in position for the call-up and they deserve credit for that.
Ramon Flores also made his MLB debut earlier this year — he actually came up when Heathcott got hurt then went down for Williams — so that's three young outfielders the Yankees have called up already this season. All three had some immediate success too. Heathcott went 6-for-17 (.353) in his cameo, Flores had some hits against top notch pitching (Max Scherzer, Felix Hernandez) and played great defense, and Williams walloped a no-doubt two-run home run in his second at-bat in pinstripes. As far as first impressions go, all three did well.
As is the case with any young player, especially those not considered tippy top prospects at the time of their call-up, these three guys are auditioning for big league jobs. Heathcott, Flores, and Williams want to show the Yankees they can play everyday. On the other side of the coin, the Yankees want those three outfielders to show other teams they can play everyday to boost their trade value. I don't think it's a coincidence the team called Williams up last week instead of recalling Flores — the Yankees want to show off as many of these guys as possible.
This is a simple numbers game. Brett Gardner and Ellsbury are locked into long-term contracts and Carlos Beltran is signed through next year with Chris Young and Garrett Jones on the bench as reserves through the end of 2015. With Alex Rodriguez hitting so well at DH, Beltran is stuck in the outfield. Not only are Heathcott, Flores, and Williams waiting in Triple-A, the Yankees also have Ben Gamel and Tyler Austin at that level as well, plus Aaron Judge and Jake Cave are sitting in Double-A. The Yankees have a lot of outfielders and something has to give. They can't keep everyone. There's not enough roster spots to do that.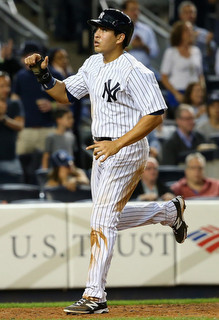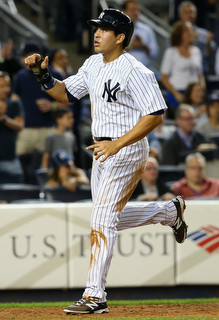 The Yankees have enough Triple-A and Double-A outfield depth to trade at least one of their young outfielders this summer to plug another roster hole. Since Heathcott is on the DL, that leaves Flores and Williams as trade bait. Flores is the more predictable player while Williams has the greater upside. Whom you want to see the Yankees keep is a matter of preference. There's no right answer. The team shouldn't label either untouchable though — other clubs will value Flores and Williams differently and the Yankees should be willing to act on either player.
Looking ahead, the Yankees can use one of these guys as the fourth outfielder next season, though the problem is Heathcott, Flores, and Williams are all left-handed hitters. The Yankees would prefer a righty fourth outfielder to balance out the roster. The best fit for the roster among young outfielders might actually be Austin, a righty hitter who can play the corner outfield as well as first base. He's had a down year though (76 wRC+) and isn't in the big league conversation right now.
Judge is hopefully the long-term answer in right field once Beltran's contract is up. I imagine that's the plan but this is baseball, and things rarely go according to plan, especially with prospects. That's why the outfield depth is a good thing. Maybe Williams ends up the long-term right fielder. Or Flores. Or Austin. Or maybe Gardner turns into trade bait and Flores and Judge are flanking Ellsbury in two years. Who knows? The depth gives the Yankees lots of options, and one of them absolutely should be trading prospects. That's why you have 'em.
So far this season things have worked out to almost the best case scenario for these young outfielders. Heathcott and Williams rebuilt some value early in the season and those two plus Flores made strong first impressions in their brief MLB cameos. Judge, Gamel, and Cave are also having nice years in the minors. Austin's been the only negative. This depth allows the Yankees to trade one of their young outfielders at the deadline this year to improve their roster elsewhere. A few months ago, dealing some of these guys would have been the definition of selling low.