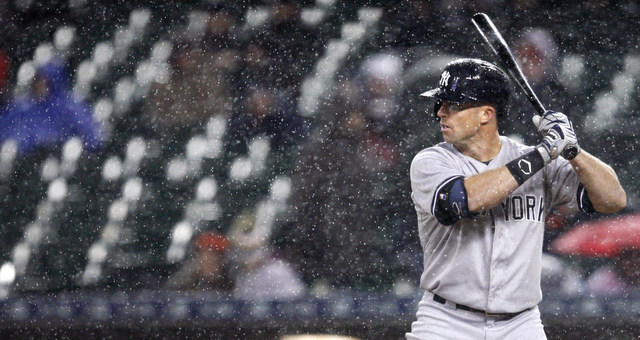 Two years ago Brett Gardner was the Yankees' second best player almost by default. They still had in-his-prime superstar Robinson Cano, but for the most part the rest of the roster was filled out by retreads and guys on their very last legs — Kevin Youkilis, Travis Hafner, and Vernon Wells all had regular lineup spots on Opening Day and not one of them played another MLB game after leaving the 2013 Yankees.
Last year Gardner was arguably the best player on the team, inarguably one of the two best. He and Jacoby Ellsbury had very similar stastistical seasons, with Gardner showing more power while Ellsbury hit for a higher average and stole more bases. This season, Gardner's progression has continued, and he has been the team's best player through the first half of the season.
Oh sure, Alex Rodriguez has better offensive numbers overall, mostly thanks to his power, but A-Rod is a DH and he's supposed to outhit everyone else because he doesn't play the field. Mark Teixeira is having a fine season as well, though his only advantage over Gardner is power. Gardner has a 140 wRC+ and Teixeira has a 137 wRC+ — the difference lies in Gardner far superior batting average, on-base percentage, and base-running.
But we're not here to argue who has better numbers. They're all on the same team, after all. Gardner has been, indisputably, one of the best outfielders in all of baseball this season. That he had to wait to be named to the All-Star Game as an injury replacement is a knock against the system, not Gardner. He should have been on the original roster, though quiet and unassuming players like Brett are rarely rewarded with All-Star Game nods. It's a popularly contest.
Anyway, Gardner came into the All-Star break hitting .302/.377/.484 (140 wRC+) with ten homers and 15 steals on the year. Here is the full list of AL players with ten homers and 15 steals at the break: Brett Gardner. That's it. It's just him. Gardner is also one of only ten AL players with a .370+ OBP and a .470+ SLG. He's shown his over-the-fence power spike last season was no fluke, but the difference between this year and last year are the non-homer hits.
As good as he was in 2014, Gardner had only 25 doubles last season. He added eight triples for good measure because, you know, he's fast. This season Gardner has already swatted 22 doubles and three triples. He's on pace for 41 doubles, six triples, and 18 homers after going 25/8/17 last year. He's on pace for 15 more extra-base hits! I'm sure Gardner will slow down a bit in a second half, players do get fatigued, but last year at the break he was on pace for only 49 extra-base hits. His spray charts are pretty revealing: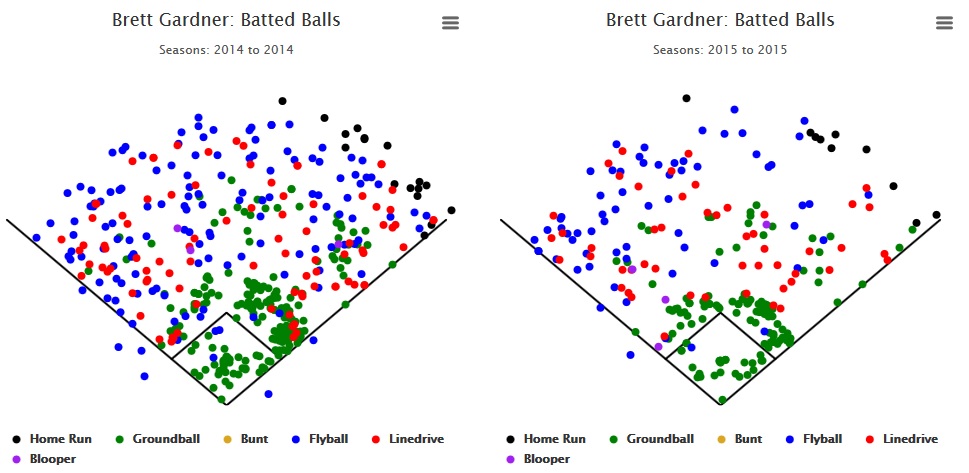 Gardner is using the opposite field more often than he did a year ago. You can see it in the spray chart, last year he had more batted balls to the pull side — if you need hard numbers: 42.0% of his balls in play were pulled last year, this year it's 35.8% — and the result was a career year in the power department. This season he's been able to both spray balls the other way for base hits while still yanking pitches to right field when the opportunity presents itself.
Remember, when Gardner first came up, he was a pure slash-and-dash speed guy. He focused on hitting the ball to the left side of the field and running like hell. Over the past few seasons Gardner started pulling the ball with more authority and why not? Yankee Stadium rewards pulling the ball if you're a left-handed hitter. This year he's doing both. Pulling the ball for power and serving it the other way for base hits when the pitchers give him nothing to drive. That's the evolution of a great hitter, and yes, Gardner is absolutely a great hitter.
In addition to his strong performance at the plate, Gardner remains a high-end defender, at least based on the eye test. The various defensive stats have been hating on him for a while now. UZR wants you to believe Brett has cost the Yankees 4.8 runs in the field this year. 4.8! lol UZR, lol. DRS is slightly better — it says Gardner has saved the team one singular run with his glove. I don't get it. The defensive numbers for Yankees outfielders have been screwy for years. I'm not saying Gardner is the best defensive outfielder in the game, but damn yo, he's clearly above-average. I'm not being a homer here. I'm very willing to admit when dudes play bad defense. Gardner's isn't.
Anyway, at the end of last season I said Gardner just had what was likely his career year. I don't think it was that unreasonable to say. This year Gardner has been ever better though, especially at the plate because he's gotten back to slashing the ball to the opposite while still maintaining his newfound ability to unload on a pitch that is begging to be pulled towards the short porch. That's not an easy thing to do, and for at least the first half of 2015, Gardner has been able to do it. He has been New York's best all-around player this year.