Despite all the injury concerns in the rotation, the Yankees made just one significant pitching addition this past offseason. They acquired Nathan Eovaldi from the Marlins in a trade that saw a starting pitcher (David Phelps) go the other way. Heck, they traded away two young-ish starters (Phelps and Shane Greene) and acquired just one (Eovaldi) over the winter. That was unexpected.
Eovaldi, who turned 25 two months after the trade, came to New York with the classic "the results don't match the stuff" reputation. He throws extremely hard but doesn't miss bats and is too hittable. That was the scouting report. Eovaldi had a 3.77 FIP in 199.2 innings for Miami last year. That's good! He also had a 4.37 ERA (86 ERA+) with only 142 strikeouts and an NL-leading 223 hits allowed. That's bad.
The Yankees weren't buying Eovaldi hoping he would be the pitcher he was with the Marlins last year. They acquired him because they believe he can be better in the future through natural development with an assist from pitching coach Larry Rothschild, who has a history of helping pitchers improve strikeout and walk rates. Eovaldi was 24 at the time of the trade. He wasn't a finished product.
So far Eovaldi has continued to be the pitcher he was with the Marlins. He's been freakishly consistent year-to-year, actually. His strikeout (16.5%) and walk (6.0%) rates are nearly identical to last year (16.6% and 5.0%, respectively), and his home run rate (0.63 HR/9 vs. 0.73 HR/9) hasn't jumped a whole lot considering the shift from spacious Marlins Park to homer happy Yankee Stadium. That's encouraging.
Eovaldi remains extremely hit prone, however. His hit rate this year (11.3 H/9 and 3.55 BABIP) is actually higher than last year (10.1 H/9 and .323 BABIP), and I swear, I've never a pitcher allow more dinky little hits than Eovaldi this year. The Red Sox's three-run rally in the third inning this past Sunday is a perfect example: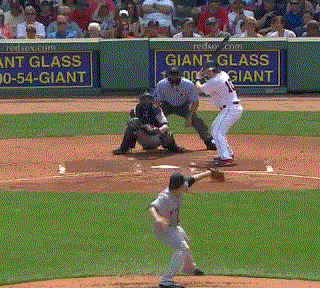 That's one legitimate line drive single and four seeing-eye ground ball singles. The worst! Whenever that sort of rally happens to any other pitcher, you just kinda chalk it up to baseball being baseball. Sometimes the ground balls find holes and it stinks. But it happens with Eovaldi all the time! Like once or twice a start. The batted balls keep finding grass. It's so unbelievably frustrating.
Eovaldi's overall numbers with the Yankees aren't anything special — 4.50 ERA (88 ERA+) and 3.55 FIP in 98 innings — though things are skewed a bit by that one disaster start in Miami. He's been much better over the last six or seven weeks than his overall numbers would lead you to believe. But still, Eovaldi has been frustrating and he struggles to pitch deep into games (six full innings just seven times in 18 starts). It's not a good combination.
And yet, Eovaldi continues to evolve with the Yankees. He's actually throwing harder this season (96.1 mph) than last (95.5 mph) — Eovaldi's the hardest throwing starter in baseball this year by half-a-mile an hour — and he continues to work on a splitter he started to pick up late last year. Well, maybe it's a splitter. It might be a forkball. It depends who you ask. Either way, it's a pitch he's working on and has incorporated more often as the season has progressed: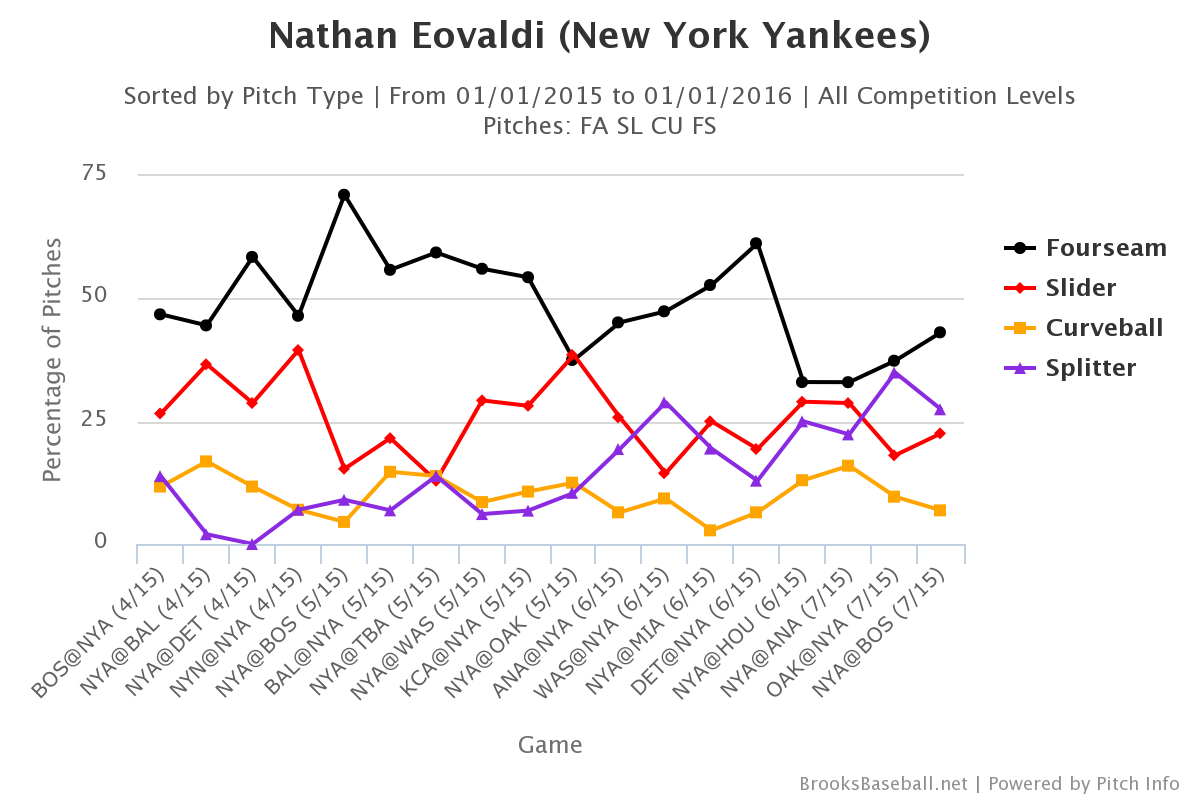 Eovaldi was using that splitter or forkball — how about we call it a sporkball? — 10% of the time or less until early-June, when he suddenly started using it more than 20% of the time. Only once in his last eight starts did he throw it less than 19% of the time. The extra sporkballs have come at the expense of his fastball mostly, though he's also thrown fewer sliders as well.
The increased sporkball usage isn't even the most interesting part. Look at how hard Eovaldi is now throwing that pitch: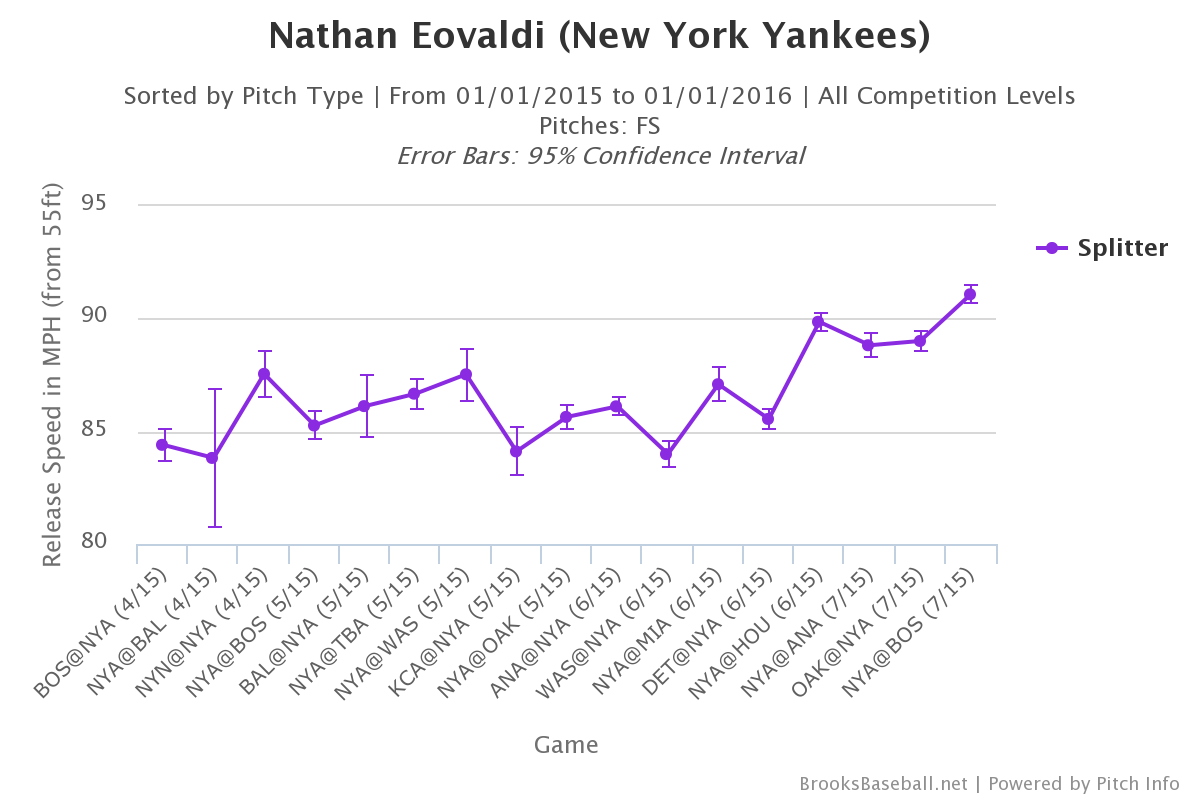 For some reason the sporkball added about five miles an hour four starts ago. It just jumped dramatically from one start to the next. The pitch averaged 91.1 mph in Boston on Sunday according to PitchFX. Averaged. I have no idea what to make of that. It seems impossible to throw a splitter that hard, and yet Eovaldi has done it four starts in a row now, and very effectively I might add. He has a 2.91 ERA in those four starts and opponents have swung and missed at the sporkball 25.4% of the time (14.9% league average for splitters).
Of course, Eovaldi has also allowed 23 hits in 21.2 innings in those last four starts, which brings us back to his hittability problem. As he has continued to use the sporkball more and more, Eovaldi's ground ball rate has climbed steadily …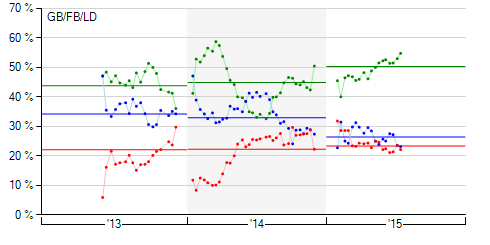 … and those dinky little seeing eye hits are happening just as often. His ground ball improvement is tremendous — Eovaldi's gone from a 43.8% grounder rate in 2013 to 44.8% in 2014 all the way up to 50.3% in 2015 — and ground balls are good, as long as they aren't getting through for base hits as often as they have for Eovaldi. His BABIP on grounders is .311. The AL average is .243. (Blame some of that on the team's remarkably consistent ability to get burned by the shift.)
Quality of contact could certainly be an issue, but both Eovaldi's soft contact (19.0%) and hard contact (30.4%) rates rank middle of the pack and are in line with the league averages (18.6% and 28.5%, respectively). And yet, the balls keep falling in for base hits.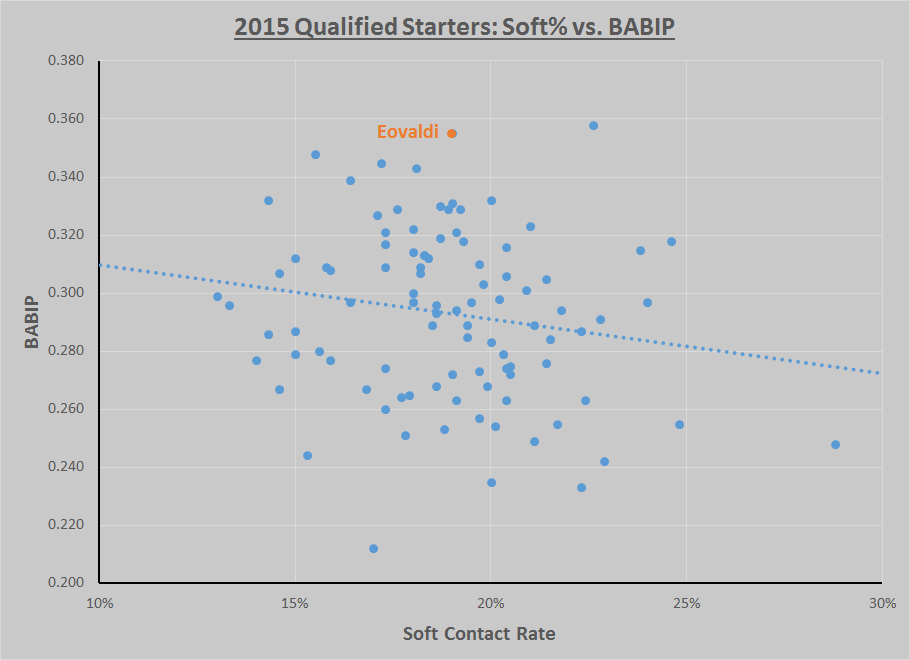 There's obviously something going on beyond the numbers here. Eovaldi's fastball isn't straight — according to PitchFX he gets more way more horizontal movement (-6.7 inches) than the league average fastball (-1.8 inches) — so hitters either pick the ball up well out of Eovaldi's hand or they can easily read the spin or he gets too predictable in certain counts. Maybe it's all of the above. I can't explain it and that's part of the reason why he's so frustrating.
Overall, Eovaldi has been somewhere in the range of serviceable and okay this season. Not exactly a ringing endorsement. His biggest issue more than anything is being unable to pitch deep into games, though part of that is a function of Joe Girardi's perpetual quick hook. Eovaldi is evolving as the season continues though. He has increasingly relied on the splitter and his ground ball rate is jumping. His numbers are similar to last year but his pitching style has changed.
Girardi likes to say Eovaldi is a "work in progress" and he's right, but Eovaldi is also a pretty important part of the pitching staff by virtue of being in the five-man rotation. The Yankees want results and they want to see development. The sporkball isn't a put-away pitch now and it may never be, but it won't become one without using it in games, and Eovaldi is certainly doing that now. Trying to develop and win at the same time is not an easy task, though that's what the Yankees and Eovaldi have tried to do in the first half and will continue to do after the All-Star break.