Boy, the rotation was such a big concern coming into the season. We were talking about every scrap heap starter imaginable in Spring Training — Felix Doubront, Jacob Turner, Randall Delgado, Erasmo Ramirez, yikes — as if they would be some kind of upgrade. The Yankees never did add another starter in camp, and while the staff as a whole has been just okay (4.24 ERA and 3.75 FIP), they've stayed relatively healthy and have the potential to be much better in the second half. Nathan Eovaldi is both frustrating and evolving. The rest of the rotation? Let's review.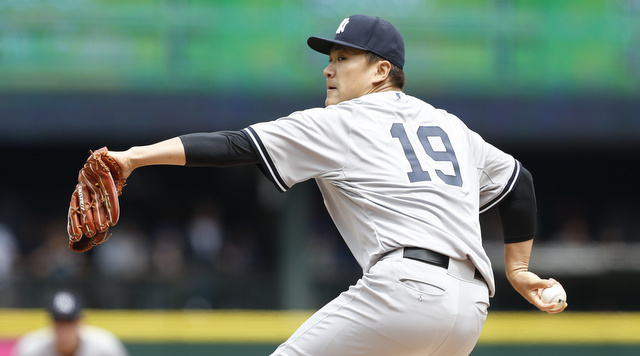 Elbow Holding Up, Pitches Left Up
Needless to say, Masahiro Tanaka's elbow was the single biggest injury risk the Yankees had heading into the 2015 season. He's their ace, he was one of the ten best pitchers in baseball before getting hurt last year, and now the partially torn ligament in his elbow is like a storm cloud looming over every pitch. You can't help but let it linger in the back of your mind.
So far this season Tanaka's elbow has stayed in one piece — he spent a month on the DL with wrist tendinitis and a minor forearm strain, and of course forearm strains are synonymous with elbow problems — but his performance has been uneven. He's had some truly great starts and some truly awful ones as well. The end result is a 3.63 ERA (3.60 FIP) with strikeout (24.9%), walk (4.8%), and ground ball (47.6%) rates right in line with last year (26.0%, 3.9%, and 46.6%, respectively).
Tanaka's start-to-start performance has been much more unpredictable, however. Last year he had an average Game Score of 63.4 with a standard deviation of 13.3. This year it's an average of 56.3 with a standard deviation of 18.7, which means Tanaka's starts this season are deviating from his average Game Score by a larger margin. So when he's good, he's really good, but when he's been bad, he's been really bad. Tanaka has some terrible starts earlier this season, no doubt about it.
The common thread whenever Tanaka has a subpar start seems to be his location, particularly leaving pitches up in the zone. Not so much his fastball, but his slider and splitter. Tanaka's split-piece is world class, that thing is devastating, but if it's left up in the zone rather than buried in the dirt, it's basically a batting practice fastball. It's no surprise then that Tanaka's home run rate has climbed from 0.99 HR/9 (14.0 HR/FB%) last year to 1.34 HR/9 (15.4 HR/FB%) this year.
No, Tanaka has not been as good as he was last season before the injury, but overall he's been solid for the Yankees this year and at times spectacular. The Yankees want to see more of the spectacular Tanaka in the second half and they're going to need him to get to the postseason. So far his elbow is holding up — his velocity is fine and his swing-and-miss rate is still top notch — and that ace ability exists. More start-to-start consistency and fewer grooved pitches are the key going forward.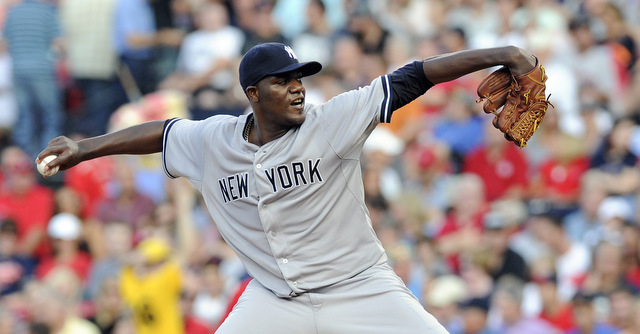 Large Michael
Okay, so I knew Michael Pineda had been pretty awesome in the first half, but holy smokes, I didn't realize how good his rates are: 25.2% strikeouts, 3.0% walks, 50.3% grounders. That is insane. Among the 97 qualified starters that is the 14th best strikeout rate, the fourth best walk rate, and the 22nd best ground ball rate. Holy smokes. Only Max Scherzer (10.71) has a better K/BB ratio than Pineda (8.54). Gosh.
Alright, now that that's out of the way, we have to talk about Pineda's good but not great 3.64 ERA (109 ERA+) and those 115 hits he's allowed in 106.1 innings. The peripherals are fan-friggin-tastic, but there's a disconnect here. The 1.01-run gap between Pineda's ERA and FIP is the fifth largest gap among qualified starters and by far the largest among pitchers with a sub-4.00 ERA. When Pineda is on, he does things like this …
… but when he's off, he can't command his slider and runs short on weapons. Pineda's slider is absurd when it's on. It's an unhittable pitch. But when he doesn't have it working, Pineda almost becomes a one-pitch pitcher because his changeup, while improved, isn't a consistent weapon yet. His low-to-mid-90s fastball is really good, it's just less good when hitters don't have to honor the slider.
Like Tanaka, Pineda has had his fair share of brilliant starts and duds this year, though Pineda's duds were bunched together — he had a 6.10 ERA (4.09 FIP) in the seven starts immediately following the 16-strikeout game. Big Mike had a 2.68 ERA (1.89 FIP) in six starts before the 16-strikeout game and he had a 1.25 ERA (1.74 FIP) in his last three starts before the break. So it was seven really bad starts sandwiched between two excellent stretches. Maybe he overextended himself during the 16-strikeout game and it threw him out of whack a bit.
Either way, the biggest concern with Pineda going forward is his workload. He's on pace for 195 innings after throwing 76.1 innings last year, 40.2 innings the year before, and none the year before that due to shoulder surgery. The Yankees already skipped one of his starts and they will inevitably do it again in the second half. They have no choice. His right arm is too special and it already broke once. They can't push it again. Like Tanaka, Pineda has ace upside at his best, though the Yankees will have to rein in his excellence in the second half to keep him healthy.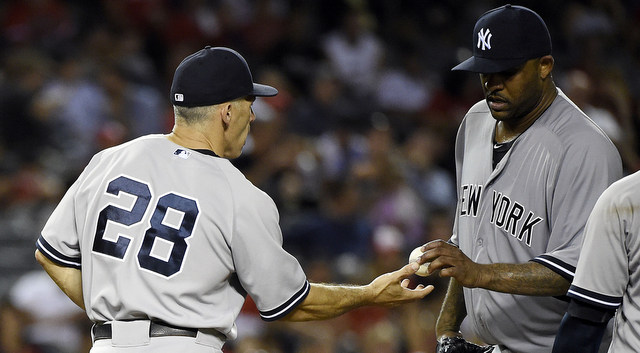 End Of The Line
Believe it or not, I picked CC Sabathia to win the AL Comeback Player of the Year before the season. That was pure homerism, me foolishly thinking he would get back on track — not necessarily be an ace again, but serviceable — following knee surgery, but nope. It hasn't happened. Quite the opposite in fact.
Sabathia's late-career decline has continued this season with a 5.47 ERA (4.52 FIP) in 100.1 innings. He isn't walking anyone (4.6%), so that's good, but he's giving up a ton of homers (1.70 HR/9) and getting annihilated by right-handed batters (.325/.367/.565 and .397 wOBA). His dominance of left-handed batters (.189/.198/.258 and .198 wOBA) would be more useful if he faced more than 91 of 'em in the first half.
It feels like every Sabathia start plays out the same way: a good first inning that gives you hope he'll have a good start, a three or four-run second inning that knocks you back to reality, then zeroes the rest of the night that leave you wondering why the One Bad Inning can never be avoided. That's the Sabathia formula in 2015. It feels like it happens every time out.
The Yankees have already made it known Sabathia will not be losing his rotation spot anytime soon, obviously because of his contract. That's fine, they're not the only team giving an undeserving player a lot of playing time because of money, but the Yankees are making life harder on themselves by leaving CC in the rotation. He has been one of the worst pitchers in baseball in 2015, there's no slicing and dicing the numbers to make it look better, and getting to the postseason will be tougher because of him.
Too Good To Start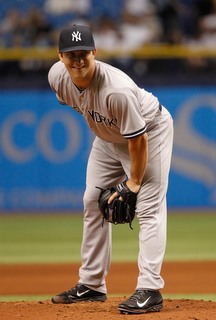 When the Yankees pulled Adam Warren from the rotation a few weeks ago, he was leading the starters with a 3.59 ERA and had just started to look comfortable in that role. April wasn't all that good for Warren, who looked very much like a reliever masquerading as a starter, but he got into a groove in the middle of May and was the team's most reliable starter for a good stretch of time.
Warren lost his starting job through no fault of his own. He pitched well, but the Yankees had a need for a right-handed reliever after David Carpenter flopped and Warren has had success out of the bullpen, plus the team was unwilling to remove Sabathia from the rotation when Ivan Nova returned from Tommy John surgery. Warren did not deserve to move to the bullpen but man, life isn't fair.
I'm not sure the 14-start stint told us much about Warren we didn't already know. He threw five pitches regularly, which is something he did even in relief, so it's not like we had to see if he had the weapons to go through a lineup multiple times. Warren did show he could hold his velocity deep into games, so I guess that's something we learned: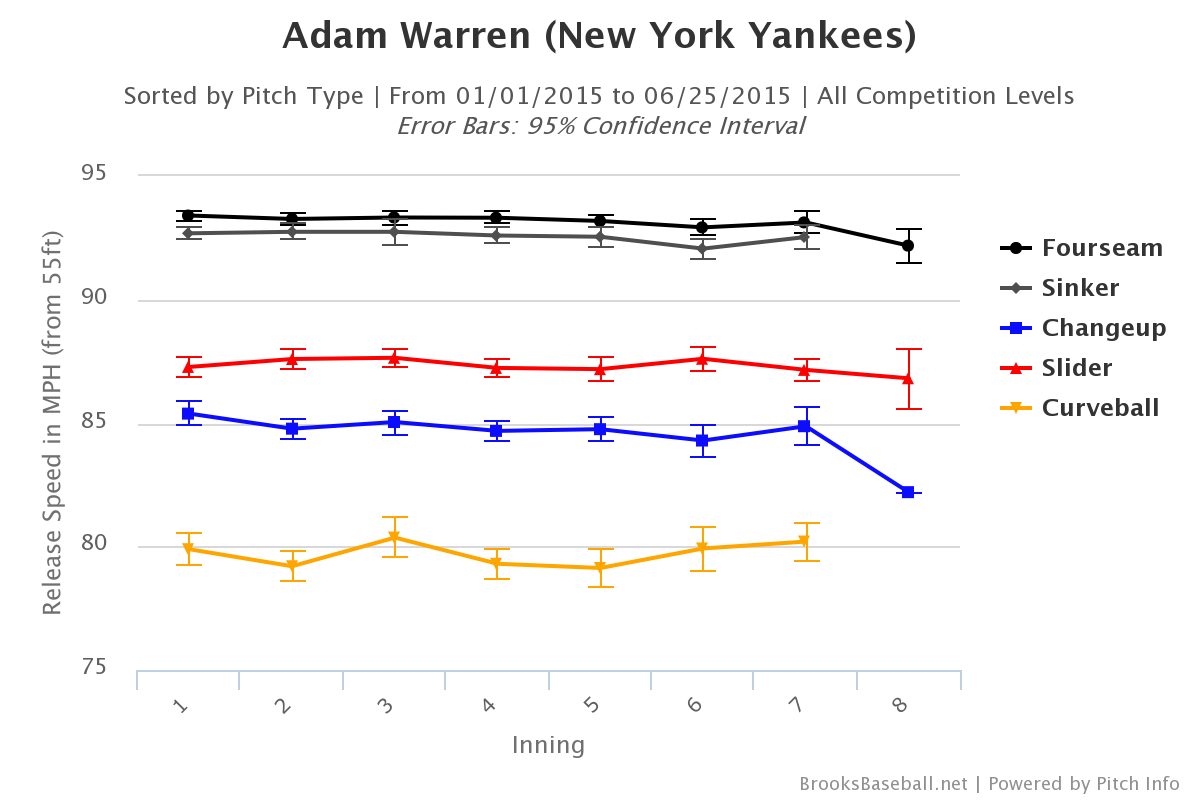 His strikeout (16.0%) and ground ball (44.6%) rates as a starter this year certainly weren't as good as they were as a reliever last year (23.5% and 45.4%, respectively), which isn't surprising. Every pitcher sees their performance tick up on a rate basis when they move into a short relief role. Warren's no different. He wasn't an ace, far from it, but he was a perfectly competent Major League starting pitcher.
It's easy to forget Warren only made the rotation because Chris Capuano got hurt in Spring Training. He was the sixth starter — if the Yankees are to be believed, he was competing for the sixth starter's job with Esmil Rogers, which, lol — who got a rotation spot thanks to injury. Capuano's quad gave Warren an opportunity and he took advantage. He showed he can start in the big leagues. His move to the bullpen says more about the team's decision-making than it does Warren's performance.