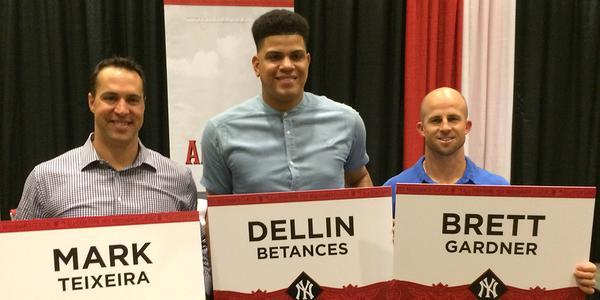 Hard to believe we're at the All-Star Game already, isn't it? Home field advantage in the World Series is on the line tonight, and you know what? That is actually relevant to the Yankees this year. The Yankees have the highest World Series odds in the AL and the third highest World Series odds in baseball according to FanGraphs. Considering how much better the Yankees are at home, yeah, I want Games One and Two of the Fall Classic in the Bronx.
Anyway, the Yankees have three All-Stars this year, the three handsome guys in the photo above. Neither Mark Teixeira nor Brett Gardner is in the starting lineup, though Gardner told Bryan Hoch he was told to be ready for the fifth inning. Dellin Betances said AL manager Ned Yost told him to be ready to pitch "somewhere in the middle" of the game according to Erik Boland, so after not pitching in the All-Star Game last year, it sounds like Dellin and his Kid 'n Play haircut will get in the game tonight. Here are the starting lineups:
American League
CF Mike Trout, Angels
3B Josh Donaldson, Blue Jays
1B Albert Pujols, Angels
DH Nelson Cruz, Mariners
RF Lorenzo Cain, Royals
LF Adam Jones, Orioles
C Salvador Perez, Royals
2B Jose Altuve, Astros
SS Alcides Escobar, Royals
LHP Dallas Keuchel, Astros
National League
CF Andrew McCutchen, Pirates
3B Todd Frazier, Reds
RF Bryce Harper, Nationals
1B Paul Goldschmidt, Diamondbacks
C Buster Posey, Giants
DH Anthony Rizzo, Cubs
SS Jhonny Peralta, Cardinals
LF Joc Pederson, Dodgers
2B D.J. LeMahieu, Rockies (lolwut)
RHP Zack Greinke, Dodgers
Felix Hernandez told Ryan Divish he is scheduled to pitch after Keuchel and Yost said Chris Sale will also pitch at some point, and that's pretty much all we know about the pitching plans beyond Betances being prepared for the middle innings. The full All-Star rosters are right here.
Now, the bad news: it's raining in Cincinnati. Or at least it was earlier this afternoon. The sky has cleared for the time being and it looks like they'll be able to start the game on time. There is more rain in the forecast later tonight, however. The broadcast starts at 7pm ET but first pitch isn't scheduled until 8:15pm ET — there are the baseline introductions and all that beforehand — and you can watch on FOX. Enjoy the game.