Just three series left until the All-Star break, and this weekend the Yankee play a pretty important three-game set against the Rays. The AL East race is super tight and these two clubs (as well as some others) figure to be neck and neck all season. The Yankees are 6-4 against the Rays this season, though they haven't met since mid-May. Been a while.
What Have The Rays Done Lately?
Tampa Bay was just swept in a four-game series at home by the Indians. They lost yesterday's game in extra innings after Cleveland's starters flirted with a no-hitter in each of the first three games. Yikes. The Rays have lost five straight and nine of their last eleven games. They're 42-39 with a -2 run differential overall, yet remain in the four-team cluster that is the AL East race. The Yankees are tied for first with the Orioles while the Rays and Blue Jays are one game back.
Offense & Defense
As nearly getting no-hit three games in a row suggests, the Rays are not very good offensively. They're averaging only 3.59 runs per game with a team 95 wRC+ this year, so they're solidly below average with the sticks. They are getting Yankees killer 1B James Loney (96 wRC+) back from a finger injury just in time for him to kill the Yankees this weekend — he'll be activated off the DL today — though they're without OF Desmond Jennings (knee) and DH John Jaso (wrist) with long-term injuries. Neither is due back this weekend.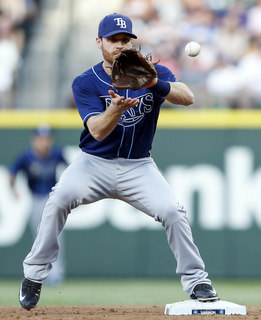 Manager Kevin Cash's lineup revolves around 3B Evan Longoria (116 wRC+), who's having a good year but is no longer the monster he was from 2008-13. His power keeps disappearing. 2B Logan Forsythe (134 wRC+) has been a nice surprise and both OF Brandon Guyer (120 wRC+) and OF Joey Butler (140 wRC+) have been very good in platoon roles. OF Steven Souza (104 wRC+) is an all or nothing guy (14 homers and a 35.0 K%).
OF David DeJesus (103 wRC+) started great but has slowed down considerably. SS Asdrubal Cabrera (78 wRC+) hasn't gotten going at all and OF Kevin Kiermaier (96 wRC+) is really streaky. He goes on major tears then disappears for weeks at a time. DH Grady Sizemore (76 wRC+) was just added to the roster and C Rene Rivera (33 wRC+) is a total black hole at the plate. It's the curse of Buster Posey. The Rays haven't been able to find a catcher who can hit since passing on Posey with the first overall pick in the 2008 draft to take IF Tim Beckham. (Posey went fifth overall to the Giants.)
Anyway, C Curt Casali (109 wRC+) and IF Jake Elmore (71 wRC+ in limited time) round out the bench. Kiermaier, Longoria, and Loney are all excellent defensively while Souza has a knack for great plays and hilariously bad plays. Asdrubal and Forsythe are at best average on the middle infield. Guyer and DeJesus are fine in the outfield. The Rays have a strong team defense overall, though they do miss Jennings running down balls alongside Kiermaier.
Pitching Matchups
Friday (7pm ET): RHP Masahiro Tanaka (vs. TB) vs. RHP Chris Archer (vs. NYY)
Katie did a great job breaking down the Archer matchup earlier today, so I'm going to link back to that rather than regurgitate everything here. The 26-year-old Archer has a 2.31 ERA (2.46 FIP) in 17 starts and 109 innings, and he leans heavily on his high-octane fastball/slider combination. He doesn't use his changeup much. Archer's really good. Any questions? No? Good. Go read Katie's post.
Saturday (1pm ET): RHP Michael Pineda (vs. TB) vs. RHP Nathan Karns (vs. NYY)
Karns, 27, has a 3.26 ERA (3.78 FIP) in 16 starts and 91 innings this year, though Cash tries to avoid letting him face the lineup a third time whenever possible. Karns has completed six full innings just three times in his last nine starts and he hasn't once thrown more than six innings during that time. His strikeout (21.9%), ground ball (44.7%), and home run (0.89 HR/9) rates are all close to league average while his walk rate (9.4%) is a bit high. Lefties (.303 wOBA) have had a little more success against him than righties (.284 wOBA). Karns uses low-to-mid-90s four-seamers to set up his big breaking low-80s curveball, the pitch that got him to the big leagues. He also throws a mid-80s changeup. The Yankee have seen Karns three times already this year, scoring two runs in five innings twice and one run in 4.2 innings the other time.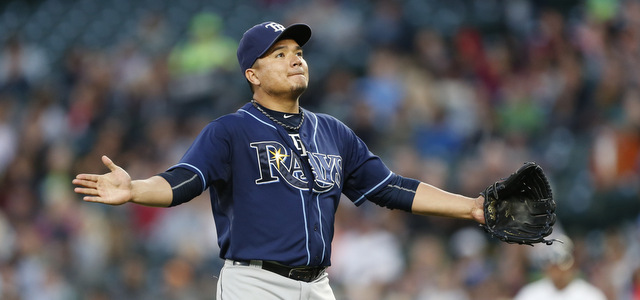 Sunday (1pm ET): LHP CC Sabathia (vs. TB) vs. RHP Erasmo Ramirez (vs. NYY)
Like Karns, Cash tries to limit Ramirez's exposure by preventing him from facing the lineup a third time whenever possible. The 25-year-old righty has a 4.01 ERA (3.66 FIP) in 67.1 innings spread across eleven starts and seven relief appearances this season. His strikeout (20.9%), walk (7.9%), and ground ball (47.3%) numbers are all average-ish while his homer rate (0.67 HR/9) is way south of his career average (1.18 HR/9). Erasmo was incredibly homer prone with the Mariners the last few seasons. A sinking low-80s changeup has allowed Ramirez to have more success against lefties (.250 wOBA) than righties (.332 wOBA). He sets the changeup up with low-90s two and four-seamers, and he'll also throw a few low-80s breaking balls as well. The changeup is his moneymaker. That's his go-to pitch. Ramirez has faced the Yankees four times this year (three relief appearances and one start) and has held them to two runs in nine innings total.
Bullpen Status
The Indians did a number on the Tampa bullpen the last few days. RHP Brad Boxberger (3.37 FIP), LHP Jake McGee (0.97 FIP), and RHP Kevin Jepsen (3.94 FIP) are Cash's primary late-inning guys and all three pitched yesterday, as did LHP Xavier Cedeno (4.10 FIP) and RHP Steve Geltz (3.19 FIP). RHP Brandon Gomes (4.18 FIP) and LHP C.J. Riefenhauser (8.45 FIP in very limited time) are the team's other two relievers.
Although Boxberger has racked up 20 saves this year, the Rays haven't had a set closer since McGee returned from his offseason elbow surgery a few weeks back. McGee has three saves since then, Jepsen has five, and even Geltz has two. Part of this is matchup based — Boxberger and McGee are their Dellin Betances and Andrew Miller — and I also think part of it is keeping Boxberger's and McGee's future arbitration salaries down by limiting their save totals. They can't afford big money relievers. Anyway, head over to our Bullpen Workload page for the status of Joe Girardi's relievers, then head over to DRays Bay and Process Report for everything to need to know about the don't call me Devil Rays.