We're now into the dog days of summer, and this week the Yankees will play a fairly important three-game series at home against the Orioles. Every intra-division series from here out will be super important. The Yanks and O's have split ten games this season, though the Yankees took three of four at Yankee Stadium back in May. The other six games were in Camden Yards.
What Have The O's Done Lately?
Baltimore had an off-day yesterday like the Yankees. They took two of three from the Tigers over the weekend in their first series of the season half after losing ten of 13 to close out the first half. The O's are 46-45 overall with a +44 run differential. They're in second place in the division and four games back of New York. So no matter what happens this series, the Yankees will be in first place when it's over.
Offense & Defense
Manager Buck Showalter's offense is a tick above-average, scoring 4.42 runs per game thanks to a team 102 wRC+. They are perfectly healthy on the position player side. No one on the DL or even day-to-day.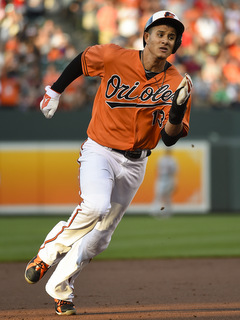 OF Adam Jones (129 wRC+) is the big name, and 1B Chris Davis (116 wRC+) hit all those home runs a few years ago, but 3B Manny Machado (149 wRC+) is the O's best player. He's already set career highs in homers (20) and stolen bases (13) and is still only 23. He just turned 23 earlier this month too. Machado is very quietly having a "hey guys, I'm a superstar now" breakout season. Also, Davis has been playing right field of late.
Ex-Yankees farmhand UTIL Jimmy Paredes (118 wRC+) is still having an inexplicably good season while 1B/OF Steve Pearce (87 wRC+) hasn't been able to repeat last year's effort. C Matt Wieters (95 wRC+) is back from Tommy John surgery but isn't playing everyday just yet. They're easing him back into things. SS J.J. Hardy (61 wRC+) and IF Jonathan Schoop (177 wRC+ in very limited time) are the middle infield combo. Schoop came back off the DL recently, just in time to get back to killing the Yankees.
OF Nolan Reimold (99 wRC+ in limited time), OF Travis Snider (96 wRC+), and OF David Lough (70 wRC+) are the other outfielders who seem to take turns playing each game. C Caleb Joseph (94 wRC+) splits time with Wieters and both IF Ryan Flaherty (92 wRC+) and 1B/OF Chris Parmelee (107 wRC+) are the bench players. The O's have great defenders in center (Jones), on the left side of the infield (Hardy and Machado), and behind the plate (Wieters). The defense is average to poor most other spots.
Pitching Matchups
Tuesday (7pm ET): RHP Nathan Eovaldi (vs. BAL) vs. LHP Wei-Yin Chen (vs. NYY)
I didn't realize the 30-year-old Chen will be a free agent after the season. He'd had a good walk year (2.78 ERA and 4.19 FIP in 110 innings) and should land himself a nice little contract. Chen's strikeout rate (20.4%) is about average but he's allowed fewer walks (5.7%) and gets fewer grounders (40.4%) than the league average hurler. His homer rate (1.39 HR/9) is sky high and righties (.307 wOBA) have hit him harder than lefties (.290 wOBA). Chen operates with low-90s two and four-seamers, low-80s changeups and sliders, and a low-70s curveball. The slider is his go-to offspeed pitch. The Yankees have seen Chen twice this year, scoring two runs in six innings in April and one run in seven innings in May.
Wednesday (7pm ET): RHP Ivan Nova (vs. BAL) vs. RHP Kevin Gausman (vs. NYY)
Gausman, 24, looks like the next great O's pitching prospect who is going to fall short of his ceiling. This club hasn't had a top pitching prospect max out since Mike Mussina. Gausman missed time with a shoulder injury and has bounced up and down between Triple-A and MLB this season, pitching to a 5.00 ERA (3.87 FIP) in only 27 big league innings. His peripherals are average-ish across the board: 21.2 K%, 7.6 BB%, 43.9 GB%, and 1.00 HR/9. Lefties (.367) have had way more success against Gausman than righties (.258 wOBA), both this year and in his career. A mid-90s four-seamer sets up his mid-80s changeup and low-80s slider, the latter of which he's yet to really develop a feel for since being the fourth overall pick in the 2012 draft. Gausman has faced the Yankees once this year, allowing two runs in two-thirds of an inning in relief.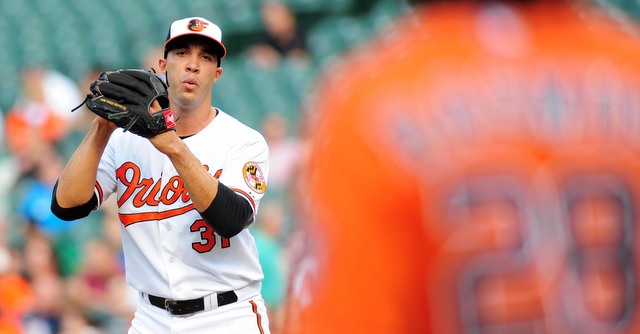 Thursday (1pm ET): RHP Masahiro Tanaka (vs. BAL) vs. RHP Ubaldo Jimenez (vs. NYY)
It appears Good Ubaldo has shown up this season. The 31-year-old has a 3.29 ERA (3.49 FIP) in 104 innings this summer with a good strikeout rate (23.4%) and average walk (7.3%), grounder (46.6%), and homer (0.95 HR/9) numbers. Jimenez has a reverse split (.318 vs. .293 wOBA in favor of righties), which is typical of his good years, because his out pitch is a mid-80s splitter. He sets it up with low-90s two and four-seamers, and will also throw low-80s sliders and mid-70s curves. The curve is his distant fifth pitch. The Yankees have faced Ubaldo just once this year, scoring three runs in five innings last month.
Bullpen Status
Showalter's bullpen started the season horribly but has gotten better the last few weeks and months. They currently have a 2.84 ERA (3.41 FIP) as a unit. Closer LHP Zach Britton (1.67 ERA/1.76 FIP) has the best sinker in baseball and is set up by RHP Darren O'Day (1.04/2.86). Both of those dudes were All-Stars. LHP Brian Matusz (2.43/3.63) is the situational lefty.
RHP Tommy Hunter (4.08/3.36) and ex-Yankee RHP Chaz Roe (2.48/2.95) are the middle innings righties along with RHP Brad Brach (3.02/3.06). RHP Bud Norris (6.82/5.65) lost his rotation spot a few weeks back and has been pitching in long relief. Head over to our Bullpen Workload for the status of New York's bullpen, then check out Camden Chat for updates on the O's.