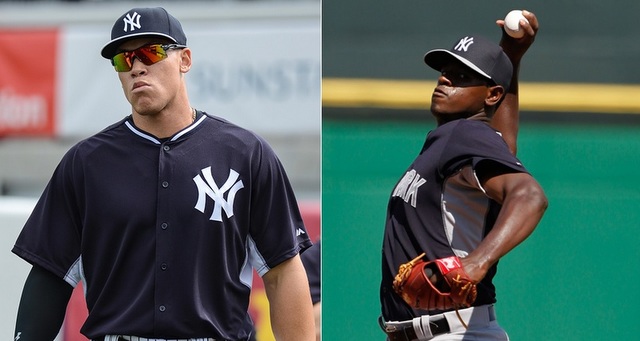 Earlier today, the crew at Baseball Prospectus published their updated list of the top 50 prospects in baseball (subs. req'd). Dodgers SS Corey Seager has taken over as the top prospect in baseball following all the recent promotions, and he is followed by Nationals RHP Lucas Giolito and Dodgers LHP Julio Urias in the top three.
The Yankees have two players in the top 50. Two in the top 30, really. OF Aaron Judge ranks 13th while RHP Luis Severino ranks 28th. The write-up notes Judge has "shown an advanced feel for hitting, and despite his long limbs he gets through the zone quickly, spraying line drives all over the field" while adding he's "also a quality defender."
As for Severino, the write-up says there is "no denying that Severino has the stuff to pitch in a major-league rotation, so it comes down to whether you believe he has the frame and mechanics to stick long-term … He's a big-league difference maker even if he's not a starter, with stuff that will work in the back end of a bullpen."
In a separate piece (subs. req'd), SS Jorge Mateo was listed among a dozen players who just missed the top 50. "Mateo was mentioned a number of times in our discussions and for good reason given what he's doing in the South Atlantic League as an 20-year-old this season," said the write-up. Mateo still leads baseball with 53 steals, nine more than anyone else.
Both Judge and Severino made pretty big jumps up the list — they ranked 49th and 51st in BP's top 101 list coming into the season, respectively. Mateo was not on any top 100 lists before the season but seemed like a prime candidate to make the jump this year.