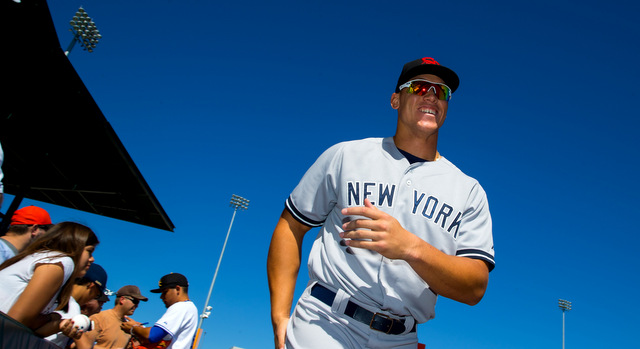 Over at ESPN (subs. req'd), Keith Law posted his midseason list of the top 50 prospects in the minor leagues today. Dodgers SS Corey Seager, the consensus top prospect in baseball following the wave of recent promotions, is predictably ranked first. Phillies SS J.P. Crawford and Nationals RHP Lucas Giolito rank second and third, respectively.
The Yankees have one prospect on Law's midseason list, and it's OF Aaron Judge at No. 13. Judge also ranked 13th on both Baseball America's and Baseball Prospectus' midseason lists last week. So I guess that makes him the consensus 13th best prospect in baseball. How about that? Here's a snippet of Law's blurb on Judge:
(Judge is) all muscle and is shockingly athletic for someone his size, an average or better runner with a 65 or 70 arm. Judge has good feel to hit and enormous raw power, and he commands the strike zone well, with a lower strikeout rate than you'd expect from a guy with arms this long. He covers the inner third so well that he's more vulnerable to stuff away, but overall has kept his strikeout rate to about 25 percent or better even as he has moved up three times in the past 14 months.
RHP Luis Severino did not make Law's midseason list but he is one of seven honorable mentions, so I guess that means he would have made his midseason top 57 prospects list. Round numbers are sexier though. Law does say Severino is "more likely" to be a reliever than starter down the road because of his delivery. Judge ranked 23rd on Law's preseason list while Severino was on the outside looking in.
Also, in this afternoon's chat (subs. req'd), Law said the Yankees currently have five top 100 caliber prospects in Judge, Severino, 1B Greg Bird, SS Jorge Mateo, and the just signed RHP James Kaprielian. (Not necessarily in that order.) Bird ranked 80th on his preseason list and Law says Kaprielian would be "in the 51-100 range, probably around 75th." Also, Law said LHP Ian Clarkin "would be a top 100 guy if he were healthy," which he's not, obviously. Hopefully he will be one day.