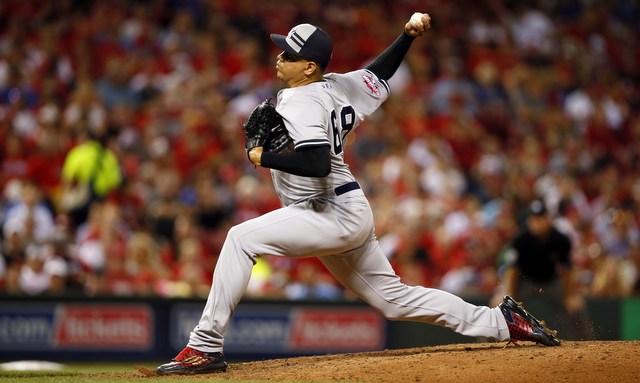 The American League continues to dominate the All-Star Game. The AL beat the NL 6-3 on Tuesday night at Cincinnati's Great American Ball Park for their third straight All-Star Game win and 15th in the last 19 years (!). Mike Trout was named MVP after going 1-for-3 with a leadoff homer and a walk. He's the first player to be named All-Star Game MVP in back-to-back years. Here are the box score, video highlights, and WPA graph.
All three Yankees elected to the Midsummer Classic did play in the game. Brett Gardner pinch-hit for Adam Jones in the fifth inning and struck out looking against Clayton Kershaw. He struck out looking against former teammate Mark Melancon later in the game. Gardner played two innings in left field before sliding over to center, and I don't even remember him having to make a catch. It was his first trip to the All-Star Game.
Mark Teixeira replaced Albert Pujols at first base in the sixth inning, grounding out (against Francisco Rodriguez) and striking out (swinging against Aroldis Chapman) in his two at-bats. Teixeira also made several nice plays in the field — he stretched and kept his foot on the bag to catch an errant throw from Manny Machado, then came off the bag to catch a throw from Zach Britton that was heading for right field. Teixeira was playing in his third All-Star Game.
And finally, Dellin Betances came out of the bullpen and threw a scoreless seventh inning with the AL leading 5-2. Dellin got Brandon Crawford to ground out to second, walked Kris Bryant, struck out Joe Panik, then got A.J. Pollock to ground out to third. He threw eleven of his 20 pitches for strikes and was effectively wild in his first All-Star Game appearance (second selection).
The AL will now have home field advantage in the World Series, which is not insignificant for the Yankees. They currently have the best World Series odds in the AL and third best World Series odds overall according to FanGraphs, and they're a substantially better team at home this season: 25-16 with a +38 run differential at Yankee Stadium compared 23-24 and -12 run differential on the road. So hooray home field advantage.
Minor League Update: There won't be a minor league update tonight because there were no games. Every affiliate either had an off-day, was rained out, or had their game suspended due to rain. Here are the box scores. Third rounder Jeff Degano allowed a run in one inning of work in his pro debut with the Rookie GCL Yanks before the game was suspended.