A+ win, would watch again. The Yankees beat the Red Sox by the score of 5-1 on Friday night, taking the series opener and guaranteeing they will go into the All-Star break in sole possession of first place in the AL East. They haven't done that since 2012. The Yankees have won three straight and six of their last eight games.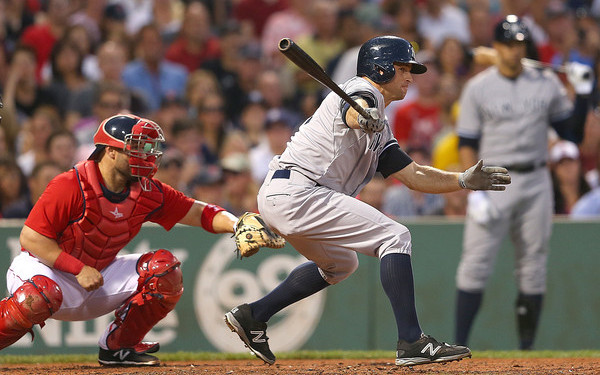 A Blast & Three Gifts
One of my very favorite things in baseball is seeing the Yankees score in the first inning on the road. Score before the other team even has a chance to bat. I dunno, just love it when that happen. Not an All-Star Alex Rodriguez gave the Yankees a first inning run when he turned around a bad Clay Buchholz changeup for a solo homer over the Green Monster. It almost left the damn ballpark. Stayed in the building and landed in the last row instead. Quick 1-0 lead.
The three-run fourth inning rally was a combination of good work and gifts from the Red Sox. A lot happened in that inning, so let's recap it with annotated play-by-play:

(1) Didi Gregorius turned a sweet double play to end the bottom of the third — he flipped it with his glove to Stephen Drew at second — and it was the kind of play that shows just how far Didi has come this year. He was a mess in April. A total mess. Now he looks so much more comfortable on the field and isn't trying to impress everyone with every play. His offense has ticked up as well, partly because he's done a better job of going the other way, and sure enough his fourth-inning double split the left-center field gap. Beautiful piece of hitting. Brian McCann couldn't score from first but an average runner probably would have.
(2) In the grand scheme of things, the big story of the inning was Buchholz exiting the game with an injury two pitches into the Drew at-bat. He called the catcher out to the mound, the trainers came out, and Buchholz walked off the field without much argument or throwing a test pitch. Right to the clubhouse. The Red Sox later announced Buchholz exited with elbow tightness and is going for an MRI, which is no bueno.
Robbie Ross Jr. came out of the bullpen and got Drew to hit a chopper to first base that Mike Napoli bobbled, allowing Drew to to reach base safely and the run to score. Wait, no. McCann didn't score. He held up at third for some reason. So while having the bases loaded after the error was great, the run should have scored. That seemed ominous. It looked like the Yankees were going to blow the run-scoring chance and end up with nothing, especially after Cole Figueroa popped up for the second out as the next batter. (To his credit, Figueroa worked one hell of an at-bat.)
(3) The inning should have been over on Jacoby Ellsbury's ground ball to second. McCann should have been stranded at third, but no, All-Star Brock Holt bobbled the ball and Ellsbury beat the throw to first. (Holt might have been better off throwing home to get the force on McCann, hardy har har.) McCann scored to make it 2-0 good guys and the inning continued when it should have ended.
(4) Brett Gardner did what both Drew and Ellsbury did — hit a ground ball to the right side of the infield. And, like Drew and Ellsbury, Gardner reached base. Napoli knock the ball down, flipped to Ross covering first, and Gardner was able to slide in safely just before Ross got to the bag. That was one of those rare plays were sliding into first base might have helped Gardner. If he goes in standing up, Ross probably tags him in the chest. Gardner slid under the possible tag and got his hand in safely to drive in another run and extend the inning.
(5) Man, this game was so close to being 8-0. A-Rod followed Gardner's ground ball with a bases-loaded walk to make it 4-0 Yankees, then Mark Teixeira swung at the first pitch, and it was a meatball. Teixeira juuust missed it. I don't know if it hit off the end of the bat or in near the label, but it certainly wasn't the sweet spot, and Teixeira popped out into shallow left to end the inning. Swinging at the first pitch after a bases loaded walk is always annoying, but Teixeira swung at a very homerable pitch. Just didn't get good wood on it. So it goes. The inning should have been over with no runs on the board following Ellsbury ground ball. Instead, three runs scored, all unearned.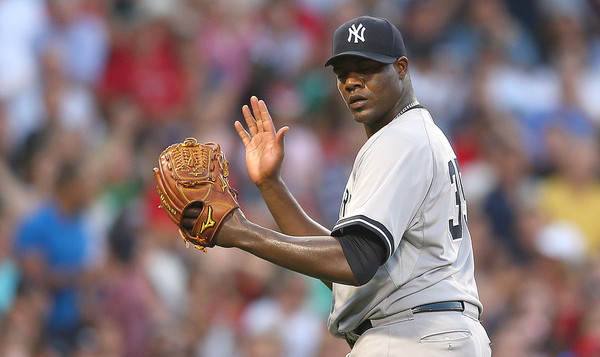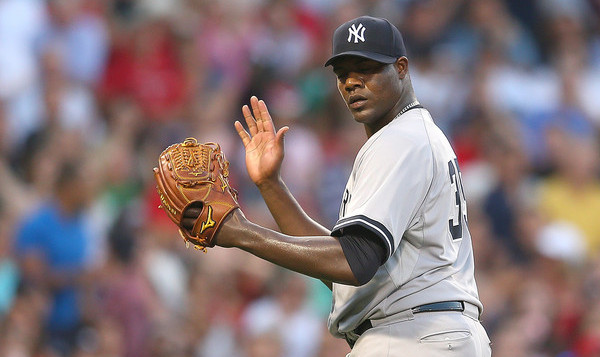 The Big Mike
It definitely wasn't the prettiest outing for Michael Pineda — the Red Sox had runners on base against Pineda in every inning but the sixth — but the end result was one run in 6.2 innings, and dammit, I'll take that every day of the week. The one run came on a Mookie Betts home run, and Pineda might as well have put that pitch on a tee. Cement mixer slider right out over the plate. Deserved to be crushed.
Otherwise, Big Mike relied heavily on his fastball in big spots because his slider wasn't working too well. Example: the homer. Pineda threw 30 cut fastballs and got five swings and misses, which is a pretty good rate. He also got some big outs with his changeup. What a world. Remember when Pineda had no changeup? He would have been lost in this game without it. Pineda struck out six, of course walked none, and threw 68 of his 89 pitches for strikes (76%). That includes 12 swings and misses. It's remarkable to see a guy this big, have such power stuff, and yet throw so many strikes. Big Mike's special.
Save Situation
The year of the sub-100 pitch count continued. Pineda made a throwing error in the seventh to put a runner at second — Alejandro De Aza laid down a bunt and Pineda threw it wide of first — which effectively ended his night. Joe Girardi has rarely let his starters go 100+ pitches this year, so in came Justin Wilson to face Betts with two outs. I'm sure the fact Betts took Pineda deep in his previous at-bat contributed to Girardi's decision. Either way, Wilson struck out Betts to end the inning. Wilson's been awesome of late.
The Yankees scored a tack-on run in the top of the eighth, though that didn't stop Girardi from going to his two end-game relievers. Dellin Betances struck out two in a perfect eighth before Andrew Miller pitched around a leadoff error in a scoreless ninth. I know it's easy to think "it's not a save situation so don't use Betances and Miller," but I didn't see it that way. The Red Sox can score runs in a hurry, especially in that ballpark, so nail down the win when you can. Betances faced the 2-3-4 hitters, for example. Foot on the throat.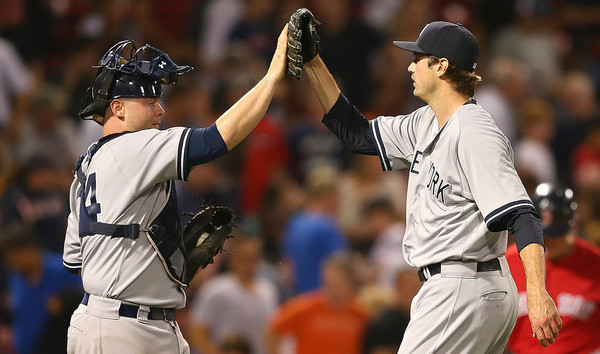 Leftovers
Jacoby Ellsbury came up with a big two-out RBI single in the eighth to score an always appreciated insurance run. Ross shut the Yankees down after that messy fourth inning, and it felt like they were going to regret not tacking on more runs. The first two batters of the inning reached base, but Drew bunted into a force out at third and Figueroa popped up, then Ellsbury picked them up with a single.
Wilson, Betances, and Miller combined to face eight hitters, and they stuck out five of them. They combined for nine swings-and-misses out of 22 total swings by the Red Sox. That's bonkers. Boston hit one ball out of the infield after the sixth inning, and that was a lazy fly ball to center off the bat of David Ortiz. Nice job by the bullpen of not making this interesting.
Everyone in the starting lineup had a hit except for Figueroa, though A-Rod was the only guy with two hits. He had a soft opposite field bloop single in addition to the homer. His two hits couldn't be any more different. Chris Young came off the bench late for defense and drew a walk in his only plate appearance.
And finally, Ross threw 69 pitches out of the bullpen for Boston, so I think he's going to be sent down for a fresh arm tomorrow. Getting into their bullpen early was great in the first game of the series — sucks Buchholz got hurt, never want to see someone get injured — though it won't matter if they bring up someone new. Whatevs.
Box Score, WPA Graph & Standings
Here, my friends, are the box score, video highlights, and up to the minute standings. Also check out out Bullpen Workload and Announcer Standings pages. Now here's the win probability graph:

Source: FanGraphs
Up Next
Same two teams on Saturday night — yes, Saturday night, not afternoon, grumble grumble — when Ivan Nova and Eduardo Rodriguez toe the slab in the penultimate game of the first half. Rob Refsnyder will be called up to join the team for that game. Fun!