If you are in first place, it is always welcoming to beat the second place team. That's exactly what the Yankees did tonight. Nathan Eovaldi was absolutely dealing for the first four innings but later gave up the 2-0 lead. However, the unlikely heroics of Brendan Ryan and another solid bullpen outing got the Yankees their 51st win of the season and, at this moment, a five game-lead for the AL East.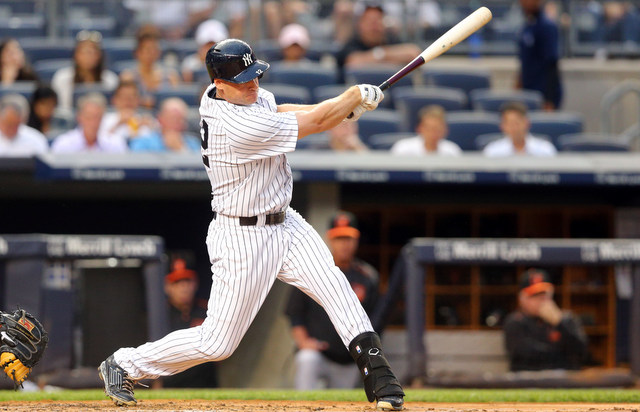 Early runs
The Yankee offense struck early. From the very first at-bat, Jacoby Ellsbury hit a ground-rule double and scored later on an A-Rod sac fly.
The bottom of second started after a 15-minute rain delay. Brian McCann and Chris Young didn't waste any time heating things up by hitting back-to-back singles to start the frame. Chase Headley followed it up with an RBI double to score McCann and put two runners on the scoring position. 2-0 Yankees.
#RISPFails
At that point, you'd imagine the Yankees would be able to squeeze a run or two more to get a bigger lead to carry through the game. Well, that didn't happen. Wei-Yin Chen Chen got Didi Gregorius to strike out, Brendan Ryan to pop out and Ellsbury to ground out to get out of the frame without further damage. That's no bueno against a division rival (or any other team, really) that could make a comeback later in the game.
In the bottom fifth, a bit of bad luck hit the Yanks. With two outs and Brett Gardner at first, Mark Teixeira hit a liner that just got past the diving Travis Snider's reach. The ball bounced several feet away and … went over the fence! What should have been a two-out RBI double became a two-out ground-rule double that didn't bring a runner home. The O's caught a big break here. Chen took advantage with a strikeout of McCann to end the inning.
In the seventh, with one out and A-Rod on first, Teixeira hit another double to bring two runners in the scoring position. Chris Young came at bat after McCann was intentionally walked to load the bases. Now, by then, Chen had been removed from the game – RHP Tommy Hunter was pitching for Baltimore. I had wondered if Joe Girardi would pinch-hit Carlos Beltran in Young's place but he went with the lefty killer to face a RHP. Well, Hunter struck out Young swinging on the nasty 98 mph fastball on the inside and got Headley to ground out to get out of the inning. So that's that.
When it was all said and done, the Yankees won. That's good! They were also 1-for-10 in RISP situations. That's bad! Imagine how less of a stressful one this could have been if New York managed to squeeze out more runs.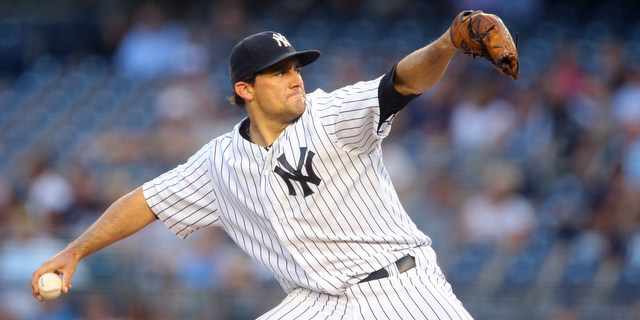 Nasty (for the first four innings) Nate
For the first four innings, Eovaldi was absolutely dealing. His fastball hit triple digits multiple times, his splitters were either inducing weak contacts or swings-and-misses and his location looked pretty nice. He allowed only one hit and a walk in those four innings while striking out four.
Things got dicey for Eovaldi in the fifth. Matt Wieters opened the inning with a walk and J.J. Hardy followed it up with a force out at second. With Snider batting, McCann let a 83mph slider pass under his legs for a wild pitch, putting a runner in the scoring position for the first time in the game. Snider worked a walk on five pitches and on came Jonathan Schoop. The Oriole second baseman kills the Yankees and he did the same for the first two pitches … except they both hooked foul. The second one was literally a few inches away from being an RBI double. Mercifully for the Yankees, Schoop grounded into a force out to Headley. Eovaldi then got Chris Parmelee for another ground out to get out unscathed.
Nasty Nate wasn't as lucky in the sixth. With one out, he allowed consecutive singles to Jimmy Paredes and Adam Jones. Chris Davis followed it up with a pop out (on a hanging 77 mph curveball, so go figure) to give Eovaldi a better chance to close out the inning… and then Wieters hit a hanging splitter for an RBI base hit. Girardi decided that he saw enough of Eovaldi, sub'd in Justin Wilson for him. And then of course, Wilson gave up another RBI single to J.J. Hardy to wipe away Eovaldi's win instantly. Wilson avoided further damage.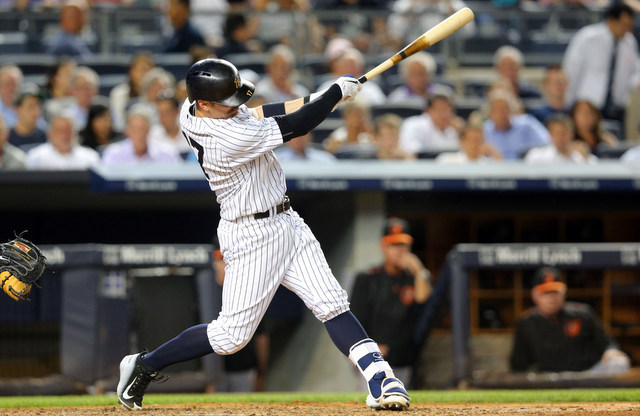 Fear the 'stache
As soon as the Yanks gave up the lead, the offense went back to regain it. Wei-Yin Chen got first two outs quickly in three pitches. Didi Gregorius, who showed some bad at-bats earlier today, singled on the first pitch to keep the inning alive.
With Brendan Ryan coming up, however, it seemed to majority of the Yankee fans (and O's fans, I presume) thought the inning was going to be over soon. Well, guess what? He shattered those expectations (or lack thereof). On the second pitch of the at-bat, Ryan smashed a double down the line to score Gregorius. 3-2 Yankees. The score would not change again for the rest of the match.
Yeah yeah, his mustache looks goofy but if he can deliver hits like these as a Yankee, he could grow the world's biggest fu-manchu and I could care less.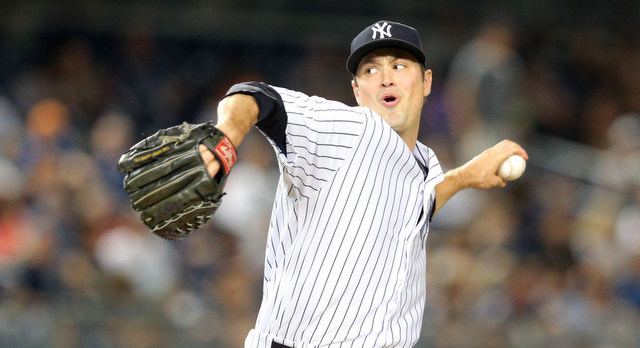 Holding the lead
Yankees have won three out of four since the All-Star break and all those were one-run games. A major reason for winning close games? A solid bullpen.
Justin Wilson got slapped with a blown save but he managed not to allow another run before Dellin Betances came in to pitch. In the seventh inning, with two outs, the Orioles had Nolan Reimold on second base with Manny Machado batting. The two AL All-Star teammates squared off and Betances won pretty easily – a swinging strikeout on a 2-2 count. Dellin followed that up by pitching a scoreless eighth and making way to the "closer" Andrew Miller.
Andrew Miller is Andrew Miller. He'll overpower guys and strike some out – that's exactly what he did against the O's in the ninth: two ground outs and a three-pitch swinging strikeout. Game over.
Box score, standings, highlights, WPA
Here's the box score, updated standings, video highlights and WPA:

Source: FanGraphs
---
Good win, guys. Tomorrow, the Yankees are back at it again versus the Orioles at YS3. Ivan Nova squares off against Kevin Gausman on another weeknight match.