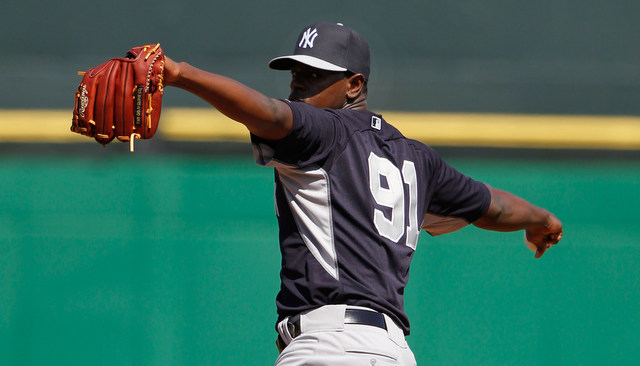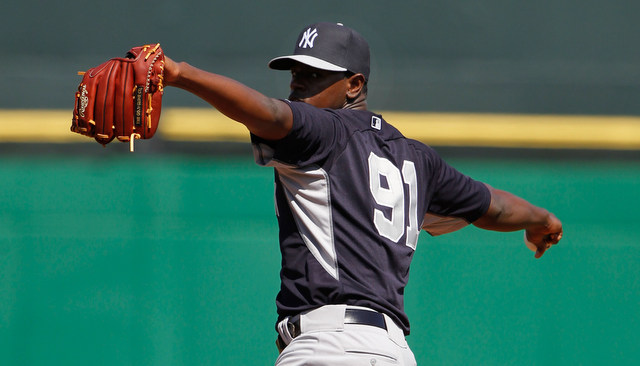 After not picking up any pitching help at Friday's trade deadline, top pitching prospect Luis Severino will be called up to make his next start with the Yankees, Brian Cashman told reporters this afternoon. Joe Girardi and Larry Rothschild will map out the exact date at some point, though Girardi did say Severino will make his MLB debut during the Red Sox series next week. Severino last started Wednesday.
The rotation is in rough shape right now with Michael Pineda (elbow) on the DL and CC Sabathia (dehydration) temporarily out of action — Girardi said there is no date for Sabathia to resume baseball activities at the moment — so the Yankees are turning to Severino, who they refused to trade prior to the deadline. This doesn't figure to be a spot start. Severino will get a chance to stick.
"Only if we needed it, and only if he earned it. Well, he's earned it, and we need it," said Brian Cashman to Chad Jennings when asked about the decision to call up Severino. "So we'll see what the next step for this youngster is. He moved really fast through the system and obviously had a lot of success. We'll see what the next level is going to be like for him and hopefully he can contribute and add into the cast of characters."
Severino, 21, has a 2.45 ERA (2.45 FIP!) with 24.8 K% and 6.8 BB% in 99.1 total innings this year, including a 1.91 ERA (2.53 FIP) in 61.1 innings at Triple-A Scranton. Baseball America ranked him as the 35th best prospect in baseball before the season and the 17th best prospect in baseball in their midseason update a few weeks ago. Severino is a mid-90s fastball guy with a promising slider and changeup.
I've speculated that Severino only has about 50 or so innings left before hitting his limit this year — he threw 113.1 innings at three levels last year — but Cashman said that is not the case. "He doesn't have any (limit) … We prepared for this," said the GM to Erik Boland and Mark Feinsand. My guess is Severino does have an innings limit and the Yankees don't want to make it public. That's smart. As we've seen with Joba Chamberlain and Stephen Strasburg, making innings limits public can turn into quite the distraction.
As with all young pitchers, I'm skeptical of Severino's ability to come up and make an impact right away — he's thrown more than five full innings only 18 times in 65 career starts; how will he navigate the third time through a big league lineup? — but at this point, with no trade for a pitcher, calling Severino up is a move that had to be made. He was crushing Triple-A and the Yankees have a need in the rotation. It's time.