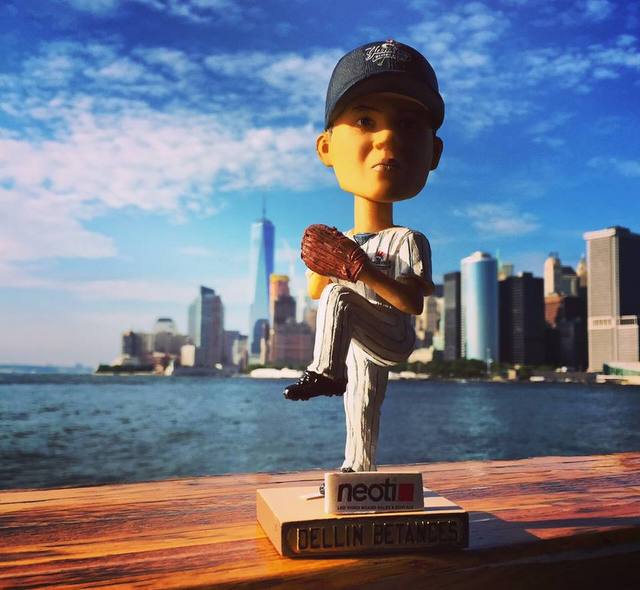 Just a heads up, the Staten Island Yankees are holding a Dellin Betances Bobblehead Night this Saturday (the bobblehead above!). The first 2,500 fans in attendance will receive once. It's also FDNY Appreciation Night and there will be postgame fireworks. Click here for tickets and make sure you use the promo code "FDNY" so the proceeds go to John G. Chipura Foundation and Joseph Grzelak Fund. You get a hot dog, a drink, and a Staten Island Yankees hat all for $20. Can't beat it. Here are some other quick notes:
Turns out the Yankees signed 12th rounder OF Terrance Robertson to an overslot $170,000 bonus, reports Jim Callis. Because he was picked after the tenth round $70,000 of that counts against the draft pool. With RHP James Kaprielian signed, the Yankees exceeded their draft pool by nearly $700,000 this year and fell just $18,565 short of having to forfeit next year's first round pick.
SS Tyler Wade and LHP Nestor Cortes were named the High-A Florida State League Player of the Week and Rookie Appalachian League Pitcher of the Week, respectively, so congrats to them.
Triple-A Scranton is off until tomorrow for the All-Star break. The International League beat the Pacific Coast League by the score of 4-3 in the All-Star Game tonight. Here's the box score.
PH-1B Kyle Roller: 2-2, 2 RBI 1 BB — entered the game in the sixth … two-run single in the top of the ninth tied the game at three, with earned him the IL Top Star honor

PH-C Austin Romine: 0-1, 1 BB — entered the game in the seventh
Double-A Trenton is off until tomorrow for the All-Star break. The All-Star Game was played time and the score was tied 4-4 after nine innings, so they went to a Home Run Derby shootout. Each player got one swing and they alternated sides until someone homered. Reading DH Brian Pointer won it in the 11th round for the Eastern Division team. Neat!
C Gary Sanchez: 0-2 — started and batted fifth … busy few days for him between this and the Futures Game
RF Jake Cave: 0-3, 1 RBI, 3 K — started and batted eighth
RHP Brady Lail: 1 IP, 1 H, 0 R, 0 ER, 0 BB, 0 K, 2/1 GB/FB — ten of 13 pitches were strikes (77%) … pitched the second inning
RHP Eric Ruth: 1 IP, 1 H, 0 R, 0 ER, 1 BB, 1 K, 1/1 GB/FB — 13 of 25 pitches were strikes (52%) … pitched the fifth
High-A Tampa (6-4 win over Charlotte)
2B Tyler Wade: 1-5, 1 RBI
SS Abi Avelino: 1-4, 1 R, 1 2B, 1 RBI — 11-for-31 (.355) in his last seven games
DH Carlos Beltran: 2-2, 2 R, 1 RBI, 1 BB — got his three at-bats and was out of the game … the plan is for him to return from his oblique injury either immediately after the All-Star break or soon thereafter
CF Dustin Fowler: 1-5, 1 K
3B Miguel Andujar: 1-4, 1 2B, 1 RBI
RHP Gabe Encinas: 7 IP, 2 H, 1 R, 1 ER, 1 BB, 6 K, 8/5 GB/FB — 61 of 94 pitches were strikes (65%) … nice rebound from his one-strikeout, five-walk clunker last time out
Low-A Charleston (10-5 win over Rome)
SS Jorge Mateo: 1-4, 1 R, 1 BB, 4 SB — 60-for-73 (82%) in stolen base attempts … no one else in MLB or the minors has more than 44 steals
2B Angel Aguilar: 1-4, 2 R, 1 BB, 1 SB
CF Austin Aune: 1-4, 1 RBI, 2 K, 1 SB — threw a runner out at second … that's his 100th strikeout of the season … 37.7 K% and .423 BABIP this year
RF Alex Palma: 1-4, 1 R, 1 RBI
LHP Rony Bautista: 2.2 IP, 5 H, 4 R, 4 ER, 3 BB, 3 K, 1 WP, 2/1 GB/FB — 36 of 63 pitches were strikes (57%)
Short Season Staten Island (3-2 win over Brooklyn in ten innings, walk-off style)
CF Jeff Hendrix: 0-4, 1 BB
SS Kyle Holder: 2-5, 1 R, 1 E (throwing)
2B Thairo Estrada: 2-4, 2 R, 1 BB — scored the winning run on a walk-off balk … 19-year-old is hitting .295/.368/.436 in 19 games
RF Jhalan Jackson: 4-5, 1 2B, 1 RBI
3B Drew Bridges: 0-4, 1 K, 1 E (throwing)
RHP Yoel Espinal: 4 IP, 1 H, 0 R, 0 ER, 5 BB, 2 K, 1 WP, 1 HB, 3/3 GB/FB — half of his 70 pitches were strikes
Rookie level Pulaski (5-3 win over Burlington)
CF Carlos Vidal: 1-4, 1 K — threw a runner out at the plate
SS Hyo-Jun Park: 0-3, 1 R, 1 BB, 1 K, 1 SB — 7-for-9 in steal attempts in 18 games
LF Nathan Mikolas: 1-4, 1 R, 1 K
2B Gosuke Katoh: 0-3, 1 BB, 2 K — 32.0 K% and 14.4 BB%
RHP Simon De La Rosa: 5 IP, 4 H, 2 R, 2 ER, 3 BB, 7 K, 2 WP, 4/0 GB/FB — 26/12 K/BB in 18.2 innings
Rookie level GCL Yanks1 (12-1 win over GCL Braves)
LF Cesar Diaz: 2-4, 3 R, 1 3B, 1 RBI, 1 BB
SS Wilkerman Garcia: 3-4, 2 R, 1 2B, 1 RBI, 2 BB, 1 K — 17-year-old is hitting .375/.500/.475 with eight walks and six strikeouts in 12 games after signing for $1.35M last July
3B Donny Sands: 1-3, 2 R, 1 RBI, 3 BB — got picked off third … this year's eighth rounder is 14-for-37 (.378) with five walks and three strikeouts in his last ten games
DH Trey Amburgey: 3-5, 3 R, 1 2B, 3 RBI, 1 HBP — first career extra-base hit in his 17th game for this year's 13th rounder
RF Leonardo Molina: 1-6, 1 RBI, 1 K
CF Terrance Robertson: 1-5, 2 RBI, 1 K
RHP Abel Duarte: 5 IP, 4 H, 1 R, 1 ER, 3 BB, 5 K, 2 WP, 4/4 GB/FB
Rookie level GCL Yanks2 (10-2 win over GCL Pirates)
DH Yancarlos Baez: 2-4, 2 R, 1 2B, 1 RBI, 1 BB, 1 K, 1 SB
SS Yonauris Rodriguez: 2-4, 3 R, 1 BB, 1 K, 1 SB
RF Isiah Gilliam: 2-3, 3 RBI
RHP Jonathan Holder: 3 IP, 2 H, 0 R, 0 ER, 0 BB, 4 K, 3/0 GB/FB — still rehabbing from whatever his injury is