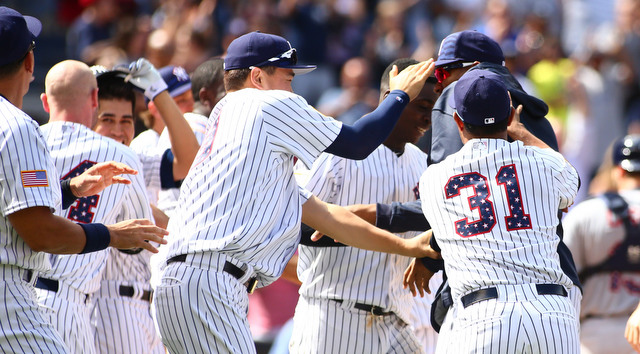 Another walk-off win? Probably not, but I'll be happy with any kind of win this afternoon. The Yankees have taken care of business the first two games of this series against a division rival, though there's still one more game to be played, one more win on the table. Today's game will determine if this was a good series or a great series.
The bullpen has been worked hard the last few days, specifically Dellin Betances and Justin Wilson, who each pitched the last two days and three of the last four. Even with the off-day tomorrow, I'm guessing Joe Girardi will stay away from those two today. That means not a starter Adam Warren might pull double duty today — he might throw the eighth and ninth, with a little Chasen Shreve mixed in. We'll see. Here is Tampa Bay's lineup and here is New York's lineup:
CF Brett Gardner
3B Chase Headley
DH Alex Rodriguez
1B Mark Teixeira
C Brian McCann
RF Garrett Jones
LF Chris Young
SS Didi Gregorius
2B Stephen Drew
RHP Ivan Nova
It's a lovely day in New York. Warm but not too hot, some clouds but not too many. Nice day for a ballgame. Today's series finale will begin at 1:05pm ET and can be seen on YES locally and MLB Network nationally. Enjoy.
Injury Update: Andrew Miller (forearm) will throw one inning or 25 pitches for Triple-A Scranton tomorrow. It's possible he will be activated after that. Depends whether he feels sharp.