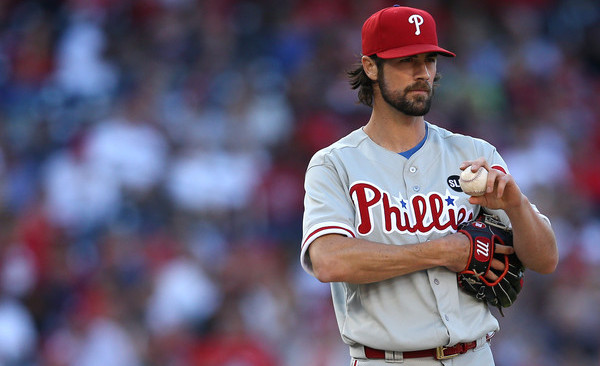 The race for Cole Hamels appears to be complete. Multiple reports say the Rangers have either acquired Hamels from the Phillies or are on the verge of doing so. Four prospects are heading to Philadelphia in the deal, it appears. There is also some cash involved and possibly other players going to Texas.
According to Baseball America's 2015 Prospect Handbook, the Rangers are sending their preseason No. 3 (C Jorge Alfaro), No. 5 (OF Nick Williams), and No. 13 (RHP Alec Asher) prospects to the Phillies as well as non-top 30 prospect RHP Jerad Eickhoff. A comparable Yankees package is something like Gary Sanchez, Mason Williams, Bryan Mitchell, and an extra arm. Ballpark. Not a perfect comparison.
The Yankees have been connected to Hamels for weeks and months now, but, according to Mark Feinsand, they never pursued him aggressively. Given their reluctance to trade top prospects, I guess that's not surprising. The Phillies have reportedly been asking for Aaron Judge and/or Luis Severino in return.
Hamels is lined up to start tomorrow but I doubt he does given the travel and all that. The Yankees probably won't see him. Either way, Hamels is now off the board along with Scott Kazmir and Johnny Cueto. Maybe Mat Latos too. David Price, Mike Leake, Ian Kennedy, and Hisashi Iwakuma are the top available starters now.
Update: Apparently it's a six-for-two trade. The Rangers are getting Hamels and lefty Jake Diekman (and cash) for Alfaro, Williams, Asher, Eickhoff, right-hander Jake Thompson, and left-hander Matt Harrison. Thompson was ranked as the team's No. 2 prospect before the season. He was their Luis Severino.