Nice big mailbag this week. Fourteen questions total. Be sure to use the "For The Mailbag" form in the sidebar to send us questions throughout the week.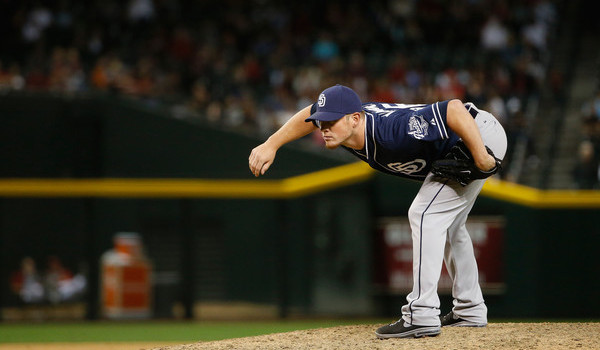 Jeff asks: Let's hypothetically say the Yankees make a trade for Craig Kimbrel. What inning would he slot into?
I'd let Kimbrel close and use Dellin Betances and Andrew Miller as setup men, though there's really no wrong answer here. Miller closing with Kimbrel and Betances setting up? Sure. Dellin closing with Miller and Kimbrel setting up? That works too. All three are excellent, and as long as they're pitching in high-leverage spots, the Yankees would be fine. That said, I don't see the Yankees trading for Kimbrel. Yes, he would make the team better, but an elite closer is pretty much the last thing they need to add at the trade deadline. Get second base and rotation help first.
Mark asks: Why do you think the Yankees have signed more than their typical number of drafted players this year? Do you think it has anything to do with the two minor league teams they have added in the past few years? Seems like a decent way to gain a competitive advantage (extra spots means more lottery tickets) without having to worry about luxury tax.
Yes, I do think it has something to do with the extra affiliate (Rookie level Pulaski) this year. They need more bodies because there are more roster spots to fill. They didn't sign more high-end prospects, they just added more late-round college juniors and seniors. The system doesn't let teams spent as much as they want on higher upside prospects who fall due to signability concerns anymore. I do think having the extra affiliates gives the Yankees a developmental advantage, especially in the wake of last summer's international spending spree. They need places to play these guys, and now they won't have to share positions. Simply put, they can acquire more prospects because they have more places to play them.
Adam asks: Yovani Gallardo seems like a upgrade over Nathan Eovaldi/CC Sabathia/Ivan Nova, and won't cost as much as Johnny Cueto, Cole Hamels or Jeff Samardzija. What's would we have to give up to get him?
The Rangers are falling out of the race — they've won just five of their last 20 games following that little hot streak that had people wondering if they were going to contend — and Gallardo is an impending free agent, so it would make sense for them to listen to offers, especially since he's pitching better this season than he has in years. Gallardo, 29, has a 2.62 ERA (3.54 FIP) in 113.1 innings and recently had a 33.1-inning scoreless streak.
Among the various rental starters who figure to be available at the trade deadline, I'd rank Cueto at the top (duh) with Samardzija and Gallardo basically 2A and 2B, then Mike Leake a distant fourth. Gallardo has continued his weird "replace strikeouts with ground balls" trend …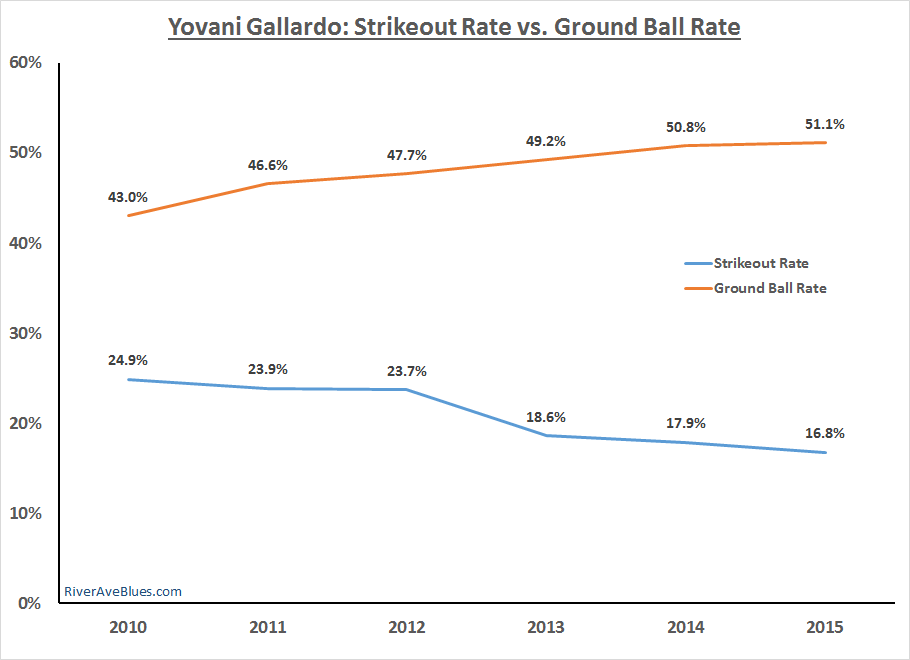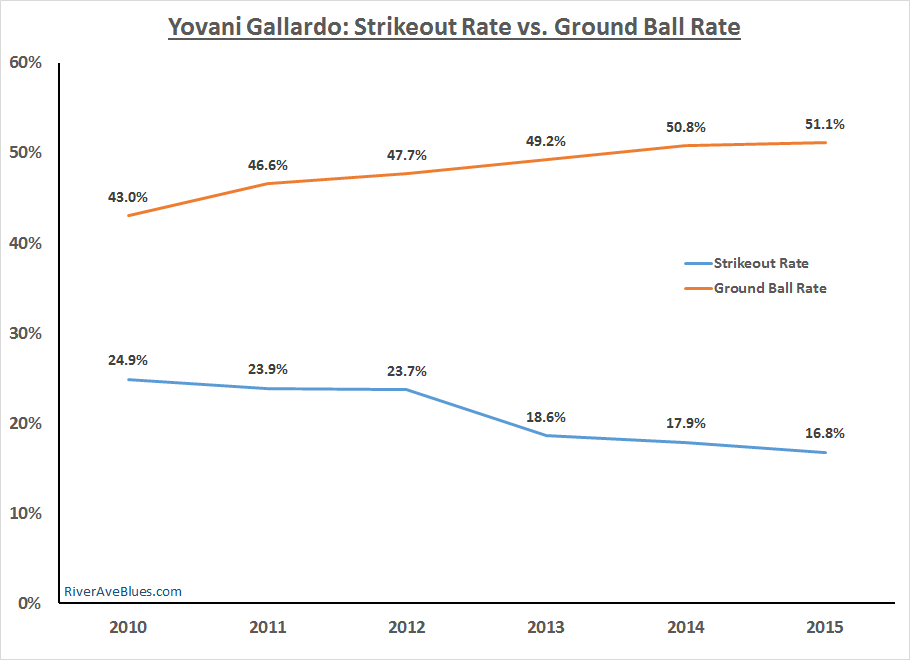 … which has been going on so long now that I have to think it's a conscious decision. It's not necessarily a bad thing, just different, especially since his strikeout rate is now well below the league average (20.2%). Even if it is something he is doing intentionally, the decline in missed bats is a red flag for me, though not enough of one to derail a trade because he is only a rental and not a long-term pickup.
The Rangers gave up three prospects to get Gallardo before the season — an MLB ready reliever (Corey Knebel), an MLB ready-ish all-glove/no-hit infielder (Luis Sardinas), and a pitcher all the way down in the Dominican Summer League (Marcos Diplan) — and I have to think it would cost less to get him now by virtue of acquiring only a half-season of him. Two good prospects? Say, Ramon Flores and Brady Lail? I think the Rangers are more likely to keep Gallardo and try to re-sign him (he grew up in the Dallas/Fort Worth area) than trade him though.
Sal asks: Mike, do you think if David Carpenter pitched better, Adam Warren might still be in the rotation? Did Yanks rationalize their CC sunk cost fallacy approach by "we need Warren in the pen" mentality?
No, I don't think an effective Carpenter would have saved Warren's rotation spot. The "we can't remove Sabathia from the rotation because of his contract" monster is much larger than some middle reliever. The Yankees simply would have emphasized the "we need to be careful with Warren because he's already over his innings total from the last two seasons" excuse instead. Having an effective Carpenter would have been nice. He showed the last two years with the Braves he could be a legitimate eighth inning guy. It didn't happen though. That's baseball. I don't think it would have saved Warren's rotation spot either way.
Chase asks: How would you play A-Rod in a World Series game at a NL park?
Gosh, that's a tough one. The Yankees would will have home field advantage in the World Series now following the AL's All-Star Game win, so they'd only have to play Games Three, Four, and potentially Five on the road. I think I would play Alex Rodriguez at third base in those games (and pull him for defense in the late innings, of course), especially since you know he'll get a chance to rest during the off-day following Game Five. This is the World Series we're talking about here. You've got to put the best team on the field and the Yankees are at their best with Alex in the lineup. Hopefully this is a situation we'll get to discuss again in a few months.
Ben asks: I almost fainted watching Manny Machado back up Dellin Betances in the 7th inning of the All-Star Game. Obviously both awesome on their own, but I feel like their awesomeness complements each others' in an almost poetic way. In that spirit, if you could put together an "All-Defense" team to back up the current staff, who'd make the squad?
That's a good one. I'm basing this on no stats. This is all based on the eye test and my personal opinion, which could mean it is totally stupid. I'd go Yadier Molina at catcher (still) with Mark Teixeira at first, Robinson Cano at second, Andrelton Simmons at short, Machado at third, Christian Yelich in left, Carlos Gomez in center, and Jason Heyward in right. You've got three ballhawks in the outfield and three dudes with rocket arms on the infield throwing to Teixeira. (A strong throwing arm is easily the most breathtaking tool in my opinion.) And Yadi. That team might actually score some runs too.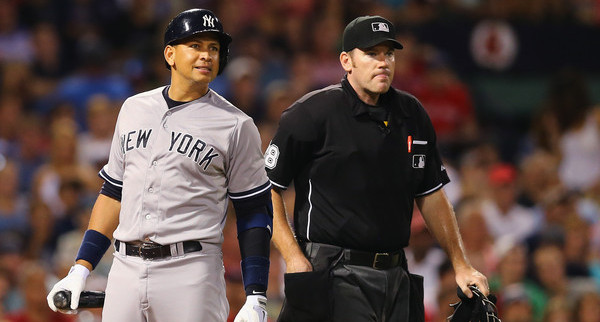 P.J. asks: Every year after the trade deadline the Yankees place several players high priced players (A-Rod, etc..) on revocable waivers. Do you think there is a chance any chance some team might claim A-Rod or Carlos Beltran if the Yankees put them up?
Zero. Well, there's a tiny little chance someone claims Beltran, but I'd say it's less than 1%. High-priced players on the downside of their careers almost never ever get claimed for obvious reasons. No one wants to get stuck with the contract. The only recent examples I can think of are Cliff Lee and Alex Rios — the Dodgers claimed Lee (who was still a legitimate ace at the time) but the Phillies pulled him back, and the Blue Jays dumped Rios' contract on the White Sox (he was only 28 at the time). Every team puts every player on trade waivers in August, and the only ones who get claimed are the good players with favorable contracts. I would be stunned if someone claimed A-Rod and almost equally as stunned if someone claimed Beltran.
Kevin asks: Say Alex Rodriguez was a free agent at the end of this season; what kind of deal could he feasibly get after such a productive year? Would he even receive interest or would his problem-filled past scare teams away?
I don't think he would get any offers. Barry Bonds was 42 in his final season, so a little older than Alex, but he also hit .276/.480/.565 (157 wRC+) with 28 homers in 126 games, and no one even made him an offer. (They're both basically DHs too.) Teams decided Bonds wasn't worth the baggage and poof, he was out of baseball. The only club I could see pursuing A-Rod is his hometown Marlins because they need all the attention and fan interest they can get. Where would he play? Who knows. That said, I think Rodriguez would get pariahed right out of baseball if he was a free agent after the season, no matter how well he hits.
Ethan asks: Should I be worried about Luis Severino's low K rate in AAA, especially as a pitcher who doesn't throw a sinker?
Nah, not at all. Severino has struck out 18.3% of the batters he's faced in 50.1 innings with the RailRiders while the International League average is 18.6%. Remember, we're talking about a kid who just turned 21 in February facing grown men, many of whom have MLB experience. Severino is six (six!) years younger than the average player in the league. Also, in his last five starts, he has a 22.7% strikeout rate. It would be cool if Severino was punching out ten dudes every fifth day, but for where he is, he's doing just fine.
Noa asks: Seeing that the Mets need hitting and have an excess of pitching, do you think the Yankees could trade for someone like Noah Syndergaard. Ignoring the fact that the Mets probably won't trade with the Yankees, what do you think it would take to get him? I was thinking maybe Rob Refsnyder, Aaron Judge, and someone like Greg Bird or Jorge Mateo. What do you think it would take and would you do the trade?
I probably wouldn't take a Refsnyder plus Judge plus Mateo package for Syndergaard if I were the Mets (they don't need Bird with Lucas Duda at first), which I guess means I'd do it if I were the Yankees. Syndergaard has shown very quickly he can dominate MLB hitters (3.11 ERA, 2.61 FIP, 26.3 K%, 5.1 BB%) and a) aside from Refsnyder, no one in that package can step right into the lineup to help their offense, and b) no one in that package solves their most pressing problem, which is the giant hole at shortstop. The Mets seem hesitant to trade their young pitching and I get it, but I think they should try to turn one of those guys into a high-end position player. Syndergaard for Addison Russell, for example. Something along those lines. Judge, Refsnyder, and Mateo is a package that can be beat by several other teams and it doesn't address the Mets' biggest immediate needs.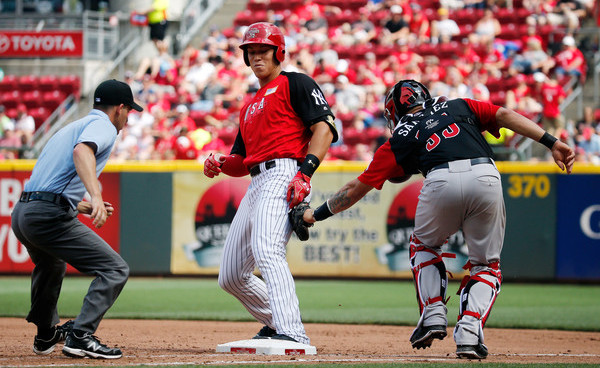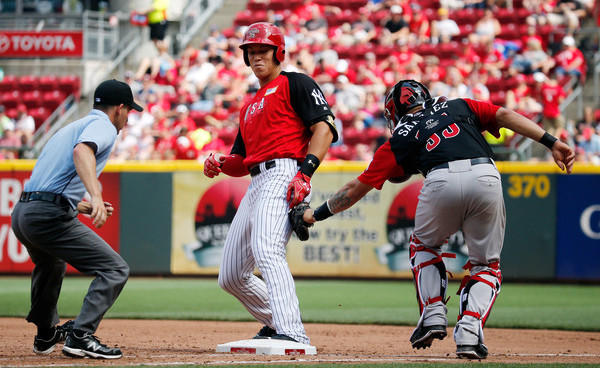 Sal asks: Clearly Aaron Judge is a bit raw when it comes to facing bigger league pitching. Since he is being groomed for one of the OF spots next year, will prospects like Mason Williams/Ramon Flores be used more openly in trade talks in the coming months? I think some orgs. would love to have that kind of talent at upper levels of minors.
Yeah I think so. The Yankees have a ton of upper level outfielders — not just Williams, Flores, and Judge, but also Tyler Austin, Slade Heathcott, and Jake Cave — and all of them except Judge are either on the 40-man roster or have to be added this offseason to protect them from the Rule 5 Draft. How many outfield prospects can one team carry on the 40-man? I absolutely think the Yankees should and will trade from their outfield depth either at the trade deadline or early in the offseason. They can't keep all these guys. There's not enough room for them on the 40-man roster or at Triple-A Scranton.
Jon S. asks: We always see how many wins a player is worth or how many above replacement. But how many wins is replacement? If a team had all replacement level players, how many games would they win?
It fluctuates year-to-year, the same way the league batting average or ERA changes slightly each season. A team of replacement level players would win somewhere in the range of 44-48 games, give or take depending on the year. The worst team this century was the 2003 Tigers at 43-119, who had one pretty good player (Dmitri Young at 3.4 WAR) and a whole bunch of sub-replacement level guys. That's as close to a replacement level team as you'll find.
Pounder asks: Has anybody not chosen or played in an All Star Game ever went on to win their league's MVP?
Oh sure, it's happened a few times. Kirk Gibson in the 1988 is the most famous example of a player winning MVP but not being an All-Star — Gibson ranks third all-time in WAR among position players never selected to an All-Star Game — but others like Jimmy Rollins (2007), Justin Morneau (2006), Chipper Jones (1999), and Juan Gonzalez (1996) have all done it recently. I'm sure there are others. I stopped looking after 1996 though.
Jeffrey asks: Is it just me or does it seem the Yankees play better and win more against the teams with good records? Do you have the split on how they have done against the teams with winning records and losing records this year?
The Yankees are 21-15 (.583) with a +25 run differential against winning teams this season and 27-25 (.519) with a +1 run differential against teams at .500 or worse. I wouldn't read much into these numbers at all though. Consider that if the Tigers win tonight, they move to a game over .500 and the Yankees are suddenly 26-17 (.605) with a +45 run differential against teams with a winning record and 22-23 (.489) with a -19 run differential against teams at or below .500. Did the Yankees do anything different? No, the Tigers won some random game the Yankees had no control over, improved to 45-44 on the season, and it drastically changed New York's record against winning teams and losing teams. So yes, the Yankees do have a higher winning percentage against teams with good records this year. I also don't think it means much going forward.