Got a dozen questions for you in the mailbag this week. Use the "For The Mailbag" form in the sidebar to send us any questions throughout the week.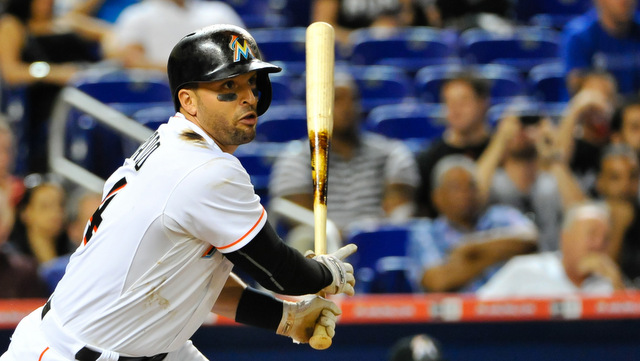 Soxhata asks: Other than Ben Zobrist, what 2nd baseman could be on the radar?
Zobrist is definitely the headliner at second base. He's been outstanding the last few weeks and is hitting .266/.360/.456 (131 wRC+) overall with a 13.2 BB% and an 8.6 K%. Zobrist is probably a multi-win upgrade over Stephen Drew even in just half a season. Looking around the league, other second base candidates could include Emilio Bonifacio, Dustin Ackley, and Daniel Murphy. And Brandon Phillips too, but forget him. I'd list Martin Prado as a candidate too if he wasn't on the DL with a shoulder injury and expected to miss several weeks. There aren't many bad teams with decent second basemen, so the market's limited.
Bonifacio has a -15 wRC+ (!) and has basically nothing to offer the Yankees other than speed off the bench. Ackley's been terrible too (70 wRC+) but the Yankees have had interest in him for a while now. He hasn't played second base regularly since 2013, however. Murphy is the opposite of Drew — an awful defender who is hitting a solid .285/.335/.420 (110 wRC+) overall. He's a rental and I'm sure the Mets would move him at the deadline a) to get something in return because they won't make him a qualifying offer after the season, and b) to save a few weeks of his $8M salary. I'm not sure if the two sides match up for a trade though. The Mets reportedly want to add offense, not subtract it. So yeah, after Zobrist, the second base market is really thin.
Mike H. asks: At the end of the season Ben Zobrist will be a free agent. What kind of deal can he expect given his weak offensive season so far? Would 2 years $20 million with an option for a third be sufficient?
Zobrist's season hasn't been weak, he just had a slow start around a knee injury in April. He turned 34 in May yet I still think his skill set — on-base ability, good defense, and versatility — will be in high demand when he becomes a free agent this offseason. I think three years is the starting point. Heck, Marco Scutaro got three years at age 37 with a similar skill set a few years ago. I wouldn't be surprised if Zobrist ends up with Chase Headley money (four years, $52M). Just about every team in the league would jump at two years and $20M for Zobrist this winter, including the Yankees.
Yuri asks: You've been advocating to move CC Sabathia to the bullpen. But, if he also performs badly as a reliever, what is left to do then?
Gosh, I don't know what happens then. That's one of those "we'll deal with it when the time comes" situations. Sabathia has destroyed left-handed batters this season — they're hitting .195/.205/.267 (.205 wOBA) with a 31.8 K% and no walks (!) against him this year — so at the very least there's reason to think he could be a really good left-on-left matchup guy. He might even be able to handle righties better by airing it out one inning at a time in relief. I have no idea what the next step would be if Sabathia stinks in relief. Release him? Either way, we're not going to find out because the Yankees are keeping him in the rotation.
Jack asks: Not exactly a Yankee question, but on June 29 you put up a "This Date in History" video featuring the 1947 Yankees' 19-game win streak, and I loved it. Very well done. Does MLB do one of those every day? If so, do you know where I can find it?
Those videos are put together by YES, not MLB, so they're Yankees-specific. As far as I know MLB doesn't produce any sort of daily "this date in history" video. YES doesn't have one for every single day, but they do pump out a few each month. Here's the archive. Enjoy.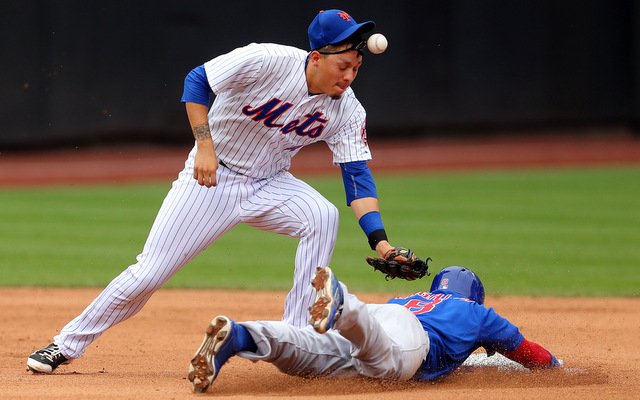 Zachariah asks: What do you make of the future of the Mets? Their starting rotation next year is looking potentially nasty, young, and affordable. If they can get a couple of bats, and the front office starts shelling out some bucks, they can make some noise for years to come.
The rotation really does look great, but man, the offense is terrible. Curtis Granderson and Lucas Duda are having good years, and Murphy's hitting whenever he's not on the DL. That's it. They're playing too many Eric Campbell and Ruben Tejada types. I think they should trade one of their young arms for a young middle infielder. Go big too. Noah Syndergaard for Addison Russell. Jacob deGrom for Xander Bogaerts. Something like that.
Ownership needs to allow GM Sandy Alderson to spend more money just so he can add better depth players. They're never active on waivers (six claims in four and a half years under Alderson!) and they brought four players to camp on minor league contracts. That's not enough! The pitching is great, but unless they do something drastic to improve the offense (spend money or trade some pitching) and improve organizational depth, they're going to be stuck spinning their wheels and are at risk of wasting the primes of those great young arms. It starts with the Wilpons. A New York team should never ever ever have a bottom third payroll.
Mike asks: Going in to this year, all we heard about was how bad the AL East is. If the season ended today, both wildcards would come from the AL East. So is the AL East better than we thought? Or is the league just really mediocre? Or both?
(This was sent in a few days ago. The AL East would not have both wildcard spots as of today.)
The AL East is about what I expected — a bunch of closely matched good but flawed teams — and I think the division's awfulness was overstated earlier this season. I'm guilty of that. There is no great team in the division and I think that maybe clouded everyone's judgment. The Blue Jays, Orioles, and Yankees are doing what everyone thought the Red Sox would do — score a ton of runs and pitch juuust well enough to contend — and the Rays are getting unreal work on the mound. The AL East is the only division with four .500 or better teams and the only one without a sub-.455 team. So the division lacks a great club, a clear World Series contender, but it sure looks like the most competitive division in the game. The AL East race is wide open. The last few months are going to be a blast.
Dan asks: What top 5 players do you think are most overrated and underrated?
I think we're at the point where Brett Gardner has to be considered one of the most underrated players in baseball, right? His 142 wRC+ is tied with Andrew McCutchen (!) for seventh best among all outfielders. My guess is a lot of people don't realize how good Gardner really is at this point. Off the top of my head, four other underrated players are A.J. Pollock, Joe Panik, Lance Lynn, and Yasmani Grandal. I also feel like Paul Goldschmidt is underrated even though he's one of the two or three best hitters in the world right now. As for overrated … I'll go with Phillips, Jeff Samardzija, Elvis Andrus, Chris Tillman, and Dexter Fowler. Good players! Not as good as their reputations though.
Jonathan asks: Is there a comparison between Nathan Eovaldi and Phil Hughes at the same age? Both righties with great fastballs, command, poor secondary stuff, and results that don't live up to their talent level?
I understand why people make that comparison but I don't think it fits well. Eovaldi throws way harder and gets a lot more grounders than Hughes ever did, for example. Here's the side-by-side comparison of their ages 24-25 seasons (2010-11 for Hughes).
| | IP | ERA | FIP | K% | BB% | GB% | HR/9 | RHB wOBA | LHB wOBA | FBv |
| --- | --- | --- | --- | --- | --- | --- | --- | --- | --- | --- |
| Hughes | 251.0 | 4.66 | 4.35 | 18.1% | 8.0% | 34.8% | 1.22 | .303 | .337 | 92.1 |
| Eovaldi | 287.1 | 4.42 | 3.49 | 16.5% | 5.5% | 46.2% | 0.69 | .302 | .352 | 95.6 |
Hughes had a better strikeout rate and more success against lefties, otherwise everything else is advantage Eovaldi, including health. (Hughes was limited to 71.2 innings in 2011 due to shoulder fatigue.) I also think Eovaldi has taken to the splitter way better than Hughes ever took a changeup, though that split is still very much a work in progress. What are the three things you want pitchers to do? Get strikeouts, limit walks, keep the ball on the ground. Eovaldi is quite a bit better at two of the three than Hughes was at the same age. That doesn't mean Eovaldi will ever live up his ability, I just don't think the comparison to Hughes fits beyond both guys frustrating fans.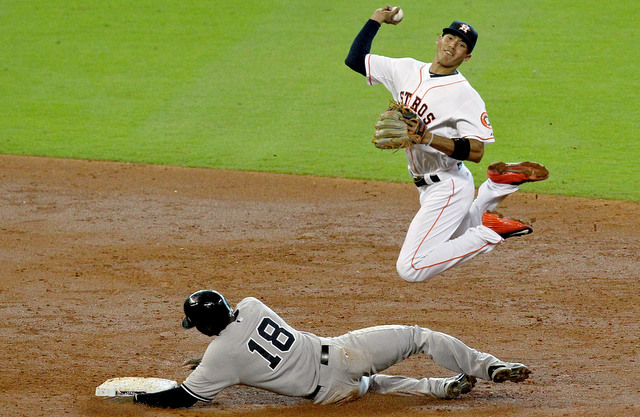 Rob from North Dakota asks: In the first inning of Sunday's game the Astros missed a double play when both Jose Altuve and Carlos Correa, shifted the left side of 2nd base, went for the ball. That got me wondering. With all the shifting going on, are double plays down?
No, actually. MLB teams are turning a double play in 11% of double play opportunities this year, meaning a runner on first with less than two outs. The league average has been right in the 10-11% range every year since 2000, so well before shifts became widespread. The Yankees have turned a double play 10% of the time this year, up from 8% last year. They were all over the map from 2000-13, falling anywhere from 8-13%. I'm guessing that's common — the league average double play turned rate stays the same but individual teams fluctuate year to year. Teams usually don't shift much — or at least not as extremely — in double play situations, so it makes sense the rate of double plays being turned hasn't changed much over the years. The Astros are super aggressive though, hence Sunday's play.
Tamir asks: If you had caught A-Rod's 3,000th hit what would you have asked for?
A bunch Legends Seats tickets and maybe some memorabilia, stuff like that. Asking for a big wad of cash seems kinda tacky. I'd use a few of the tickets and sell the rest, probably. Same with the memorabilia. Save some, sell the rest. I'm not a big collector and I'd rather just have the money to spend on whatever I want. Does that make me less of a fan? Oh well.
YankeeB asks: If they miss the postseason by a game or two and CC doesn't miss a start, who takes the fall, Joe Girardi, Brian Cashman, both or neither?
Man that would be a disaster. Imagine if they miss the postseason by a game or two after letting Sabathia throw 170+ of these innings? I feel like reducing the role of a player of Sabathia's caliber has come from above. Girardi can't just make the decision and stick him in the bullpen. It has to come from Cashman or even from the ownership level. Would missing the postseason by a small margin while letting Sabathia stay in the rotation be a fireable offense? I don't know. It would be a damn shame if things played out that way though. If I have to pick someone, I'll say Girardi gets the axe before Cashman.
Marc asks: Steven Matz for Gardner: who says no and why?
The Mets. Gardner's awesome and on a team friendly contract, but he's also going to turn 32 in August, so there aren't many (if any) peak years left there. Matz is a very good pitching prospect with a really scary injury history — he had Tommy John surgery in May 2010 and didn't get back on a mound until June 2012 due to setbacks and complications — and I do think the Mets would trade him for that reason, but not for a veteran guy like Gardner. I could see them trading Matz for a young shortstop. Russell or someone like that. But another veteran outfielder with Granderson and Michael Cuddyer on the books? Nah. I don't know if the Yankees would trade Gardner for Matz — the front office loves Gardner — but I'm sure they'd consider it. They wouldn't be doing their job if they didn't.