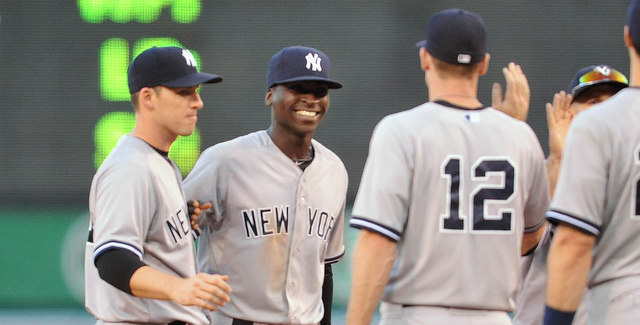 The Yankees went 3-4 on their seven-game road trip despite scoring only 18 runs in the seven games, with half those runs coming on Saturday. They scored zero or one run in each of the four losses, though Dallas Keuchel and Collin McHugh deserve credit for excellent performances. They overmatched the Yankees. C.J. Wilson and Andrew Heaney? Eh, not so much.
Not surprisingly, the Yankees are averaging more runs per game at home (5.77) than on the road (3.77). A lot more. I ridiculous amount more. They've scored 36 more runs at home in nine fewer games. Geez. Easy to understand why they're 21-14 (+38 run differential) at home and 21-23 (-16 run differential) on the road in 2015. Just about every offense is better at home — MLB average is 4.22 runs per game at home and 4.02 on the road — but the Yankees have taken it to the extreme this season. Here are the team's raw offensive numbers:
| | PA | AVG/OBP/SLG | wRC+ | BB% | K% | PA/HR | PA/XBH | BABIP |
| --- | --- | --- | --- | --- | --- | --- | --- | --- |
| Home | 1,395 | .282/.350/.496 | 130 | 8.5% | 18.2% | 22.5 | 10.3 | .306 |
| Road | 1,666 | .235/.302/.371 | 88 | 8.1% | 19.0% | 39.7 | 14.5 | .269 |
The Yankees are Kris Bryant at home and Michael Cuddyer on the road. This recent road trip was an extreme example of their offensive struggles away from the Bronx but it's not confirmation bias either — the Yankees are substantially more productive at home. They're a much more dangerous team playing in Yankee Stadium. Their three highest run totals and six of their nine highest run totals have come in the Bronx this year, unsurprisingly.
It's easy to understand why the Yankees are more productive at home, right? Yankee Stadium is a hitter friendly park and the Yankees have tailored their lineup for the short right field porch — Brian McCann, Garrett Jones, and Stephen Drew are all left-handed pull hitters who were brought in after everyone knew how the park played (Mark Teixeira signed before the park opened), and Carlos Beltran is way more effective batting lefty than righty. Has been for years. Brett Gardner learned how to pull the ball for power in recent years as well, and even Didi Gregorius has benefited from the short porch.
The largest home/road splits belong to McCann (195 wRC+/62 wRC+), Gardner (179/107), Drew (101/44), and Alex Rodriguez (182/113). A-Rod's the outlier as a right-handed hitter. The home/road splits make sense for the other guys. Rodriguez is hitting for power both at home (.256 ISO) and on the road (.201 ISO), and his walk rates are high (13.7% and 12.0%), yet he has a .393 BABIP at home (146 PA) and a .248 BABIP on the road (166 PA). The sample sizes aren't big though, and I suspect his home production will take a step back and is road production will improve as the season progresses.
There are other factors in play here that are tough to quantify, if not outright impossible. For example: traveling sucks. The Yankees have played 44 road games this season, the second most in baseball, and their 35 home games are the third fewest. Thirty-four of their 57 games since May 1st have been on the road. Yeah, they're pro athletes and they make gobs of money, but maybe they're just worn out from the travel. How do you quantify a good night's sleep? I don't know, but the Yankees are trying.
I'm not sure how or if the Yankees can improve their road production. I don't think they can force the issue and try to be something they're not — sac bunts, hit-and-runs, those sorts of things. They don't have many players capable of doing that stuff. This is a team of wallbangers. I'd like to think this lineup is better than a true talent 88 wRC+ offense on the road, especially once Jacoby Ellsbury returns, but this recent road trip was a reminder of how tough it can be for the Yankees to score runs when the threat of a short porch homer doesn't always exist.