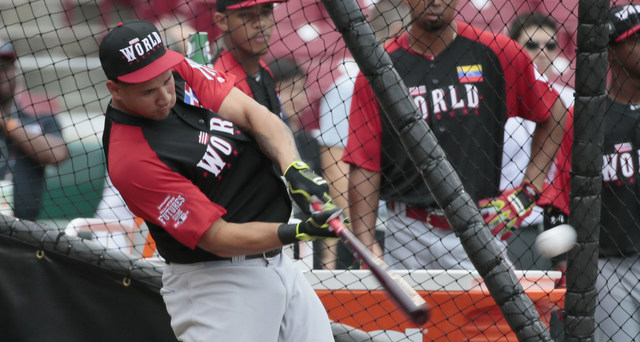 According to Buster Olney (subs. req'd), rival executives are expecting the Yankees to listen to offers for catcher prospect Gary Sanchez. The team has reportedly "sworn off" trading top prospects like Aaron Judge and Luis Severino, but Sanchez is a notch below those guys, and it makes sense to make him available with Brian McCann and John Ryan Murphy entrenched at the MLB level.
Sanchez, 22, is hitting .262/.322/.480 (129 wRC+) overall this season with 15 doubles and 13 home runs in 273 plate appearances with Double-A Trenton and Triple-A Scranton. That's after hitting 19 doubles and 13 homers in 477 plate appearances at Trenton last year. It feels like Sanchez has been around forever, but he was 2.5 years younger than the average Eastern League player and is currently 4.9 years younger than the average International League player.
Should the Yankees make Sanchez available — and I expect they will — it would not at all be surprising. As I said in our recent trade chips post, the Yankees value defense behind the plate very highly, and Sanchez simply is not a strong catcher. He's improving but still below-average. Both Jesus Montero and Peter O'Brien, two other bat first prospects faking it behind the plate, were dealt in recent years when they were hitting at the upper levels.
Sanchez now is a worse prospect than Montero was a few years ago but is a better prospect than O'Brien last year, so I guess that means his trade value is somewhere between Michael Pineda and Martin Prado. Not helpful! More than anything, Sanchez's trade value will depend on whether other teams believe he can catch. That and how much they believe in the bat. All it takes is one club to think he's an impact hitter to get a nice return.