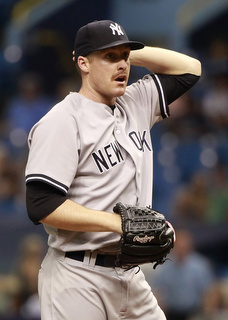 Know who the Yankees miss? Chase Whitley. Don't get me wrong, he's was exactly a critical part of the pitching staff, but Whitley was the de facto spot sixth starter and a useful depth arm. Joe Girardi admitted the team's plan for Whitley this year was to keep him stretched out in Triple-A and use him as a spot starter to give the regular rotation members extra rest on occasion. They haven't been able to do that since Ace Whitley blew out his elbow.
Thanks in part to Whitley's injury, as well as the general injury risk in the rotation, the Yankees should look to add pitching depth at the trade deadline. I mean, every team should, right? That is especially true for these contending Yankees because guys like Masahiro Tanaka (elbow), Michael Pineda (shoulder), and CC Sabathia (knee) carry more injury risk than most other starting pitchers. Ivan Nova has been rather uneven in his return from Tommy John surgery as well.
The question is not whether they should add pitching depth, but how do they fit it on the roster? Sabathia isn't coming out of the rotation, and even if he did, the Yankees would simply move him to the bullpen and not off the roster entirely. Same with Nathan Eovaldi. He's in the rotation. The only flexible spots in the bullpen belong to Bryan Mitchell and Chris Capuano, and I get the feeling the Yankees aren't going to cut ties with Capuano only because he's fine for the long man role and could always start if necessary.
With Whitley out, you could argue New York's sixth (Adam Warren), seventh (Capuano), and eighth (Mitchell) starters are in the big league bullpen. That leaves either Luis Severino or Esmil Rogers as the next in line spot starter whenever one is needed. That's … not ideal. Severino has dominated Triple-A but he's not someone you want to jerk around. Whitley was perfect for that spot starter role because he could go up and down with no real concern for his long-term development.
So the Yankees have something of a roster crunch on their hands. They could always option Mitchell to clear a roster spot — man, hasn't he looked great in short relief though? — but otherwise there's not much flexibility, not if the Yankees are committed to Sabathia as a starter. The should definitely acquire an extra starter to protect themselves against injury down the stretch, but where does that guy fit? Trading for, say, Johnny Cueto means either Sabathia or Eovaldi (or Nova?) goes to the bullpen and that seems so very unlikely.
This of course is a dumb problem. Making room for a good pitcher is not a "problem." It's a minor nuisance. Someone's feelings will be hurt and you move on. Warren went through it already. The Yankees do need to acquire more pitching at the trade deadline; the guys in the rotation have too many healthy questions to ignore. If that means someone undeserving like Mitchell gets squeezed to Triple-A, so be it. These things always have a way of working themselves out and you'd rather have "too much" pitching than not enough.