The Yankees took the series against Red Sox in Boston and they will head into the All-Star break on a positive note. Fantastic! Not only that, Rob Refsnyder recorded his first hit and home run of his career — the latter turned out to be the difference of the game. Personally, I felt that it was a better Nathan Eovaldi outing away from it being an A-grade game, but an 8-6 win is a win. I'll take it.
Five innings, 102 pitches
In the first two innings, Eovaldi didn't really allow any damage — only two hits allowed but no runs. The bottom third though: Eovaldi could have gotten out of it scoreless. With runners on first and second and one out, Xander Bogaerts hit a bouncer right up to middle that just barely missed Eovaldi's glove. Had he caught that, the Yankees would have (maybe) turned a double play to get out of it. Instead, the ball eluded Eovaldi's glove and trickled into center field for an RBI single. He's having that kind of year.
The next batter, Pablo Sandoval, hit a 1-2 count 86 mph slider, driving it to the right field for another RBI single. 2-2. Hanley Ramirez followed it up with another grounder to center that went past the infielders for the 3-2 lead. Eovaldi really wasn't getting many breaks in this innings. After that series of events, he induced two non-threatening grounders to get out of the inning. Eovaldi induced six grounders in that inning and only two of them ended up being outs. BABIP!
After a three-up, three-down fourth, Eovaldi was up to 87 pitches, which is more than 20 per inning. No bueno. His velocity was there, he was throwing splitters and mixing pitches – he just had trouble putting hitters away. He did throw another clean shutdown inning in the fifth, needing 15 pitches to do so.
So yeah, overall a mixed start for Eovaldi. Well, to be fair, Red Sox offense had been on a rise, and there was some subpar luck in the third. To his credit, he threw strikes (72 strikes in 102 pitches) and struck out four in five innings. Not too shabby. Eovaldi's first half ends at 9-2, 4.50 ERA/3.54 FIP in 93.0 IP. There's no major statistical improvement shown in his peripherals besides the ground ball rate (44.8% last year, 50.0% so far in 2015). He throws hard, throws strikes, but gives up a lot of hits and can be frustrating – but remember, he's still pretty young and he's on pace for a fWAR around 3.0 for the year, which is not bad at all.
The rallies
New York had three multi-run innings today. In the second, with no score yet, Brian McCann drove a two-run homer … over the Green Monster. How about that, an oppo-bomb for a dead pull guy! According to our Katie Sharp, this is the first time he's gone oppo since June 2013 so yeah, that's that. 2-0 Yankees.
Fast forward to top fifth – with Red Sox then leading 3-2 – McCann went oppo again. Instead of a homer, it was a double. Chase Headley followed it up with an infield single to get the runners in corners with no outs. With Didi Gregorius at-bat, Miley made a pick-off attempt to first and … got called a balk! A balk! As the YES broadcast noted, lefty pick-off moves are very, very subjective and Angel Hernandez didn't like what he saw in Miley's motion. Headley advanced to second and McCann touched home for a 3-3 game.
Things became fun to watch in the sixth. Brett Gardner reached on an infield single and A-Rod followed it with a sharp double to left for an RBI. 4-3 New York. Mark Teixeira lined out softly but Chris Young picked him up by hitting a huge double that hit the Green Monster to drive Rodriguez in. Farrell substituted in Tommy Layne for Miley and a batter later, Headley hit another RBI double to make it 6-3 Yankees. Three RBI doubles in an inning – why couldn't it be like that more often?
The later innings
As the game entered the bottom sixth, Joe Girardi put Adam Warren in for Eovaldi and I definitely thought it was the right move. An inning each for Warren – Wilson – Betances – Miller sequence, right? However, Warren only faced three batters and allowed an earned run – a Hanley Ramirez double and a Shane Victorino RBI single. Warren's command had not looked sharp in the past two outings but I'm not too worried – pitchers go through these kinds of funks during the season.
Justin Wilson came in to avoid further damage and that's exactly what he did. Despite allowing a single to Mike Napoli, Wilson retired Ryan Hanigan and Mookie Betts to escape the sixth with a 6-4 New York lead. In the seventh, he got two outs and made way for Dellin Betances, who struck out Hanley Ramirez on three pitches to end the inning.
Bottom eighth was a bit dicier for Betances. Alejandro De Aza squared up a fastball for a single (which could have been a double if it weren't for Jacoby Ellsbury's efficient route to ball) to lead off. Betances did get the next two batters out but he walked Ryan Hanigan put tying run on base. Mookie Betts came to at-bat. Betts has made himself an indispensable player for Red Sox. After a slow start, he's now hitting a solid .277/.328/.464 line for a 115 wRC+ and 3.0 fWAR this season. Also, he's only 22! He's going to be a stud in the majors. Unfortunately for the Sox, Betts struck out on a nasty 2-2 count curveball down on dirt. Dellin doing what Dellin does.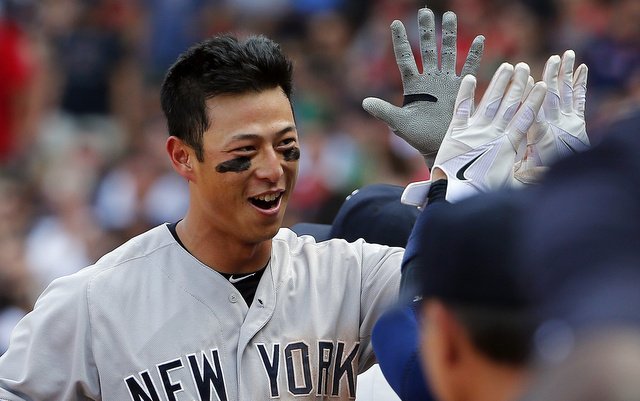 Refsnyder has Seoul!
Let's take it back to the top seventh. As Robert Refsnyder led off, the YES broadcasters noted that he has yet to have a big league hit … and then almost immediately, the second baseman lined a Tommy Layne fastball to right-center for a single.
Now, onto the top ninth. Alexi Ogando was the pitcher. Headley had reached the base on a walk and Gregorius followed it up with a fly out. In a 2-2 count on Refsnyder, Ogando hung a slider up in the zone and Refsnyder missed absolutely none of it – a towering two-run homer that almost cleared the Monster seats for an 8-4 Yankees lead. How about that for the first career ML homer? For the Yankees, against the Red Sox, at Fenway Park and over the Monster! That's gotta be a near-perfect dream scenario for a lot of the kids out there.
A slight nail-biter
Because this is a Yankee – Red Sox matchup, of course it's not going to end easily. Ex-Red Sox Andrew Miller came in the ninth to close it out. He walked Brock Holt but followed it up by striking out Xander Bogaerts. The next batter, Pablo Sandoval, hit a little nubber towards the third base line. McCann attempted to barehand it and throw but he bobbled the ball on the first try. He did make a solid throw to first but the ball hit the heel of Teixeira's glove and Sandoval reached safely, making it one out with runners on first and second.
Hanley Ramirez, the next batter, hit a comeback bouncer to Andrew Miller, setting up a tailor-made double play situation. Miller then threw perhaps a bit across the body and the ball sailed far too right for Refsnyder to handle. Brock Holt scored on the mishap to make it 8-5. I thought Miller's was more at fault but the official scoring called it an error on Refsnyder for missed catch.
De Aza hit a sacrifice fly to shave the lead down to two. With two outs and runner on second, Shane Victorino popped out to Didi to end the game. Phew. That 2-run homer by Refsnyder in the ninth turned out to be quite crucial, ain't it?
Box score, updated standing, video highlights, WPA
Here's today's box score, standings, highlights and WPA.

Source: FanGraphs
---
Yankees don't play another meaningful baseball till Friday – they will host the Seattle Mariners for a three-game series on the weekend. But for now, enjoy the 3.5 lead in the AL East through the All-Star break and have a good rest of Sunday!