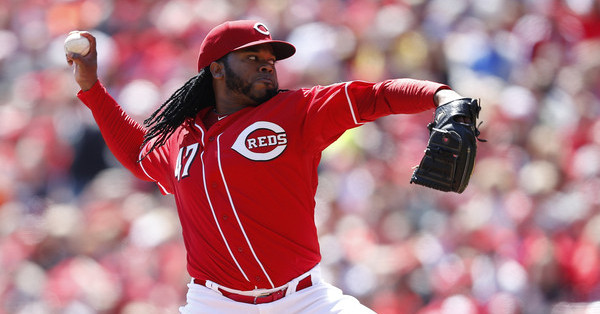 According to Ken Rosenthal, the Royals are set to acquire ace right-hander Johnny Cueto from the Reds. The two sides were close to a deal yesterday before things fell apart when Cincinnati got scared by something they found in the medicals of another player involved in the deal. Apparently the two sides were able to work out a trade anyway.
The Yankees had reportedly been scouting Cueto for weeks, which makes total sense. He's both a great pitcher and also a rental, making him a perfect fit for a team in need of rotation help and wary of taking on long-term deals. It's unclear if the Yankees ever had serious talks with the Reds about Cueto. We also don't know who the Royals are sending to Cincy, so I can't offer up a comparable Yankees package.
Even with Cueto and Scott Kazmir (traded to the Astros) off the board, there are still plenty of pitchers on the trade market. Cole Hamels is the big name, but he comes with a hefty contract. Jeff Samardzija, Mike Leake, Ian Kennedy, and Mat Latos are other rental options. The Tigers remain undecided about whether to trade David Price. The package for Cueto will give us an idea of what it would take to acquire Price, who would look might fine in pinstripes.
Update: Cueto was traded for left-handers Brandon Finnegan, John Lamb, and Cody Reed, both clubs announced. I'm not sure there's a good Yankees equivalent. Jacob Lindgren, Manny Banuelos if they still had him, and Brady Lail? That doesn't really work. Eh, whatever.