Man, a sweep would have been so nice, but it was not meant to be. The Yankees dropped the series finale to the Rays on Sunday afternoon, getting blown out 8-1 thanks to an ineffective Ivan Nova and some hilaribad defense. Two out of three in the series ain't bad. Just kinda disappointing.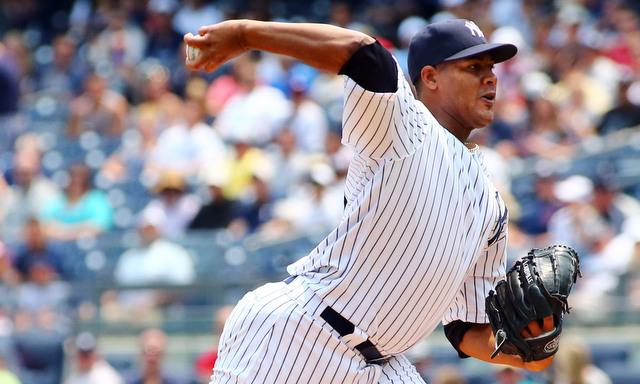 No Command
This was definitely not Nova's day and it was clear from the get go. Nova allowed two runs on three hits to the first four batters he faced — David DeJesus and James Loney singled around an Evan Longoria double — and he threw a first pitch strike to just three of the first ten Rays to bat. Loney's single drove in two runs and Tampa scored their third run thanks to a Brett Gardner mistake — he misread a line drive and let it sail over his head for a triple. It should have been an error but was scored a triple.
Nova put men on base in the third and fourth innings but escaped unscathed. The fifth inning started with a double and continued with an error. Asdrubal Cabrera laid down a bunt, Nova threw to third — Brian McCann told him to go to third — and the ball sailed wide of the bag and into foul territory, allowing the run to score. The throw to third was ill-advised in hindsight but I thought it was the right play. The catcher was running and it appears Chase Headley would have had plenty of time to apply the tag had the throw been on the money:
The throw wasn't on the money though, so Curt Casali scored the fourth run for the Rays. Nova got out of the inning without allowing any more damage. His afternoon ended with four runs (three earned) allowed on six hits and three walks in five innings. He struck out just one and threw only 45 of his 81 pitches for strikes (56%). Too few strikes. Too few first pitch strikes too — Nova went to a 1-0 count on 14 of 23 batters faced. Egads.
The road back from Tommy John surgery is rarely smooth and this was one of he bumps. Nova couldn't locate consistently, was behind in the count all afternoon, and simply had to grind each at-bat. The misplay by Gardner and the error on the throw to third didn't help either, though Ivan's problems extended beyond that. Just one of those days. It happens, especially after elbow surgery. Shake it off, get ready to start again in later this week.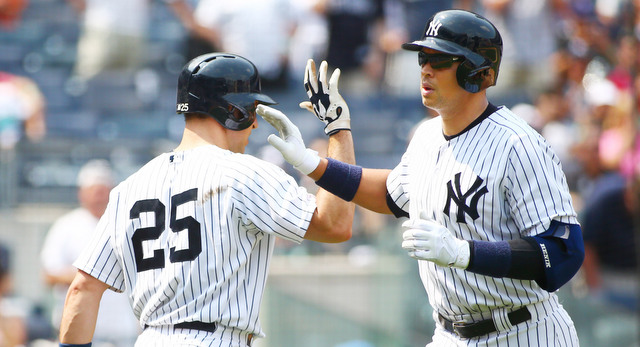 Blown Chances
You could see it coming a mile away. The Yankees had Erasmo Ramirez on the ropes in the first and second innings, never delivered the knockout blow, then Ramirez settled in. A double by Headley and walks by Mark Teixeira and McCann loaded the bases in the first before Garrett Jones grounded out. He swung at the first pitch after the back-to-back walks, which is always annoying, though the line of thinking is the pitcher wants to get one over and the most hittable pitch of the at-bat is the first. Didn't work.
In the second, Didi Gregorius reached base on an error and Gardner drew a walk to put runners at first and second. Headley popped up in foul territory to end the threat. The Yankees had just one base-runner from the third through fifth innings and that was a hit-by-pitch. Ramirez started to tire in the sixth — Alex Rodriguez hit a solo homer and Teixeira hit a ball to the wall — but was able to strand a runner at second to end the inning. The solo homer cut the deficit from 4-0 to 4-1. Too little, too late.
Defense Optional
The Rays tacked on four runs in the eighth inning — after the Yankees brought the tying run to the plate in the seventh only to have Headley bang into a double play, womp womp — because lol infield defense. Gregorius bobbled a slow chopper he tried to barehand (but didn't need too because Longoria was running) and Jose Pirela managed to turn a double play ball into second and third with no outs. He booted the grounder, took his time retrieving the ball, then threw it into the dugout. Two errors on one play. That's always a treat. A bloop drove in both runs. The Yankees were charged with three errors on the day (Nova, two on Pirela) but it could have easily been five because of the Gardner and Didi plays. The second base situation has become untenable. They need to fix this and fast.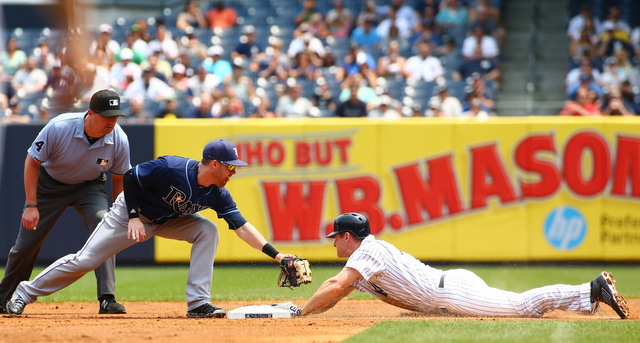 Leftovers
Bryan Mitchell was charged with four totally undeserved runs (two earned) in two innings. He threw fire in his scoreless sixth and seventh innings, then allowed four runs on two soft ground balls, a bloop, and a hit batsman in the eighth thanks largely to the Didi and Pirela miscues. It didn't help that Chris Capuano walked in a run and allowed a sac fly either. I'm digging Mitchell in short relief. He's been impressive when the defense is Major League caliber behind him.
Oh by the way, the Yankees had just three hits on the day. A-Rod homered and both Headley and Jones doubled. They did drew five walks though, two by Gardner and one each by A-Rod, Teixeira, and McCann. Chris Young was also hit by a pitch but just barely. Same number of doubles plays as hits. Not good!
And finally, rumblin' Nick Rumbelow tossed a perfect ninth inning, striking out two. He's been impressive in his very limited big league time like Mitchell. Those two plus not a starter Adam Warren's return to the bullpen have settled down the righty reliever revolving door.
Box Score, WPA Graph & Standings
Here are the box score and video highlights. Also check out the updated standings as well as our Bullpen Workload and Announcer Standings pages. Here's the LPA graph:

Source: FanGraphs
Up Next
The Yankees have an off-day Monday and will open a three-game set against the Athletics at Yankee Stadium on Tuesday night. Nathan Eovaldi will be on the mound against … someone. Oakland's starter is officially TBA right now. They're hoping it will be Sonny Gray, who's been battling an illness of late. It's the last home series before the All-Star break, so head over to RAB Tickets if you want to catch one of those three games live.