Happy birthday, A-Rod. Alex Rodriguez turned 40 on Monday and the Yankees celebrated with a crisp 6-2 win over his former team, the Rangers. They've won eight of ten games since the All-Star break and now have a season-high seven-game lead in the AL East. Their magic number to clinch the division is 58. Oh yeah, I just went there.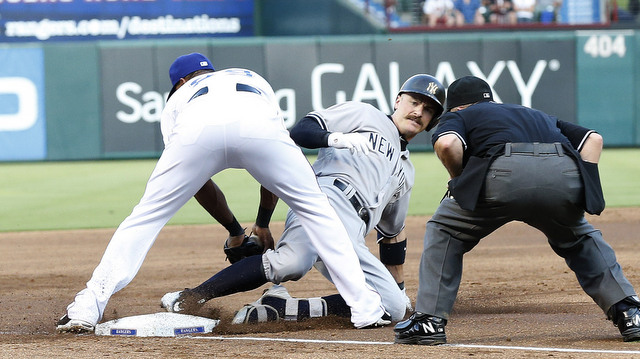 Fighting Spirit
Isn't it wonderful a two-run lead is no longer insurmountable? Hooray for having a real offense. The Yankees fell behind 2-0 early in Tuesday's game but battled back to not only tie the game in the next half-inning, they took the lead. The bottom of the order did all the heavy lifting too. Remember earlier this year when the Yankees lived and died with the top of the order? That's not the case any longer.
Chase Headley opened the top of the third with a sharp single to right, and Didi Gregorius followed with a first pitch home run off Matt Harrison. It wasn't a no-doubter, but he hit it hard, and the ball carried over the fence to right. It was Didi's first career homer off a southpaw and his first homer of the season away from Yankee Stadium's short porch. The Yankees fell behind 2-0 and tied the game three pitches into the next half inning. Love this team.
Gregorius merely tied the game though. The Yankees scored their third run thanks to a Brendan Ryan triple. A triple! It was his third extra-base hit of the season. He had four all of last year. Brett Gardner walked to put runners on the corners and lefty masher Chris Young plated Ryan with a deep sac fly to left field. The Yankees hit Harrison pretty hard in the first two innings but had nothing to show for it. Didi and Ryan were rewarded in the third.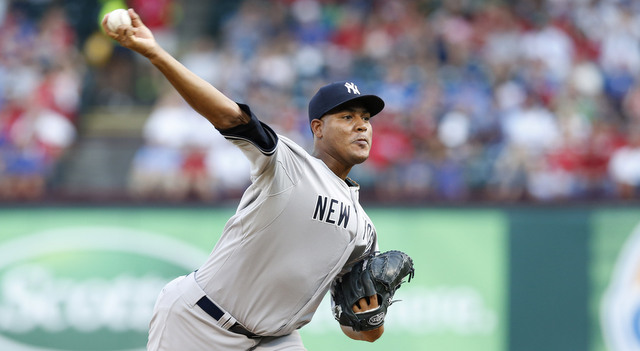 Ivan The Terribly Mediocre
Would you believe me if I told you Ivan Nova had two 1-2-3 innings in his five innings of work? It's true. Sure didn't seem like it though. It felt like Nova was in trouble all night, especially in his final two innings, yet he escaped with just two runs allowed. Both runs came with two outs in the second — Josh Hamilton blooped a single, Elvis Andrus ripped a double to left to score Hamilton, and Leonys Martin shot a ground ball single back through the box to score Andrus. Texas took a quick two-zip lead.
The fourth inning had the potential to be very bad. Very very bad. The inning started with a booming Mitch Moreland double to left, and Adrian Beltre moved him to third with a ground out. Nova walked the nearly unwalkable Hamilton to put men on the corners, then he plunked Andrus to load the bases with one out. Scary! Nova escaped the jam thanks in part to Mark Teixeira — he fielded Martin's chopper and got the force out at the plate for the second out. Robinson Chirinos grounded out to end the threat.
All told, Nova allowed those two runs on five hits, two walks, and a hit batsman. Remember, he had two 1-2-3 innings, so the eight base-runners were bunched together in the three other innings. Nova threw 75 pitches and left the game with what Joe Girardi called "arm fatigue," which is, uh, no bueno, especially since Ivan seemed to be missing 2-3 mph off his heater. Hopefully it's just a post Tommy John surgery dead arm phase. For what it's worth, Nova said there's no pain, just fatigue. We'll see.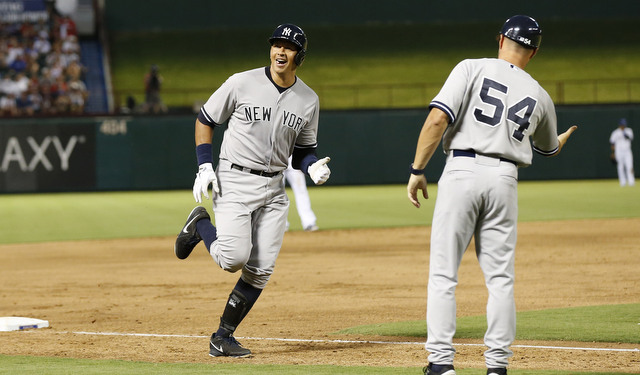 Tack-On Runs
It did not feel like three runs would be enough given the way Nova was pitching. That and the fact it was about a thousand degrees in Arlington and the ball carried well all night. A-Rod, the birthday boy, plated the first insurance run with a sixth inning solo homer on a down and away pitch from the lefty Harrison. Alex went down and poked it out to right field. Lovely piece of hitting, that was.
One inning later, Gregorius drove in two more runs with a solid single to right off lefty reliever Sam Freeman. Two hits against a lefty! Didi came into the game hitting .184 against southpaws this season. Carlos Beltran (walk) and Headley (double) set the rally up for Gregorius, who drove in four of the team's six runs. The bottom third of the order went a combined 7-for-12 (.583) with a double, a triple, and a homer. What a world.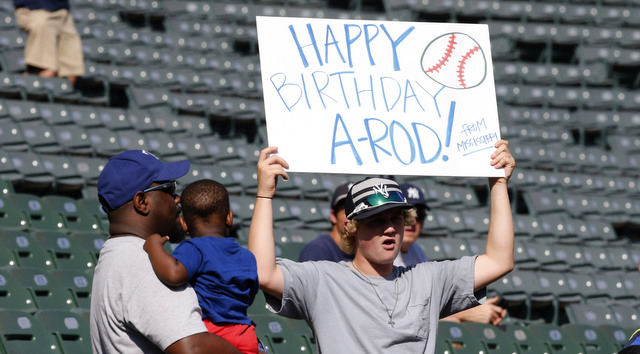 Leftovers
I'm not sure why Girardi used Dellin Betances in the ninth rather than Andrew Miller. Dellin pitched Sunday (only five pitches, but still) and probably won't be available for the bullpen game Tuesday. Miller ended up warming up anyway. Anyway, Betances (scoreless ninth), Justin Wilson (scoreless eighth), and Chasen Shreve (scoreless sixth and seventh) closed out the win. They each walked one. No hits allowed. Six strikeouts. Door: slammed.
Headley and Gregorius led the way with three hits apiece. Headley's been on fire since the All-Star break. Didi hasn't been so bad of late either. A-Rod, Teixeira, Ryan, Young, and Brian McCann had one hit apiece. Gardner drew one walk and Beltran drew two. The Yankees struck out just three times as a team.
Teixeira had the most backwards 1-for-4 ever. He was robbed of a homer by Martin, smashed a line drive at Andrus, flew out loudly to the warning track in right, and then he picked up a dinky ground ball single on a two-strike protect swing. Baseball.
And finally, A-Rod is now the sixth player in the expansion era to play in the big leagues as both as a teenager and a 40-year-old. He joins Rusty Staub, Gary Sheffield, Bill Buckner, Ken Griffey Jr., and Tim Raines. Neato.
Box Score, WPA Graph & Standings
Here are the box score and video highlights, and here are the updated standings and postseason odds. Also make sure you check out our Bullpen Workload and Announcer Standings pages because I do indeed update them every day. Here's the win probability graph:

Source: FanGraphs
Up Next
The Yankees and Rangers will play game two of this four-game series Tuesday night. Chris Capuano will start that game, Joe Girardi announced. They're inserting a sixth starter just to give the rest of the rotation an extra day of rest. Lefty Martin Perez will start for Texas.