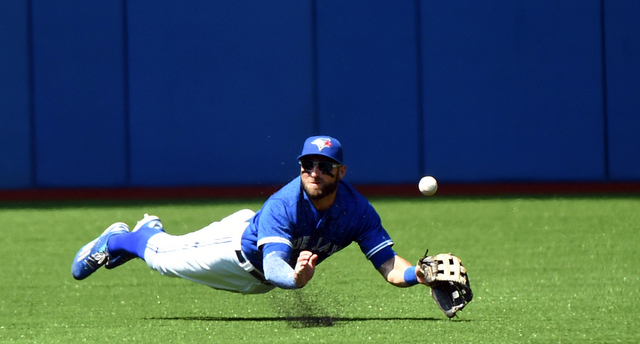 So this is a pretty huge series. The Yankees have already blown their comfortable-ish AL East lead and this weekend is a chance to get back atop the division. Winning two of three would do the trick. The Yankees are 2-7 against the Blue Jays this year — they've been outscored 36-17 in the nine games! — and it goes without saying a repeat of last weekend would be really, really, really bad. Three reallys.
What Have The Blue Jays Done Lately?
Win. Constantly. The Blue Jays are currently riding an eleven-game winning streak that has pushed them over the Yankees and into first place in the AL East. Well, sorta. The Jays have a half-game lead but the Yanks have one fewer loss. It's complicated. Toronto is 64-52 with a +140 run differential overall. That's the sixth best record and first best run differential in baseball.
Offense & Defense
The Blue Jays have baseball's best offense and it's not particularly close. They average 5.30 runs per game — the Yankees are still second at 4.80 runs per game despite their recent offensive struggles — with a team 114 wRC+, both the best marks in MLB. They're an offensive juggernaut. Toronto is without 2B Devon Travis (shoulder), IF Maicer Izturis (shoulder), and OF Michael Saunders (knee), none of whom will return this series.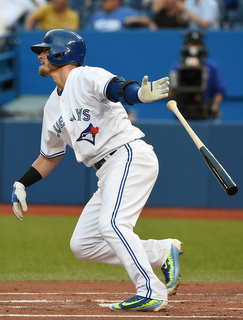 I said this last week and it's worth repeating: the top of manager John Gibbons' lineup reads like an All-Star Game lineup. SS Troy Tulowitzki (109 wRC+) leads off, 3B Josh Donaldson (154 wRC+) bats second, and RF Jose Bautista (139 wRC+) bats third. Crazy. Donaldson's a legitimate MVP candidate and will probably win the award if the Blue Jays make the postseason, even if Mike Trout and the Angels do too. 1B Edwin Encarnacion (126 wRC+) is the usual cleanup hitter but he's currently dealing with a finger problem and is day-to-day. He's sat out the last few games.
The rest of the team's regular lineup includes C Russell Martin (116 wRC+), OF Ben Revere (89 wRC+), OF Kevin Pillar (81 wRC+), and 2B Ryan Goins (70 wRC+). 1B Justin Smoak (105 wRC+) and 1B/OF Chris Colabello (143 wRC+) platoon at first base. C Dioner Navarro (67 wRC+) is the backup backstop and IF Cliff Pennington (58 wRC+) is the backup infielder. The Jays currently have a three-man bench but it is effectively a two-man bench as long as Encarnacion is banged up.
The Yankees and Blue Jays played just last weekend and Toronto's roster is pretty much the same — Pennington replaced IF Munenori Kawasaki, which is basically a lateral move — so I'm going to save some time and just copy and paste the defense preview from last week:
In the field, Toronto has top notch defenders at short (Tulo), third (Donaldson), center (Pillar), and behind the plate (Martin). Bautista and Revere are good in the outfielder corners for different reasons — Bautista for his arm, Revere for his range — and Goins/Smoak is a solid right side of the infield. Obviously the offense gets most of the attention and deservedly so, but the Jays can field too.
So there you have it. The offense is clearly the star of the show but don't sleep on the defense. The Blue Jays can catch the ball too. They are annoyingly well-rounded.
Pitching Matchups
Friday (7pm ET): RHP Ivan Nova (vs. TOR) vs. LHP David Price (vs. NYY)
Sigh. Too bad Price is starting for the Blue Jays down the stretch and not the Yankees. The 29-year-old has been off the charts this year, with a 2.35 ERA (2.99 FIP) in 23 starts and 161 innings for the Tigers and Jays. During his Cy Young year in 2012, Price had a 2.56 ERA (3.05 FIP), so yeah, he's in the middle of the best season of his career. His strikeout (24.1%), walk (5.3%), and home run (0.78 HR/9) rates are excellent, but his ground ball rate (39.9%) is tiny, which is nothing new. Price has always been a weak fly ball guy. His platoon split is negligible (.277 vs. .275 wOBA in favor of righties). Price uses mid-90s two and four-seamers as well as an upper-80s cutter he back doors to righties. It's unhittable. He'll also throw a bunch of mid-80s changeups and a handful of upper-70s curves per start. The Yankees have seen Price twice this year. The first time went well (eight runs in 8.1 innings) and the second time did not (seven scoreless innings).
Saturday (1pm ET): RHP Masahiro Tanaka (vs. TOR) vs. RHP Marco Estrada (vs. NYY)
Estrada, 32, started the season as the long reliever before moving into the rotation, and he has a 3.21 ERA (3.80 FIP) in 117.2 innings spread across 18 starts and six relief appearances. His strikeout (19.1%), walk (7.7%), grounder (32.4%), and homer (0.84 HR/9) numbers are all below the league average, in some cases substantially so. Estrada has a slight reverse split (.285 vs. 273 wOBA in favor of righties) because he relies heavily on his upper-70s changeup. He sets it up with an upper-80s fastball and will also throw an upper-70s curveball. Finesse, not power. Estrada's seen the Yankees twice this season, both times as a starter. He allowed five runs in 4.2 innings back in May and threw 6.1 scoreless innings last weekend.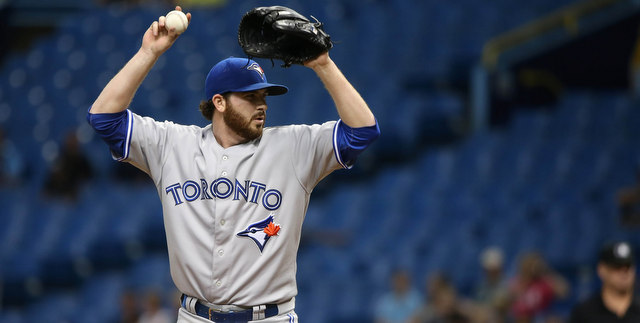 Sunday (1pm ET): RHP Luis Severino (No vs. TOR) vs. RHP Drew Hutchison (vs. NYY)
The 24-year-old Hutchison started on Opening Day this year and has a 5.26 ERA (3.93 FIP) in 23 starts and 125 innings. His home/road split is incredible: Hutchison has a 2.68 ERA (2.90 FIP) in 74 innings at home this year and a 9.00 ERA (5.42 FIP) in 51 innings on the road. Geez. His strikeout (20.0%) and homer (1.01 HR/9) rates are average enough, his walk rate (7.1%) a tick better than average, and his grounder rate (39.3%) way below-average. Righties (.381 wOBA) have hit him a ton harder than lefties (.313 wOBA) this year, which is the exact opposite of what happened last season. Hutchison is a three-pitch pitcher, using a low-to-mid-90s heater to set up mid-80s sliders and changeups. He uses the slider twice as often as the changeup. The Yankees have seen Hutchison just once this year, back on Opening Day, and he held them to one run in six innings.
Bullpen Status
Earlier this season the bullpen was a big problem for the Blue Jays, but that isn't the case anymore. They acquired RHP LaTroy Hawkins (2.89 ERA/3.14 FIP) and RHP Mark Lowe (1.60/2.19) at the trade deadline, and moved RHP Aaron Sanchez (3.21/4.76) back to the bullpen after having him start the year in the rotation. Sanchez was excellent as a reliever last year and has been excellent in that role again this year.
Hawkins, Lowe, and Sanchez join LHP Brett Cecil (3.68/3.43) as the setup crew tasked with getting the ball to rookie closer RHP Roberto Osuna (2.05/2.46). RHP Liam Hendriks (2.42/2.03), RHP Bo Schultz (2.18/3.92), and LHP Aaron Loup (5.05/3.89) are the club's other relievers. It's an eight-man bullpen at the moment. Osuna and Sanchez both pitched yesterday and have worked a lot recently — Osuna has pitched four of the last seven days and Sanchez has pitched four of the last six days. Other than that, the bullpen is fresh.
Check out our Bullpen Workload page for the status of Joe Girardi's heavily used bullpen. Then head over to Andrew Stoeten's site for the latest and greatest on the Blue Jays. You are forewarned: the language is not exactly kid-friendly.