I wouldn't say that was the worst loss of the season, but it was definitely the most frustrating. The Yankees had a ton of opportunities — they loaded the bases in four different innings! — but never did get the big hit, resulting in a 4-3 loss to the Red Sox in Monday night's series opener.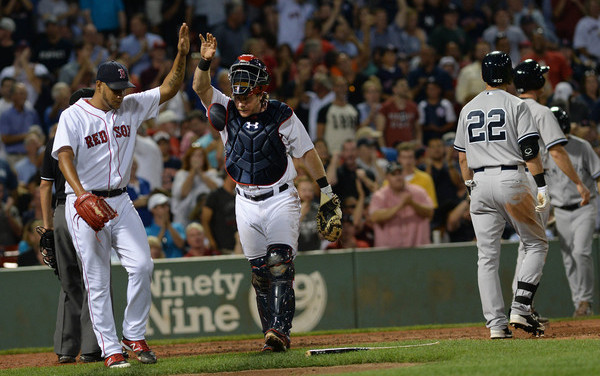 Right Where The Red Sox Want Them
Want to hear a fun stat? The Yankees went 4-for-14 (.286) with runners in scoring position. That's pretty good, all things considered. The league average is .257 with runners in scoring position. Want to hear a not fun stat? One of those four hits with runners in scoring position actually scored a run. One! That was Didi Gregorius' one-run single in the fourth. That's it.
The Yankees loaded the bases in the first, fourth, fifth and ninth innings. They had the bases loaded with no outs in the first and fourth too. They scored a run in the first on Carlos Beltran's sacrifice fly, but Brian McCann and Chase Headley couldn't do more damage. They scored a run in the fourth on Didi's single, but Brendan Ryan hit a chopper back to the pitcher and the out was made at home, then Jacoby Ellsbury lined into a double play.
Now, the double play was not a traditional "line it at an infielder who steps on the base" thing. Ellsbury hit a rocket to left fielder Jackie Bradley Jr. and for some reason Greg Bird tagged up at third and tried to score. That was a really bad decision by third base coach Joe Espada. I mean really bad. For starters, Bird is slow. That's kinda obvious. Also, the line drive was right at Bradley in shallow left, and Bradley has a cannon. Bird was out by a mile. Awful decision.
The ninth inning bases loaded situation was a different animal. Red Sox closer Jean Machi did everything in his power to give the Yankees the game, including throwing more balls (18) than strikes (15). Stephen Drew started the inning with a single, then Alex Rodriguez walked to put the tying run on base. Beltran struck out looking on some questionable calls …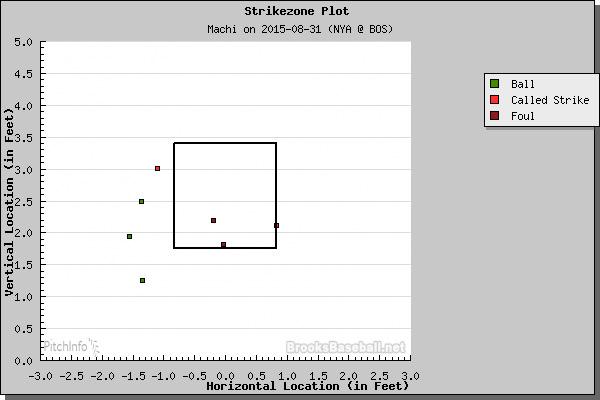 … but Machi walked Brian McCann to load the bases with one out, so the Yankees were still in good shape. Machi then walked Headley to force in a run. Woo! It was all set up for Bird to be the hero — or at least tie the game — but instead he struck out looking after hacking at strike two off the plate. Bird struck out with the bases loaded in the fifth as well.
Gregorius, who was 4-for-4 on the night up to that point, had a chance to tie the game, but he instead flew out to the warning track to end the game. I thought that was the big one. Didi put a great swing on the pitch and it looked like trouble off the bat. It would have been a grand slam in Yankee Stadium — in fact, ESPN Stats & Info says it would have been a homer in 24 of the 30 parks — but it wasn't at Fenway Park. Man, that stunk. Machi put the game on a platter for Yankees, but they didn't take advantage.
All told, the Yankees left 14 (!) runners on base in this game. That's a new season high for a nine-inning game. They had a base-runner in every inning but the third and had at least two base-runners in every inning but the second, third, and seventh. The Yankees put 18 runners on base and managed to score three runs. Three. Gross.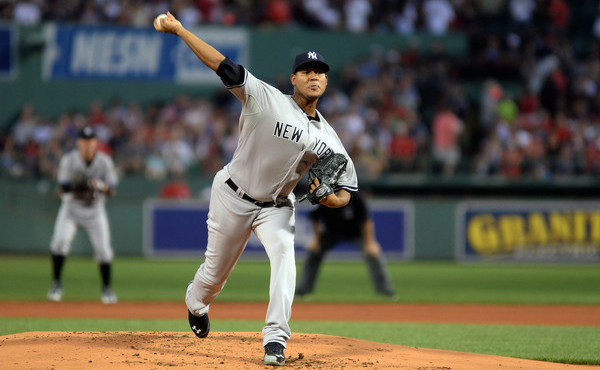 Quality Start In The Box Score
Another bend but only kinda sorta break outing for Ivan Nova, who allowed three runs on seven hits and a walk in six innings. One of those hits was a two-run home run by Mookie Betts, another a solo shot by David Ortiz. The Ortiz homer came on a pretty good pitch down-and-away that Ortiz muscled over the Green Monster. What can you do? The Betts homer was a terrible pitch. Fastball up in the zone screaming "hit me!"
Seven of 15 Red Sox batters reached base against Nova at one point spanning the third through sixth innings, so he was in trouble most of the night. Some line drives found gloves and the BoSox made some bad base-running decisions — Ortiz was thrown out trying to go to third on a wild pitch to end the sixth — which helped Nova limit the damage. You could do worse than having Nova as your fifth best starter, but the Yankees can't really afford any mediocre starts these days.
The bullpen was asked to get six outs in this game, though it felt like more. Adam Warren struck out Ryan Hanigan, allowed a double to Bradley and then a single to Betts in the seventh, ending his night. Chasen Shreve came in, got the weak grounder he needed from Pablo Sandoval, but Bird muffed it at first base and had to settle for one out. I'm not sure it would have been a 3-6-3 double play, but it definitely should have been one of those "look the runner back to third, take the out at first" plays. Bird couldn't even do that and Boston scored their fourth run.
Shreve ended up walking Xander Bogaerts and Ortiz after the Sandoval grounder — Shreve's walked ten of the last 50 batters he's faced (20%!), which ain't good at all — before getting Travis Shaw to line out to left, ending the seventh inning. He then tossed a 1-2-3 eighth. The Yankees had 18 base-runners and only scored three runs. The Red Sox had 12 base-runners in eight offensive innings and scored four runs. Neither offense was on point Monday.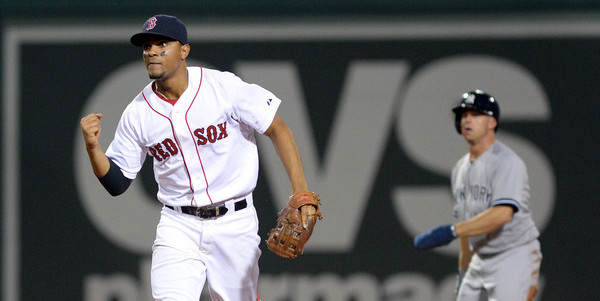 Leftovers
Boy, Bird had an awful game, which is pretty amazing considering he had a hit. He went 1-for-5 at the plate, struck out twice with the bases loaded, got thrown out at the plate, and bobbled Sandoval's grounder to allow that all-important fourth run to score. The Yankees really miss Mark Teixeira, both at the plate and in the field.
Gregorius went 4-for-5. It was his third career four-hit game, all of which have come this season. He did it this past Friday against the Braves and in that 21-5 massacre in Texas a few weeks back. McCann went 0-for-2 but drew three walks. The Yankees walked eight times as a team. The offense has 32 walks and 27 strikeouts over the last four games.
Ellsbury went 0-for-4, hit four balls hard, and had nothing to show for it. He batted with runners on the corners with one out in the eighth, hit a hot shot grounder Junichi Tazawa snagged — one of those "he didn't catch it, it caught him" plays — and turned into an inning-ending 1-6-3 double play. Rough.
Every starter reached base at least once except Ryan. He was replaced by pinch-hitter Brett Gardner in the eighth inning, who singled. So every lineup spot reached base at least once. Too bad that big hit never came.
Box Score, WPA Graph & Standings
Here are the box score and video highlights, as well as the updated standings and postseason odds. Also make sure you check out our Bullpen Workload and Announcer Standings pages. Here's the loss probability graph:

Source: FanGraphs
Up Next
The Yankees and Red Sox will play game two of this series Tuesday night, when both teams will have a bunch of extra players on hand thanks to September call-ups. Michael Pineda and Rick Porcello will be the pitching matchup.