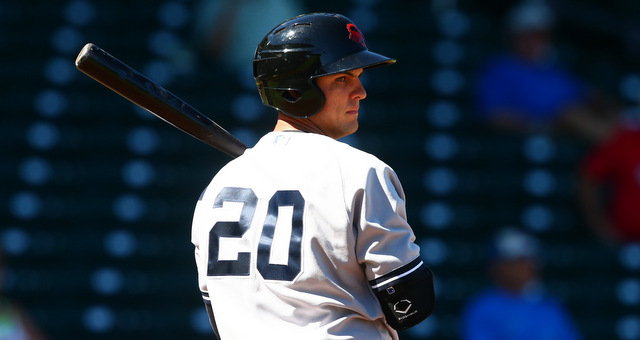 According to Jack Curry, the Yankees are calling up first base prospect Greg Bird. He'll join the team tonight in Cleveland. The Yankees have not yet officially announced anything but there's no reason to doubt Curry. The team will have to make both a 25-man and 40-man roster move to accommodate Bird.
Bird, 22, is hitting .277/.356/.469 (138 wRC+) with 23 doubles and 12 home runs in 318 plate appearances split between Double-A Trenton and Triple-A Scranton this year. I consider him the sixth best prospect in the system but prospect rankings are subjective as hell, and it wouldn't be insane to say he's the team's second best prospect in the minors now that Luis Severino is in the big leagues. Here's a snippet of Baseball America's scouting report:
Scouts and evaluators rave about Bird's approach as well as his bat. He's a line-to-line hitter with the willingness to work deep counts and take walks if necessary … Overall, the people who saw him play this year picture Bird, at his peak, as a truly balanced hitter capable of hitting for average and with power enough for 20 or more home runs annually while not doing any damage in the field. His home run power is mostly to the pull side (all but one has gone to right field), but he can push doubles to all fields.
Curry says Bird will serve as a backup at first base and DH during this stretch of 16 games in 16 days. Bird is a first baseman and a first baseman only, so there's really no way to get him into the lineup without sitting either Alex Rodriguez or Mark Teixeira. He'll be a lefty bat off the bench, something the Yankees could have used last night when Chris Young faced a righty with runners on second and third and two outs, for example.
I'm not sure there's much upside to calling Bird up only to sit on the bench, but it's not a bad move, just kind of a weird one. Had Andrew Miller not blown the save Tuesday and forced the bullpen to throw all those innings in the 16-inning game, chances are Garrett Jones would have remained with the team and Bird would still be in Triple-A. Jones was cut yesterday to get a fresh arm on the roster. Hopefully Bird can have an impact as a pinch-hitter and spot starter at first and DH.
The Yankees currently have an eight-man bullpen and a three-man bench, so I assume they'll send down a pitcher to make room for Bird. I'm guessing Nick Goody will be demoted since he's pitched each of the last two days and is unlikely to be available tonight. As for the 40-man roster move … I'm not sure. Cole Figueroa and Chris Martin stand out as players who could be outrighted. We'll see.