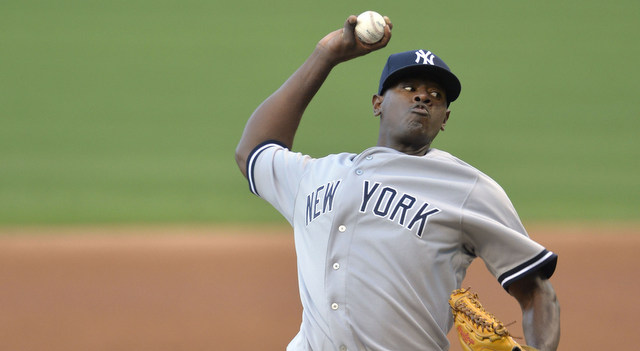 It's easy to forget now because of how the game played out, but last night Luis Severino tossed six impressive innings in his second big league start. It wasn't impressive because he dominated. Quite the opposite, in fact. He got knocked around early — six of the first ten batters he faced reached base — but Severino rebounded, made some adjustments, and finished strong.
Severino retired ten of his final eleven batters and used only 52 pitches to record his final 12 outs after needing 45 pitches to get his first six outs. Like I said, the start of the game was pretty rough. Severino was missing his spots big time and generally looked like a young 21-year-old pitcher who was in over his head. You know what I mean, that deer in the headlights look. Happens all the time.
Rather than let is snowball into a disaster outing, Severino was able to settle down and get through six innings having allowed just the two runs. He struck out only two but did get ten ground ball outs, which is probably the next best best thing. (Well, infield pop-ups are the next best thing, but Luis didn't get any of those.) It was a grind, the kind of start every pitcher will go through a few times each year, and Severino handled it well.
"I thought he did a pretty good job," said Joe Girardi to Chad Jennings after the game. "He seemed to settle down pretty good after the first two innings. He gave up a lot of hits and got in a lot of long counts and then he seemed to settle down and shut them down for the next four innings. He kept us in the game."
In his first big league start last week, Severino lived on the outer half to righties/inner half to lefties against the Red Sox. That appeared to be his comfort zone, especially with the fastball. That's where he went to get the count back in his favor and set up his slider. Here's his fastball heat map from last week's start (via Baseball Savant):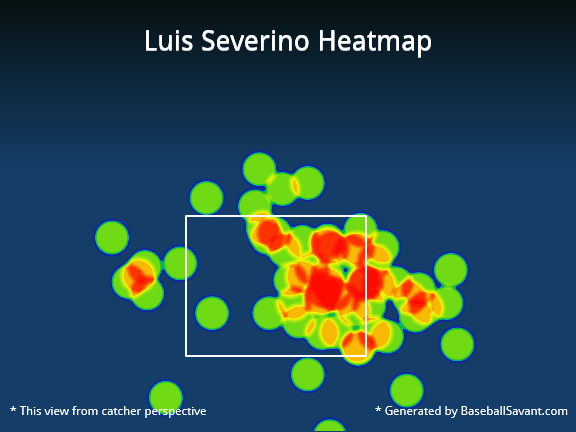 Severino lived on that side of the plate, outside to righties and inside to lefties. It worked just fine, he did allow just two runs in five innings, but Severino was fairly predictable. The Red Sox were essentially able to eliminate one half of the plate and I'm guessing that contributed to their 23 foul balls against Severino. That's a Hughesian total.
Had Severino been throwing 91-92 mph instead of 96-97 mph, chances are some of those fouls would have been put in play, and who knows what happens then. Severino had a lot of long counts — he averaged 5.22 pitches per batter — and those fouls were a big reason why. He got a little predictable with his heater location. It wasn't the end of the world, it was just a thing that happened.
Last night against the Indians, Severino allowed a much more normal 13 foul balls out of 97 total pitches. He also averaged only 3.73 pitches per batter. Severino was way more economical and, perhaps not coincidentally, he did a better job of using his fastball on both sides of the plate. Here's the heat map of last night's fastballs (via Baseball Savant):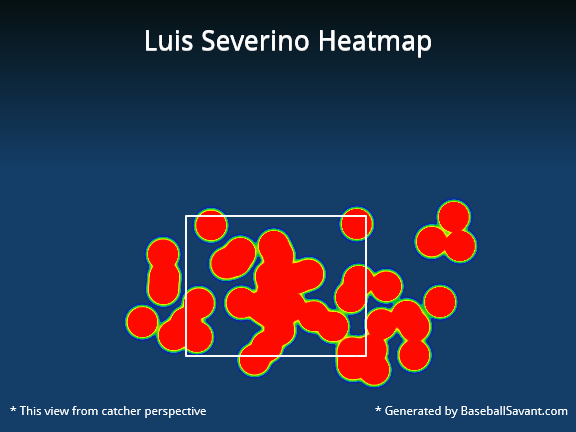 A few too many over the heart of the plate — Severino's location issues in the early innings didn't result in pitches out of the zone, but pitches down the middle — but Severino did a better job of using both sides of the plate. It doesn't sound like a big deal but it is. Hitters had to respect both the inner half and outer half. It makes life a bit tougher.
It's worth noting Brian McCann was behind the plate last night after John Ryan Murphy caught Severino's first start last week. Perhaps throwing to the veteran catcher made Severino more comfortable pitching both in and out. Or maybe felt he shouldn't shake off as often. Who knows? At the end of the day it's still up to the pitcher to execute the pitcher, but the catcher does play a role.
The Yankees lost last night's game and it was a heart-breaker, but the silver lining was clearly Severino's outing. He started slow, shook it off, and finished strong. That's good to see. I wouldn't say it's more impressive than going out and dominating, but it is impressive in a different way. Those games where you have to figure things out on the fly are often the separators between good pitchers and great pitchers.
Going forward, it'll be interesting to see whether Severino continues to pitch to both sides of the plate or again falls in love with the outer half to righties/inside half to lefties again, especially when he's in a jam. That's when pitchers tend to go back to their comfort zone. Severino's first two starts have been pretty cool and we're still very much learning about his style, but I find the fact he didn't continue to stick to one half of the plate encouraging.