Alright alright alright. That is much more like it. The Yankees started their six-game road trip with a laugher, blowing the Braves out by the score of 15-4 on Friday night. They needed this. We needed this.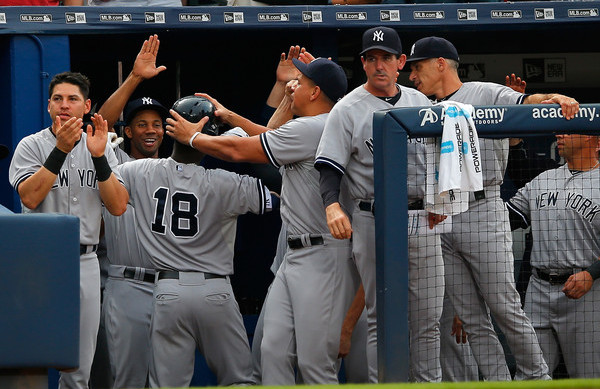 Two Outs, Nine Runs
It took the Yankees seven batters Friday night to exceed their runs total from the three-game series with the Astros. They scored just four runs against Houston earlier this week, but the bats broke out and hung a five spot on Williams Perez in the first inning of this game. The entire rally happened with two outs too. Jacoby Ellsbury and Brett Gardner both started the inning with outs. Let's recap with an annotated play-by-play.

(1) Carlos Beltran had a miserable start to the season. It was very ugly. But, since the calendar flipped to May, he has hit .302/.365/.529 (145 wRC+) in just over 300 plate appearances. That's best case scenario stuff. I never would have expected Beltran to hit that well over that long a stretch of time coming into the season. He's been the club's only consistent hitter the last few weeks, so it's fitting he started the first inning rally with a not trying to do too much single back up the box.
(2) As expected, Brian McCann received a big standing ovation from the handful of fans at Turner Field in his first game back. He stepped out, tipped his helmet, the whole nine. Pretty cool moment. Perez then walked him on six pitches and it never once seemed like McCann was not going to reach base. Even when Perez had two strikes on him. The first pitch was a fastball right down the middle, and the foul ball for the second strike came on the pitch just off the plate, but the four balls were well wide. Easy takes for the walk. That's when it became obvious Perez was in over his head.
(3) The Greg Bird at-bat was the opposite of the McCann at-bat — Perez threw five pitches just off the plate and Bird took all five of 'em. One was called a strike, the rest balls. I thought maybe Bird would look to punch something the other way after the 2-0 pitch was called a strike, but Perez kept pitching to the same spot, and Bird kept taking 'em. Impressive that a rookie took so many borderline pitches. The walk loaded the bases and now Perez was really in over his head.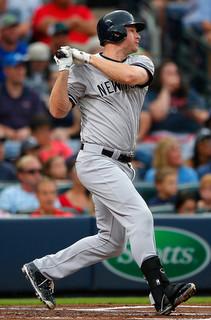 (4) Considering the offensive woes, it was easy to prepare for disappointment after Bird walked to load the bases. Nothing personal against Chase Headley — he came into the game hitting .318/.363/.536 (143 wRC+) with runners in scoring position, you know — but the Yankees have been struggling at the plate for a while, and we've seen them waste more than a few opportunities. You were expecting them to blow it. Admit it. I was. Instead, Headley smoked a pitch over Cameron Maybin's head in center field for a ground-rule double. That was huge. They needed some runs there just to feel good about things early in the road trip. An out there and it would have been "here we go again." It's only human nature. Instead, a 2-0 lead.
(5) Needless to say, Didi Gregorius' three-run home run was the big blow. The inning went from good to great with that one swing. Two first inning runs is good, we all would have signed up for that coming into the game, but five is so much better. Changes the entire complexion of the game. I wouldn't call it a no-doubter off the bat, but it was well struck and appeared to have enough to get over the head of Nick Markakis in right. It did. Way over and into the people. That gave the Yankees a quick 5-0 lead. They've scored 107 runs in the first inning this year, easily the most in baseball.
Not satisfied with five two-out runs in the first, the Yankees scored four more in the second. Same deal too — the first two batters made outs, then the Bombers rallied. Gardner singled, Beltran singled again, McCann walked again, then Perez was yanked from the game. Braves skipper Fredi Gonzalez had seen enough. In came Ross Detwiler, who walked Bird and Headley with the bases loaded to score two runs. Man, walking in runs is the single most infuriating thing in baseball. Thankfully the Yankees were on the receiving end of those bases loaded walks.
Gregorius followed the back-to-back walks with a two-run ground ball single through the left side of the infield to really turn this one into a laugher. It was more well-placed than well-stuck, but they all count the same. The Yankees have been really struggling to score runs of late, so getting some key hits from Headley and Gregorius was very welcome. They needed someone, anyone to come through with a big hit. Those two got three big hits in the first two innings.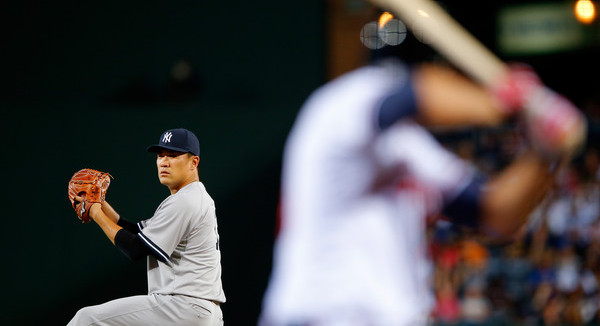 A Bad Start, A Great Finish
Boy, for a while it looked like the Yankees were going need to all five of those first inning runs to support Masahiro Tanaka. Tanaka looked awful in the first inning, he had less than nothing, and the result was two runs for the Braves. It would have been more — probably four runs total — if not for Ellsbury's great catch to end the inning. I guess his hip is okay. He went a long way to grab that ball.
Tanaka threw a first pitch ball to each of the first three hitters in the first, and all three reached base. Markakis singled, Maybin walked, and Freddie Freeman singled in Markakis. Not a good start! Nick Swisher followed with a sacrifice fly, then Adonis Garcia singled. So four of the first five Braves reached base, and the one guy who didn't hit a hard-hit sacrifice fly. It was not a good start for Tanaka. Neither the slider nor the splitter was behaving.
The start to the second inning wasn't too much better. Tanaka fell behind the leadoff hitter, Andrelton Simmons, three balls and no strikes, so things were starting to get scary. Rather than continue to fall apart, something clicked for Tanaka. He rebounded to strike out Simmons as well as the next two hitters for a clean second inning. He retired 19 of the final 21 batters he faced — Freeman hit a solo homer and Simmons doubled after the score was out of hand — and was dominant. Tanaka found it that quick.
When it was all said and done, Tanaka allowed the three runs on five hits and a walk in seven innings. He struck out seven and threw 100 pitches on the nose. Seventy of them were strikes. The first inning was ugly. Everything after that was pretty awesome. This was an ace performance — aces find ways to pitch well and win even when things aren't working. No slider? No splitter? No problem. Tanaka figured it out. Well done.
Leftovers
The Yankees scored four more runs in the eighth — McCann's three-run homer was the big blow — and then two more in the ninth against position player Jonny Gomes. He is, without a doubt, the worst position player pitcher I've seen. Gomes was lobbing it in there. Chris Young took him deep. The Yankees scored 15 runs Friday after scoring 16 runs in their previous six games combined.
Gregorius had the biggest day at the plate, going 4-for-5 and driving in six (!) runs. How about that? Beltran had three hits, McCann had one hit and three walks, Bird had a hit and two walks, and Headley had two hits and a walk. Everyone in the starting lineup had a hit except Stephen Drew, naturally. Young and John Ryan Murphy had hits off the bench too. Even Tanaka had some nice at-bats. He went 0-for-3 with a walk and saw 24 total pitches.
Justin Wilson threw 19 pitches in two-thirds of an inning because he needed the work. He hadn't pitched in a week. Bryan Mitchell recorded the final four outs — he allowed one run — in his first outing since being hit in the face by a line drive eleven days ago. Mitchell struck out against Gomes as well. A position player struck out a pitcher. NL baseball is the worst. Glad to see Mitchell back out there.
Box Score, WPA Graph & Standings
Here are the box score and video highlights for the game, and here are the updated standings and postseason odds for the season. Also make sure you click over to our Bullpen Workload and Announcer Standings pages. Here's the win probability graph:

Source: FanGraphs
Up Next
Same two teams Saturday night (argh) in the middle game of this three-game series. Top pitching prospects Luis Severino and Matt Wisler will be on the mound. Should be fun.