That was the best worst game ever. Or maybe the worst best game ever? Not sure. A win? Yes. Exciting? Also yes. Frustrating at times? Definitely. When it was all said and done, the Yankees walked off with a 1-0 win over the Astros in their series opener Monday night.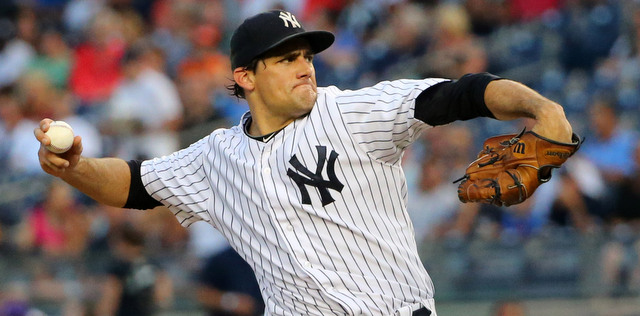 DomiNATE
Oh baby. You can teach a guy to pitch but you can't teach him to throw hard, and on Monday night Nathan Eovaldi showed off both his pitchability and his unmatched arm strength. Eight shutout innings, seven strikeouts, a season-high 19 swing and misses — by far too, his previous high was 13 done twice — and just four singles allowed. Dominant. This was ACEovaldi, at least for one start.
Eovaldi struck out three batters in the first, all on three pitches, and he fanned five of the first nine batters he faced. In the fifth, when he ran some long counts and issued two of this three walks, he escaped with a pop-up and two ground balls. When he allowed a single and a walk to the first two batters in the sixth, Nate escaped with a free out (a bunt), a fielder's choice (Greg Bird made a great play to look the runner at third back and get the runner at second), and a fly out.
Heck, Eovaldi had to overcome his own defense a few times. Stephen Drew flubbed a potential double play ball in the fifth — he settled for one out at first, after the play was reviewed — and Chase Headley made a throwing error in the eighth. Both times Eovaldi escaped. He faced a career-high tying 32 batters and seven (7) hit the ball out of the infield. Oh, and Nate averaged 98 mph with his four-seamer and topped out at 102 according to PitchFX. Starters are not supposed to throw that hard.
Is Eovaldi going to pitch this well every time out? No, probably not. But man, look at how far this guy has come since April. Pitching coach Larry Rothschild didn't just teach Eovaldi a splitter, he taught him a splitter he trusts and will throw to both righties and lefties. He has that second pitch hitters have to respect, and, as a result, his high-octane heater is playing up. Eovaldi got eight swings and misses on 45 four-seamers this game. There were times he didn't get eight swings and misses in an entire start earlier in his career. Great game and great development. This is something else.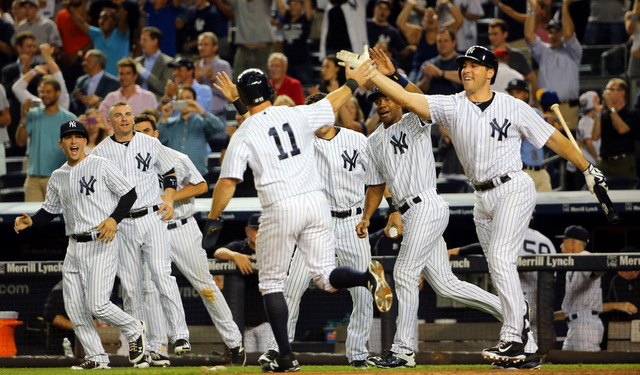 Walked Off … Eventually
The game-winning ninth inning rally was sorta dopey and anti-climatic, but a win is a win is a win. The Yankees didn't even had a hit in the inning. Oliver Perez walked Brett Gardner on five pitches leading off the inning, advanced him to second with a wild pitch, intentionally walked Alex Rodriguez, then unintentionally walked Brian McCann on five pitches to load the bases with no outs. Perez threw 15 pitches. Three were strikes.
Once the bases were full, Astros manager A.J. Hinch went to ex-Yankee Chad Qualls, hoping Carlos Beltran would hit a ground ball right at someone. Instead, Beltran lifted Qualls' first and only pitch of the night into deep center field for the walk-off sac fly. Walk-off sac flies are weird. Yeah they get the job done but they're sorta no fun. As soon as you see the outfielder retreat far enough back, you know the game is over. Carlos Gomez would have had no shot to throw Gardner out at the plate had he tried. Whatever. I'll take it.
The Yankees did have some opportunities to score against Scott Feldman earlier in the game — Feldman allowed six hits in eight shutout innings [/facepalm] — but Never Got The Big Hit, as the kids say. McCann's leadoff single in the second was wasted by a strikeout and two fly balls. Back-to-back leadoff singles by Didi Gregorius and Drew in the third were wasted by a fielder's choice, a strikeout, and a fly ball. McCann was erased by a double play following his leadoff single in the fourth.
Then, in the seventh, the Yankees were in business thanks to McCann's third leadoff single of the night. Beltran followed with a double to right — he smashed the ball off the wall, one of those "he hit it so hard he held himself to a single" hits — to put runners at the corners with no outs. Greg Bird struck out, rather feebly too, then Chase Headley lifted a fly ball to shallow center. It wasn't deep at all, and McCann isn't running well these days, so Gomez threw him out at the plate despite making a poor throw that hopped about ten times. Blah. That was deflating.
In the end, the Yankees got just one run and it was all they needed thanks to Eovaldi. The offense continues to sputter though — they had six hits (all singles) and three walks (one intentional) in the game, which isn't enough to win most of the time — and it's something that needs to get fixed soon. The top three hitters in the lineup going 0-for-10 with three walks isn't good enough and three hits by non-McCanns isn't good enough either. The Yankees are averaging 3.21 runs per game in their last 19 games. Yikes.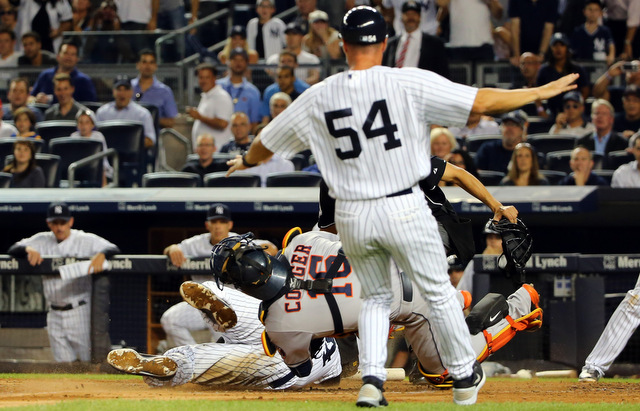 Leftovers
For a very brief moment, exactly one plate appearance, Drew was hitting .200. Exactly .200 too, no rounding in either direction. He beat out an infield single in his first at-bat to get to .200, then grounded out next time out to ruin the fun. Drew went 1-for-3 on the night and is hitting .19878. He's yet to finish a game with a .200+ batting average this season.
Andrew Miller replaced Eovaldi and pitched a scoreless ninth inning. He allowed a leadoff single to Evan Gattis but pinch-runner Jake Marisnick was erased on a strike 'em out, throw 'em out double play. After CC Sabathia's injury shortened start Sunday, Eovaldi gave the bullpen a nice breather Monday.
Mark Teixeira made an appearance! Well, sorta. He was on deck to pinch-hit for Bird when Beltran hit the walk-off sac fly. Teixeira has not played since fouling a ball of his leg a week ago. That he was available to pinch-hit is a good sign. Progress.
And finally, Beltran played in his 1,000th AL game Monday night. He is the sixth player to play 1,000 games in each league, joining Frank Robinson, Vlad Guerrero, Dave Winfield, Bob Boone, and Fred McGriff. Pretty cool.
Box Score, WPA Graph & Standings
Here are the box score and video highlights for the game. Here are the updated standings and postseason odds for the season. Also check out our Bullpen Workload and Announcer Standings pages, because they exist. Here's the win probability graph:

Source: FanGraphs
Up Next
The Yankees and Astros continue this three-game set with the middle game Tuesday night. Ivan Nova and Dallas Keuchel is the scheduled pitching matchup. Keuchel's a tough assignment for a struggling offense. Head over to RAB Tickets if you want to catch that game or Wednesday's series finale at Yankee Stadium.