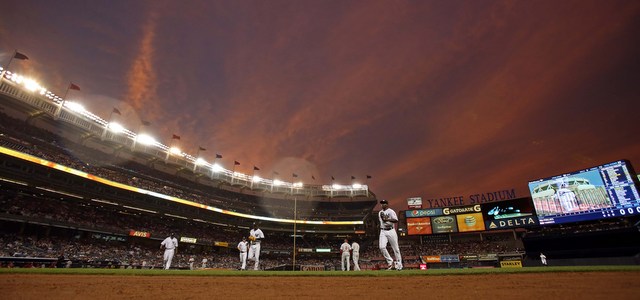 For the first time since sweeping the Orioles a week and a half ago, the Yankees are back home in Yankee Stadium. It's been a while. They've been way better at home (30-17, +47 run differential) than on the road (29-28, +13) and now settle in for a six-game homestand. Sixteen of their next 22 games are at home and 34 of final 58 games are in the Bronx. Hooray for that.
Masahiro Tanaka is on the mound tonight and let's be real, he has hardly been ace-like this season. A 3.80 ERA (103 ERA+) and 4.01 FIP isn't disastrous, especially since most of it stems from his propensity to give up solo homers, but it's not what the Yankees or fans were expecting coming into the season. Tanaka's had some moments of brilliance, just many. Let's hope for one tonight. Here's the Red Sox's lineup and here is the Yankees' lineup:
CF Jacoby Ellsbury
LF Chris Young
DH Alex Rodriguez
1B Mark Teixeira
C Brian McCann
RF Carlos Beltran
3B Chase Headley
SS Didi Gregorius
2B Brendan Ryan
RHP Masahiro Tanaka
Nice day in New York. Hot but not humid with just a few clouds in the sky. Good night for a game. First pitch is scheduled for 7:05pm ET and you can watch on YES locally and MLB Network nationally. Yankees vs. Red Sox always gets national billing no matter how out of the race one team may be.
Injury Updates: In case you missed it earlier, Dustin Ackley (back) was placed on the 15-day DL … Michael Pineda (forearm) will start a throwing program tomorrow. His return is not imminent though, Brian Cashman basically ruled him out until September while talking to reporters this afternoon.
Roster Updates: Caleb Cotham has been called up to replace Ackley on the roster … Luis Severino is not with the team because there's no reason to activate him yet. Joe Girardi reiterated his is not a one and done; Severino's in the rotation.