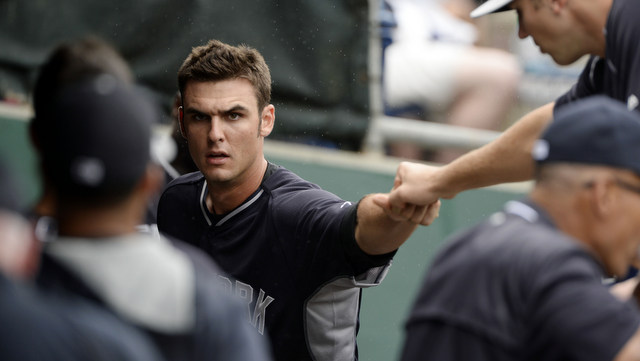 The Yankees have lost five straight games and they've scored six runs in those five games. Four of the six came in one game. The Blue Jays already won today — it was their 11th straight win — so the Yankees have to snap their losing streak tonight just to keep pace in the AL East. They're in chase mode now.
Earlier today the Yankees called up first base prospect Greg Bird, and it sure seems like the team is acknowledging they are worried Alex Rodriguez and Mark Teixeira may wear down (or are wearing down) in the second half. Bird is here to back up both guys and it seems likely he will play more than Garrett Jones did. That's a pretty safe bet. Here is the Indians' lineup and here is the Yankees' lineup:
CF Jacoby Ellsbury
LF Brett Gardner
DH Alex Rodriguez
RF Carlos Beltran
C Brian McCann
3B Chase Headley
1B Greg Bird
SS Didi Gregorius
2B Stephen Drew
RHP Nathan Eovaldi
It's cloudy and cool again in Cleveland with only a tiny bit of rain in the forecast. Nothing that will cause a postponement or anything. Tonight's game will begin at 7:10pm ET and you can watch on WPIX locally and MLB Network nationally. Enjoy the game.
Roster Moves: Bird was called up, obviously. Nick Goody was sent down to clear a 25-man roster spot and Diego Moreno was transferred to the 60-day DL to clear a 40-man roster spot, the Yankees announced. Goody pitched in each of the last two games and would have been unavailable tonight. The Yankees are back to a four-man bench and seven-man bullpen.
Injury Update: Michael Pineda (forearm) threw his first bullpen session since landing on the DL and everything went fine. He said he "felt 100%." Pineda will make his first minor league rehab start with Double-A Trenton on Sunday. He's scheduled to throw 45 pitches. Looking at the calendar, Pineda could make three rehab starts and then be activated to start on September 1st, the day rosters expand. It lines up perfectly.