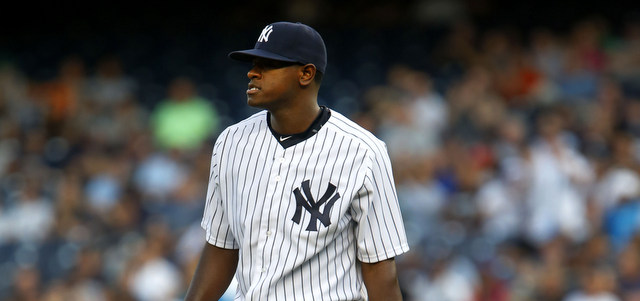 This series has gone quite well for the Yankees so far. They won Friday's game in dramatic come-from-behind fashion, then won Saturday's game because their ace pitched like a damn ace. They go for the sweep of the suddenly quiet Blue Jays — where'd all the Jose Bautista sound bites go? — this afternoon.
On the mound is rookie righty Luis Severino, who will be making his third career start. This will be his first major test. Yeah, the Red Sox and Indians have okay offenses, but the Blue Jays are on a different level entirely. They're the best offense in the game, especially at home, where they average 5.52 runs per game. Here is Toronto's lineup and here is New York's lineup:
CF Jacoby Ellsbury
LF Brett Gardner
DH Alex Rodriguez
1B Mark Teixeira
C Brian McCann
RF Carlos Beltran
3B Chase Headley
SS Didi Gregorius
2B Stephen Drew
RHP Luis Severino
It is nice and sunny in Toronto this afternoon, so the Rogers Centre roof should be open. This afternoon's game will begin at 1:07pm ET and you can watch on YES. Enjoy the game.
Injury Update: Ivan Nova (finger) threw in the bullpen today and everything went well. The swelling has gone down significantly after he was hit by the hard-hit grounder the other night. Nova expects to make his next start.