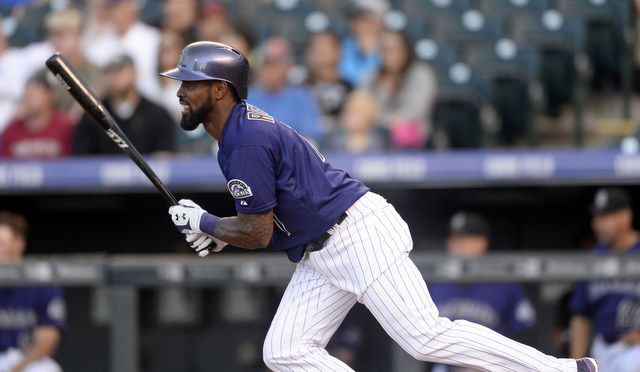 Rockies shortstop Jose Reyes has cleared trade waivers and the Yankees are among the teams "poking around," reports Jon Heyman. They remain on the periphery of the Chase Utley chase but generally seem unlikely to make any sort of major addition this month, whether it be Utley or Reyes or someone else.
"We got a shortstop, we are good," said Brian Cashman to George King when asked about adding an infielder recently. "Adding money in the short term and long term, how does it fit? (Hal Steinbrenner) is open to money, that's never an issue. Hal is also sensible and practical and not doing something just to do it."
The offense has sputtered of late — the Yankees have scored 26 runs in their last eleven games (!) — yet the only position they can realistically make a change is second base. We'd all love to see Greg Bird get regular at-bats but there's no way to do it without sitting Mark Teixeira or Alex Rodriguez, who have been the team's two best hitters this season.
Stephen Drew is hitting .194/.261/.392 (77 wRC+) with 15 home runs, and those homers are his only redeeming quality at the plate. Making an out nearly 74% of the time is not acceptable. At least not to me it isn't. (It is to the Yankees apparently.) Rob Refsnyder is not necessarily out of favor, but it's telling the Yankees have opted not to call him up for an extended trial.
Reyes, 32, is hitting .274/.308/.365 (81 wRC+) overall this season, so he hasn't been that much better than Drew, especially since he's only stolen 19 bases. The days of 50+ steals are long gone. Reyes is also owed $48M from 2016-17 and hasn't played second base in about a decade, so that would be an adjustment. Then there are all the leg injuries he suffered over the years.
While I certainly understand why more than a few folks want Reyes, I think there's too much downside. I mean, it's almost all downside. Speed guy whose legs aren't what they once were, bat clearly in decline, defense slipping, ton of money left on the contract … yeah that's a deal to avoid, even if the Rockies are willing to eat money and take Grade-B prospects in return.
At this point, with September call-ups just two weeks away and Refsnyder likely to take platoon at-bats from Brendan Ryan, I think the best thing the Yankees can do is wait. Just ride out this second base situation, hope some other slumping players snap out of it, then look for a long-term solution in the offseason. Maybe it's Refsnyder, maybe it's a player in another organization.