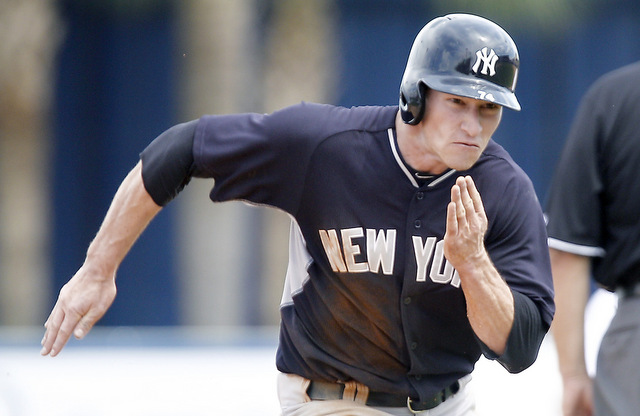 Five days from now teams will be able to expand their rosters and carry up to 40 active players. I can't remember a team ever carrying the maximum 40 players, but they can do so if they choose. The Yankees are planning to be aggressive with their September call-ups and get them on the roster right away. No waiting around for the Triple-A postseason to end or anything like that.
In all likelihood, the Yankees will use one September call-up spot for a designated pinch-runner. Most teams do these days. Last year the pinch-runner was Antoan Richardson — Richardson is the answer to the "who scored the winning run on Derek Jeter's walk-off single in his final home game?" trivia question — and a few years ago it was Greg Golson. Freddy Guzman was the pinch-runner late in 2009. He was on the postseason roster, you know. He pinch-ran twice in October, both times in the ALCS. So that's World Series Champion Freddy Guzman to you.
The Yankees have gone the designated pinch-runner route so many times in recent years that it's safe to assume they'll do so again this year. Who will that player be next month? That's a tough question to answer. There is no super obvious candidate. (No, they're not going to stick Jorge Mateo on the 40-man roster and start his options clock several years early just to pinch-run a few times in September.) Let's run down the possibilities.
Internal Options
The most obvious — and, frankly, only — pinch-runner candidate on the 40-man roster is Slade Heathcott. Heathcott still runs very well even after multiple knee surgeries, we saw it earlier this year, plus he's ultra-aggressive. If the Yankees use Slade to pinch-run and want him to steal a base, he'll go first or second pitch. That's just his style. Heathcott left Friday's Triple-A game, didn't play for a few days, but has since returned to the lineup, so I assume he's healthy now.
Other 40-man pinch-runner options include … uh … well … Jose Pirela? Maybe Cole Figueroa? The Yankees don't have any other good candidates on the 40-man roster, not with Mason Williams out for the season following shoulder surgery. I suppose Ben Gamel or Taylor Dugas could be pinch-runner options, though neither has the blazing speed you expect from a pinch-running specialist. This guy needs to fly. Instincts are not enough. Heathcott's certainly the best option among 40-man roster players, assuming he's healthy.
Minor Trade
The Yankees acquired Guzman in an ultra-minor trade in August 2009 to be their pinch-runner specialist late in the season and in the postseason. The Red Sox acquired Quintin Berry in August 2013 to be their pinch-runner down the stretch. A few days ago the Mets traded for Eric Young Jr. to be their September pinch-runner. Teams trade for pinch-runners late in the season all the time.
Picking out a pinch-runner trade target is tough because it's not about stats — who cares if the guy isn't hitting or is riding the bench in Triple-A? Can you run? If you can, you're a candidate for the job. Looking around Triple-A, someone like Chase d'Arnaud (26 steals in 106 Triple-A games with the Phillies) or Shawn O'Malley (37 steals in 88 games at multiple levels for the Mariners) could work. They have speed. A small trade is always possible. Good luck finding a target though. Only the scouting report matters for these players, and every team has different reports. Stats are irrelevant.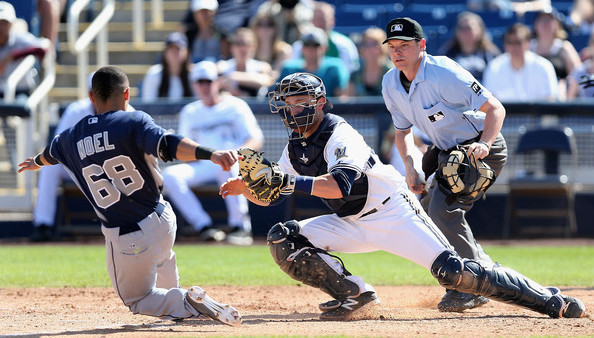 The Dark Horse
The Yankees may have already acquired their September pinch-runner: Rico Noel. They brought him in back in July and he's been bouncing back and forth between Double-A Trenton and Triple-A Scranton these last few weeks, stealing ten bases in 29 games. Here's a mini-scouting report from J.J. Cooper, who wrote up the 26-year-old Noel as a possible Rule 5 Draft pick this past offseason:
Rico Noel, of, Padres: Noel has plenty of Triple-A time, can play center field, gets on base and has outstanding speed. But he has bottom-of-the-scale power and a fringe-average hit tool at best.
That scouting report is fairly recent. The fact Noel has 20 total steals in 25 attempts this season — he was with the Padres before hooking on with the Yankees — suggests the "outstanding speed" part is still at least somewhat true these days, nine months since Cooper's report. The "bottom-of-the-scale power and fringe-average hit tool at best?" Who cares. No one's asking him to hit.
Noel is currently riding the bench in Triple-A and, aside from two spot starts, he has been used exclusively as a pinch-runner this month. Not just for slow guys either, he pinch-ran for Heathcott on two occasions. Noel had been an everyday player prior to this season. Are the Yankees using August to get him accustomed to sitting around on the bench then pinch-running at a moment's notice? Maybe! We shouldn't rule Noel out as a candidate.
Do Nothing
The do nothing option always exists. The Yankees don't need a pinch-runner next month. It's just a thing they'd like to have available late in close games. If the Yankees don't have anyone in the minors they trust to run in key spots, or if they can't swing a trade in the next few days, they could just move forward with no designated pinch-runner and keep using Chris Young in the role like they have been all season. I don't think that will happen, but it is always possible. We shouldn't rule it out.
* * *
For what it's worth, I expect the Yankees to add a pinch-runner next month, and Heathcott is probably the favorite simply because he is on the 40-man roster. The Yankees do have an open 40-man spot after designating Chris Capuano for assignment yesterday, so adding Noel wouldn't be a headache, but I think that spot is earmarked for someone else. Andrew Bailey, most likely. Heathcott is perfectly qualified as long as he's healthy. Should he get hurt at some point, the Yankees might be stuck scrambling for a pinch-runner down the stretch. Anyway, time for the poll.
Who should be the designated pinch-runner in September?