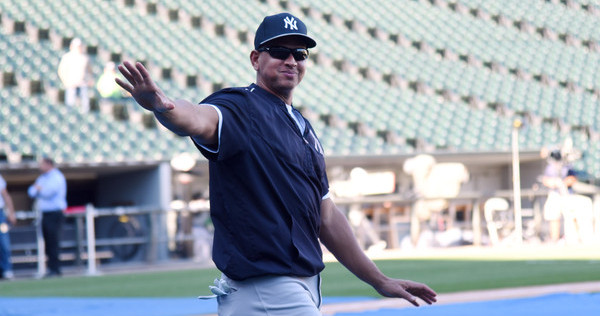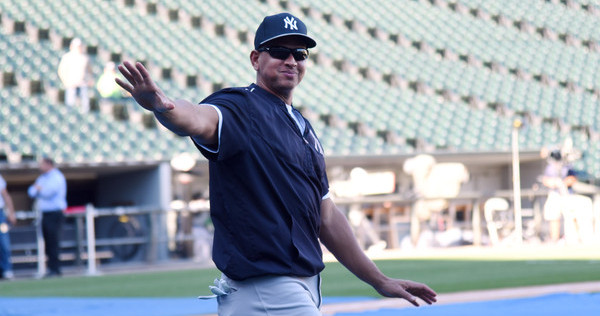 The Yankees wrap up their ten-game, three-city road trip a little later this afternoon with the series finale against the White Sox. Until then, here are some stray links to help you pass the time.
A-Rod on TV?
According to Bob Raissman, FOX and Alex Rodriguez's representatives have had preliminary discussions about A-Rod becoming involved in the network's postseason coverage. Alex's camp is talking to TBS and ESPN too. ESPN only carries one wildcard game while TBS gets the other wildcard game, four LDS games, and one entire LCS. FOX gets everything else.
I get the feeling Rodriguez would be an excellent television analyst. Who knows how he'll be on camera and stuff — live television is hard! — but as far as baseball knowledge, A-Rod is unmatched. The guy lives and breathes the game. He'd have a ton of insight to offer. Of course, none of this will matter because Alex will be busy carrying the Yankees to the World Series this October. Nice of the networks to reach out though.
No talk of removing Sabathia from rotation
This isn't a surprise. Brian Cashman told Wally Matthews the Yankees have not discussed removing CC Sabathia from the rotation. "That's not something that we're considering at this moment," said the GM. "We're going to continue to give him every opportunity to work through this for the foreseeable future."
This is pretty frustrating, but again, not a surprise. Michael Pineda's injury means the Yankees couldn't even take Sabathia out of the rotation if they wanted, but, even with a healthy Pineda, Sabathia was going to stay in there. The Yankees want to try to salvage the last few years of his contract even though he's hurting their chances of getting back to the postseason. My guess is I'll be writing this same blurb a few more times the next two years.
Yasiel Sierra works out for scouts
Cuban right-hander Yasiel Sierra worked out for scouts in the Dominican Republic last week, reports Jesse Sanchez. Sanchez says the 24-year-old Sierra works in the 93-97 mph range with a good slider and a recently added changeup. Because of his age and international experience, Sierra is not subject to the international spending restrictions, so the Yankees can sign him to contract of any size.( They're limited to $300,000 for younger international amateurs the next two signing periods as part of the penalties stemming from last year's spending spree.) I don't know anything about Sierra beyond what's in this post, but if he's really 93-97 with a good slider, chances are there's at least reliever potential there.
Jeter in Hollywood Reporter
I don't really have much to add here: Hollywood Reporter recently ran a feature on Derek Jeter, focusing on his post-baseball life with The Players' Tribune and his publishing venture. "I didn't want to wake up one day and say, 'What am I going to do now?'" said Jeter, acknowledging he'd been thinking about his post-baseball career for quite a while. Check it out. Neat article. (h/t Jeff Beck)