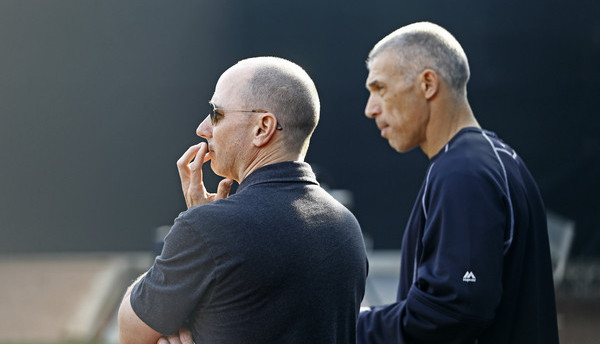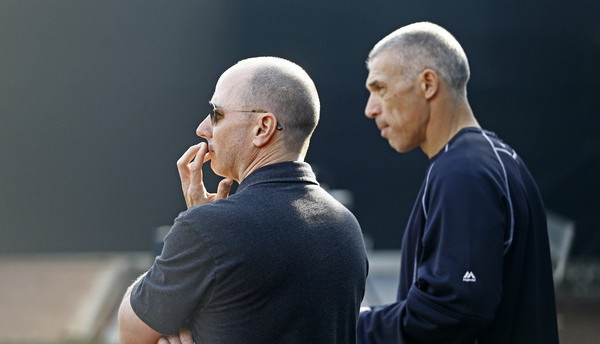 Yesterday afternoon, the 2015 non-waiver trade deadline came and went with a lot of rumors, but ultimately no moves by the Yankees. They did pick up Dustin Ackley on Thursday, but that's all, just the one small move. The lack of trade deadline activity was … unexpected. I have some thoughts.
1. I've been saying for weeks I expected the Yankees to make a move or three before the trade deadline, but it didn't happen, and I'm really surprised. I figured the combination of sitting atop the AL East and missing the postseason the last two years would spring Brian Cashman & Co. into action to try to get whatever help they could to make sure they get back to the playoffs this year. Know what I mean? They don't want to spend another October at home. The restrain was pretty impressive. The Yankees said they weren't going to trade their top prospects and they stuck to their guns. It would have been very easy to give up, say, Luis Severino for David Price and go for the kill, but it didn't happen. Unexpected!
2. Now, that said, was hanging on to every last top prospect the right move? That's debatable. I'm in the camp that thinks the Yankees have a wonderful opportunity in front of them — seriously, can you expect Mark Teixeira and Alex Rodriguez to hit like this again next year? — and they should have been willing to trade a top or prospect or two to bolster with an impact player, say Price or Ben Zobrist or whoever. I'm glad the Yankees were willing to make Jorge Mateo available for Craig Kimbrel for a few reasons, including the fact shortstop is a position of depth in the system. The Yankees literally have more shortstop prospects than roster spots — guys like Abi Avelino, Angel Aguilar (when healthy), and Yonauris Rodriguez have been stuck playing second or third base this summer — with more on the way thanks to last summer's international spending spree. (Also, Mateo is sooo far away from MLB. He's not going to have an impact anytime soon and lots can go wrong.) Every report indicated the Yankees wouldn't move their upper level prospects and me, personally, I would have been more open to moving them at the trade deadline given the team's current situation. When the unwillingness to trade prospects gets in the way of getting someone like Price, yeah, maybe that's going to a little too.
3. Not getting some kind of pitching depth before the deadline was really, really risky. Every pitcher ever is at risk of getting hurt, that's the nature of the business, though it feels like the Yankees are more at risk than most. Michael Pineda is already on the DL. CC Sabathia has had his knee drained twice this season already. Masahiro Tanaka has his whole elbow situation. Ivan Nova's working his way back from Tommy John surgery. Nathan Eovaldi is their most reliable starter right now and, as we saw last night, completing six innings is a challenge. Another starter to protect against injury and soak up some innings really would have been appreciated. And ace would have been awesome! But an innings guy like Mike Leake or even J.A. Happ would have worked. The Yankees are one more pitching injury from having some big problems. They're already stretched thin as it is.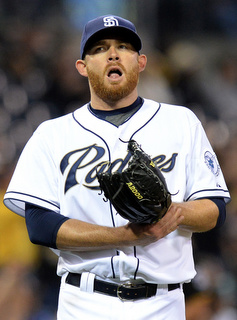 4. I have to think the Yankees will be keeping a really close eye on the August waiver trade market for pitching depth. More than usual. Both the Padres and White Sox did not make any trades yesterday because they feel they still have a run in them, but I can't imagine that will last. How could it? Rental pitchers Ian Kennedy and Jeff Samardzija figure to be available at some point, especially Kennedy because he's not a qualifying offer candidate. Yovani Gallardo, Bartolo Colon, and Aaron Harang are other August trade candidates. Obviously some of these guys are more desirable than others. (The issue with waiver trades is that teams below the Yankees in the standings can claim players just to block them from going to New York. So, for example, what are the odds the Blue Jays don't claim Samardzija? Basically zero.) I'm just really worried about the rotation and the pitching staff in general. Hopefully everyone stays healthy in the second half, but man, I really wish the Yankees were able to bring in another starter before the deadline yesterday. What they have available right now feels like the bare minimum. It's juuust enough to get by if everything breaks right.
5. As for the Ackley pickup … meh. Not really a needle-mover. Ackley's a slight upgrade over Garrett Jones because he's better defensively and can play second base, though he's less likely to run into the occasional short porch homer. Ackley is several years younger — which means he has more "upside," as people like to say — and is under contractual control for a few extra seasons. It's certainly not difficult to understand why they replaced Jones with Ackley. Both Ramon Flores and Jose Ramirez will be out of minor league options next year and the Yankees didn't figure to have a spot for either, so they consolidated the assets, turned them into something else, and started to clear up the a 40-man roster logjam. The team has a frickin' ton of outfielders and relievers in the upper levels of the minors. They dealt from a surplus for sure. It's a boring yet fair trade that doesn't figure to have much noticeable on-field impact. If you're upset about this one, maybe take a step back and chill out for a bit.
6. I could be wrong, but it seems like the Yankees are going to stick with the Stephen Drew/Brendan Ryan platoon at second base for the foreseeable future. Rob Refsnyder's not going to come up and take over on an everyday basis anytime soon. That could change in an instant, I have a hard time thinking Ryan will hit like this much longer, but right now the plan seems to be Drew and Ryan. The Yankees have been hesitant to use Refsnyder this year, almost certainly because of his defense, so if they don't call him up soon to play second, I'm not sure he'll get another opportunity this year unless there's an injury. Heck, even Ackley might be ahead of Refsnyder on the depth chart at this point. Maybe next year will be the year for Refsnyder.