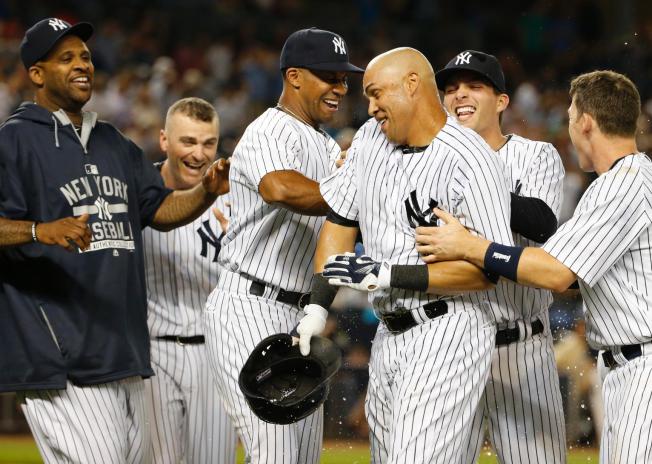 Naaaaaasty Nate
The Yankees got their 69th victory of the season in bizarre fashion on Monday night against the Astros — their only run came on a bases-loaded sacrifice fly in the bottom of the ninth inning, which gave them the rare 1-0 walk-off victory.
Since sacrifice flies became an official statistic in 1954, this the first time the Yankees have won a 1-0 game on a walk-off sac fly. The last time they celebrated a 1-0 walk-off win of any kind was Sept. 20, 2008, when Robinson Cano's RBI single scored Brett Gardner from third base to beat the Orioles.
Coincidentally (or not), Gardner also scored the winning run against the Astros, but that wasn't the only thing he celebrated on Monday — it was his 32nd birthday, too. So, that got us thinking here at Yankeemetrics …
Gardner is just the third Yankee in the last 100 years to score the game-winning run in a walk-off victory on his birthday! Pretty sweet, eh? He joins Jerry Mumphrey (Sept. 9, 1982) and Tom Tresh (Sept. 20, 1963) as the only other Yankees in this very exclusive and obscure club.
Nathan Eovaldi's ace-like run continued with another brilliant outing from the 25-year-old flamethrower. After firing eight scoreless innings against the Astros, Eovaldi now has a 2.93 ERA in his last 12 starts and has allowed more than three runs just once in that span.
Pitch F/X had him with seven pitches of at least 100 mph, giving him 23 pitches of 100-plus mph this season, according to baseballsavant.com. As of Monday night, the rest of the starting pitchers in the majors had thrown four 100-mph pitches … Total.
Brendan Ryan, True Yankee
When the highlight of a game is your utility infielder throwing two scoreless innings, you know you've been on the wrong side of a blowout. That was pretty much how it played out for the Yankees on Tuesday night in their 15-1 loss to the Astros.
Of course, this wasn't the first time that the Yankees have suffered a lopsided loss this season — the Rangers also tagged them for 15 runs in the Bronx in late May. The only other season in the last 25 years that the Yankees allowed at least 15 runs in multiple home games was 2000.
Brendan Ryan lived out his dream of pitching in a major-league game when he entered in the eighth inning of Tuesday's debacle, joining Garrett Jones (in that Rangers game) as the lucky Yankee position players to take the mound this season. The last time the team had two different position players pitch in a single season was 1968, when Gene Michael and Rocky Colavito did it on back-to-back days in late August. Colavito is also the last Yankee position player to throw multiple scoreless innings in a game.
Astros starter Dallas Keuchel completely shut down the Yankees offense, striking out nine batters in seven scoreless innings. Combined with his 12-strikeout shutout earlier this season vs. the Yankees, Keuchel joined Red Sox right-hander Ray Culp in 1968 as the only pitchers in last 100 years with back-to-back games of at least seven scoreless innings and nine-or-more strikeouts against the Yankees.
Not panicking … yet
So, about that homefield advantage the Yankees were supposed to enjoy… not so much recently. They went 5-5 on their recently completed 10-game homestand, punctuated by a 6-2 loss to the Astros on Wednesday afternoon, and scored just four runs in the three-game series. Welp.
It is the first time they've been held to no more than two runs and six hits in three straight home games since May 12-14, 1999 against the White Sox and Angels. The last time a single team did that to them in Bronx in a three-game span was the A's in 1990. Yes, the same A's team that ended up in the World Series that year. (You're welcome, Houston.)
Michael Pineda really struggled in his return to the rotation after an extended stint on the DL with a strained forearm. He allowed five runs in 4 1/3 innings and was pulled after throwing 71 pitches against the Astros. Pineda is now 0-4 with a 6.75 ERA in five starts when pitching on six-plus days of rest this season (and 9-4 with a 3.48 ERA in all other starts).